Patagonia Dreaming; Photographing At The End Of The World
Comprised of almost 390,000 square miles (slightly bigger than France and Germany put together), Patagonia is located in the southernmost third of both Argentina and Chile. Here the Andes Mountains plunge into the Pacific Ocean, leaving a trail of glaciated valleys, rugged granite peaks, ancient glaciers, jade green lakes, and endless plains. This stark and surreal landscape is also rich in plant, bird, and wildlife, including guanacos, wildflowers, foxes, and the Andean condor.
Sailboat, Beagle Channel, Ushuaia, Argentina.
© 2009, Efraín M. Padró, All Rights Reserved

Cell door, Ushuaia Presidio (Prison Museum), Ushuaia, Argentina.
© 2009, Efraín M. Padró, All Rights Reserved

Ushuaia, Argentina
This rambling town of about 60,000 residents is located on the Beagle Channel, named after Charles Darwin's ship of exploration. While strolling along Avenida Maipu, the main waterfront thoroughfare, you will be able to photograph cargo and luxury ships, sailing boats, European-style architecture, and the snow-capped Darwin Range to the southwest.

Ushuaia began its life as a penal colony for some of Argentina's most notorious criminals. Today the former prison has been converted into a maritime and prison museum, and walking down its old, creaky halls will give you a pretty good idea of how unpleasant it would have been to reside here. Photo opportunities include long, creepy halls; timeworn doors; and even mannequins of prison guards and former prisoners.

For a hike near town, visit the Parque Nacional Tierra del Fuego, about a 1⁄2 hour away by car. Created in 1960 to protect over 150,000 acres of Patagonian wilderness, it includes high peaks, rivers, swamps, and forests of deciduous beech (known locally as lenga). If you visit in the summer (especially December), you will also see many species of colorful wildflowers, so pack your macro lens.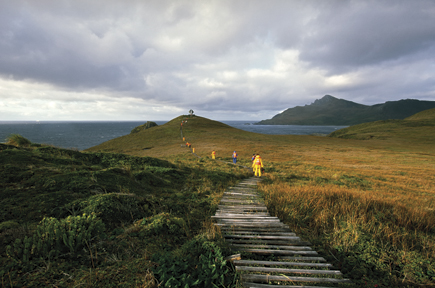 Hikers on boardwalk walking toward Cape Horn Memorial, Cape Horn National Park, Chile.
All Photos © 2009, Efraín M. Padró, All Rights Reserved
Cape Horn, Chile
First rounded by Dutch navigator Willem Cornelis Schouten in 1616 (and named after his hometown of Hoorn), you can reach Cape Horn by taking any number of expedition ships departing from Ushuaia. The ride can be rough at times, but the spectacular scenery—glaciers, fjords, snow-covered mountain ranges—will leave you breathless. The typical cruise will allow you to visit not only the Cape itself, but also penguin colonies, desolate fjords, and glaciers. I recommend using wide angle to normal range lenses for most shots; the broad Patagonian expanses demand such treatment. Also bring a longer lens (at least 200mm) to isolate landscape features such as icebergs.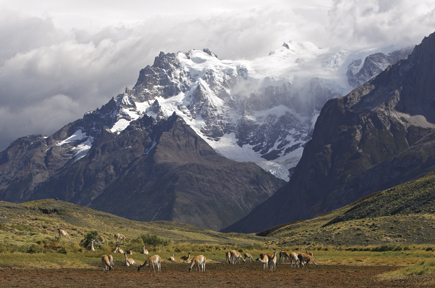 Bariloche Peak (8530 ft) and guanacos (Lama guanicoe), Torres del Paine National Park, Patagonia, Chile.
Torres del Paine National Park, Chile
Declared an international biosphere reserve in 1978 by UNESCO, Torres del Paine National Park contains some of the most spectacular landscapes in the world. Rising abruptly from the surrounding steppes, the craggy peaks of Torres del Paine offer the nature photographer an inexhaustible choice of compositional options. Bariloche Peak, the Torres (towers) themselves, and the famous Cuernos (horns) are just a few of your choices.

In addition to world-class landscapes, Torres del Paine is home to large herds of guanacos, one of four types of South American camelids. These photogenic animals are wild and will scamper when approached suddenly; be patient and give them time to get used to you. The park is also a bird photographer's paradise, featuring a large variety of birds such as condors, hawks, woodpeckers, ñandús, and swans. Bring your long lens (400mm plus) to make frame-filling images of guanacos and birds.

For those interested in the area's flora, there are plenty of colorful wildflowers, bushes, and trees to photograph; the wildflowers, including up to 25 orchids believed to be endemic to Chile, are especially colorful in the summer.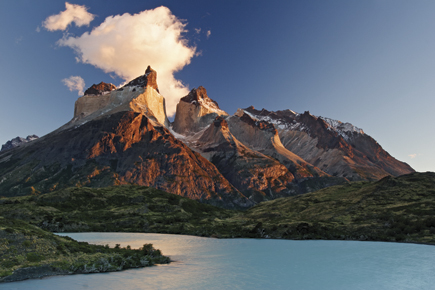 Los Cuernos and Pehoe Lake, Torres del Paine National Park, Patagonia, Chile.
Los Glaciares National Park, Argentina
Declared a World Heritage Site in 1981, Los Glaciares' 43 glaciers make up the Patagonian Ice Field, which at 14,000 square kilometers is the largest ice mantle outside of Antarctica. The park's most famous ice feature is the Perito Moreno Glacier, easily reached by car from El Calafate, a bustling town on beautiful Lake Argentino featuring a variety of accommodations and a modern airport.


LATEST VIDEO