Patagonia Dreaming; Photographing At The End Of The World Page 2
There are two ways to see the Perito Moreno Glacier, and I recommend you try both. The first is by viewing the glacier from an observation lookout comprised of wooden stairs and walkways. Visit the lookout in the morning for best results (the glacier faces east).
"Zapatitos"/Little Shoes (Calceolaria uniflora), near El Chaltén, Los Glaciares National Park, Argentina.
For a more intimate (and adventurous) view of the glacier, book a "mini-trek" in El Calafate (many trekking companies have offices on its main street). These half-day trips will include transportation (including a short boat ride on Lake Argentino), instruction, crampons, and a "trek" on the ice. Trekking on ice can be tricky while carrying a pack, so be selective in what you bring (wide angle to medium telephoto lenses should do the trick). Photo opportunities include massive ice landscapes, fellow trekkers for scale and some color, and crevasses leading down to infinity.

For more traditional landscapes near El Calafate, drive about 3.5 hours to El Chaltén, a small village with a handful of motels, restaurants, and shops. Located at the confluence of the Fitz Roy and Las Vueltas Rivers, El Chaltén is the gateway to the park's most popular hiking trails. The terrain is rugged and spectacular, so bring a pair of sturdy hiking boots. Photo opportunities include the famous Fitz Roy Peak and Cerro Torre (morning shots), waterfalls, glacial lakes, and rivers. The area is also full of bird life such as Austral Pygmy Owls and Magellanic Woodpeckers, largest in
the world.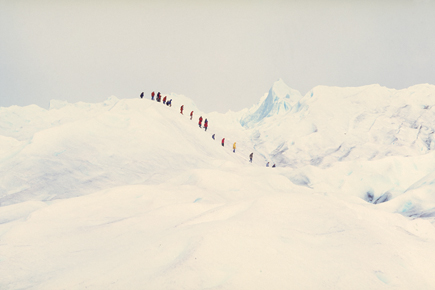 Little trekkers on Perito Moreno Glacier, Los Glaciares National Park, Argentina.
If You Go
1. When to go: Generally the trekking (and therefore photographing) season in Patagonia begins in mid-November and ends in mid-May. Spring begins in early September and continues through late November, and summer goes from early December to late February. Fall lasts until mid-April. The two most popular (and crowded) months to visit the region are February and March. Late spring and early summer are good for wildflowers and newly-born animals, but any time (within the trekking months) is good for landscape photography. Regardless of when you go, always be prepared for rain, cold, and wind.
Fitz Roy Peak (11,073 ft), Los Glaciares National Park, Argentina.
2. How to get there: There are regular flights from Los Angeles, Dallas, and Miami to either Buenos Aires, Argentina, or Santiago, Chile. From Buenos Aires you can fly to Ushuaia and El Calafate. From Santiago, daily flights depart to Punta Arenas, the gateway to Torres del Paine.

3. Getting around: Both Chile and Argentina have excellent internal air service, featuring modern fleets of jet airplanes. Chile's main carrier is LAN Chile (www.lan.com), and Argentina's is Aerolíneas Argentinas (www.aerolineas.com.ar). On the ground, renting a car (preferably a 4WD vehicle for the rough roads you'll encounter) is the best way to go, as it will offer the most scheduling flexibility.

4. Airport security: Security screening procedures in Chile and Argentina are similar to those in the US—your checked bags will be subject to strong x-ray machines (if you are shooting film, carry it on-board), and your person and carryons will be searched before entering the airport's secured area. For the latest information on carryon restrictions, visit the Transportation Security Administration's website at: www.tsa.gov.

5. Money: ATMs and banks are available in all cities in Chile and Argentina, and major credit cards are accepted almost everywhere. The denomination in both countries is the "peso." For exchange rate information, visit www.oanda.com.

LATEST VIDEO

SPONSORED VIDEO
Testing Tamron's SP 150-60mm G2 lens while capturing birds and alligators in Apalachicola, Florida.