Panasonic Goes Hollywood with New Video-Centric, 6K-Shooting Lumix S1H Camera & 24-70mm Lens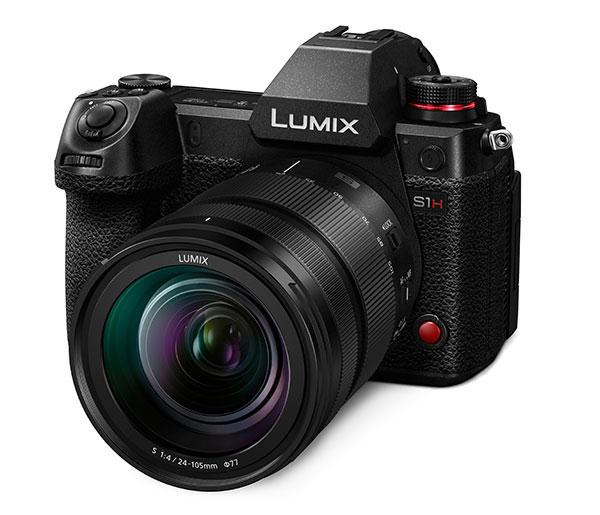 Panasonic just officially introduced the new 24.2MP Lumix S1H full frame mirrorless camera, which is designed to combine "professional-level video quality with the high mobility of a mirrorless camera." The new Lumix S1H is the world's first camera capable of video recording at 6K/24p (3:2 aspect ratio), 5.9K/30p (16:9 aspect ratio) and 10-bit 60p 4K/C4K, according to Panasonic.
Many details of the 6K-shooting Panasonic Lumix S1H camera were actually announced back in May 2019. Today, however, Panasonic "officially" unveiled this new video-centric camera to the public at a special event out in Hollywood, CA. The official pricing for the Panasonic S1H was also announced today: the camera will sell for $3999.99 (body only) and will be available at the end of September 2019.
The Panasonic Lumix S1H will join Panasonic's new stable of full frame mirrorless cameras, which also includes the S1 and the S1R. The 47.3MP Lumix S1R is designed for capturing high-resolution images, while the 24.2MP Lumix S1 is an advanced hybrid camera for shooting high-quality photos and videos. The newly minted Lumix S1H with its 6K movie mode is designed especially for film production.
Panasonic also unveiled a new L-mount lens for this new Lumix S Series camera today: the Lumix S Pro 24-70mm F2.8 (S-E2470). The rugged and splash-resistant Lumix S Pro 24-70mm F2.8 lens goes on sale in October 2019 for $2199.99.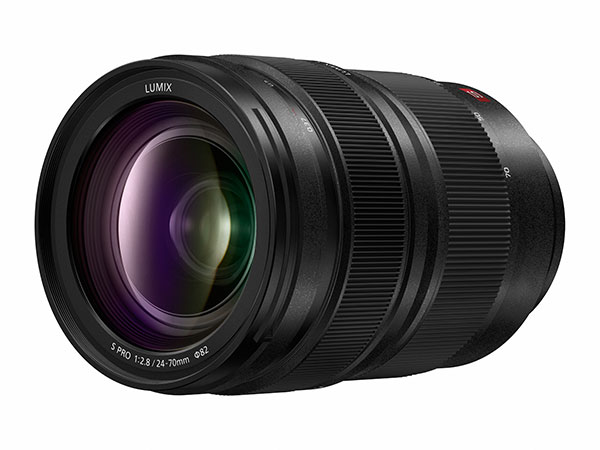 At photokina in September 2018, Panasonic joined forces with Leica and Sigma to form the L-mount alliance, in an attempt to create a new standard for full frame mirrorless cameras. These new Panasonic Lumix S Pro 24-70mm F2.8 L-mount is the latest fruit of those efforts.
The new Panasonic Lumix S1H uses a newly developed 24.2-megapixel full-frame image sensor that offers the new Dual Native ISO feature.
"In combination with the optimum signal processing by Venus Engine, it achieves high sensitivity while minimizing noise," Panasonic said in a press announcement today. "The Lumix S1H provides more than 14 stops of dynamic range, comparable to those found in cinema cameras, and V-Log / V-Gamut compatible with popular colorimetry called 'VariCam Look.'"
The Panasonic Lumix S1H offers unlimited recording time in all recording modes because of Panasonic's heat dispersion technologies. HDR (High Dynamic Range) in HLG (Hybrid Log Gamma), 4:2:2 10-bit HDMI output and Anamorphic 4:3 modes are also available with a variety of tools for filmmaking, such as tally lights, a waveform monitor and a V-Log View Assist function.
The Panasonic Lumix S1H incorporates a Body I.S. (Image Stabilizer) to compensate for hand-shake movement. Combining the Body I.S. (5-axis) and the O.I.S. (Optical Image Stabilizer, 2-axis) in the LUMIX S Series lenses, the Dual I.S. 2 is designed to compensate for "virtually any type of blurring, allowing the use of a 6.5-stop slower shutter speed."
The new Panasonic S1H's rear monitor, Real View Finder and Status LCD "boast a large size, high resolution and high visibility. The rugged design creates an additional layer of attractive features, providing professional photographers with highly desired reliability and longevity."
Read more about the new Panasonic S1H in our story from May.

LATEST VIDEO