Pamela Ellis Hawkes
Surrogate Reality
All Photos © 2000, Pamela Ellis Hawkes, All Rights Reserved
Many of Pamela Hawkes' images seem familiar, a house we may have seen or even lived in at some time, a bouquet of flowers arranged for our dining room table, or the image of a woman's upper torso, her hands folded in her lap. But though the objects seem connected to us in some way there is a puzzling unfamiliarity that makes us wonder. There is something different here.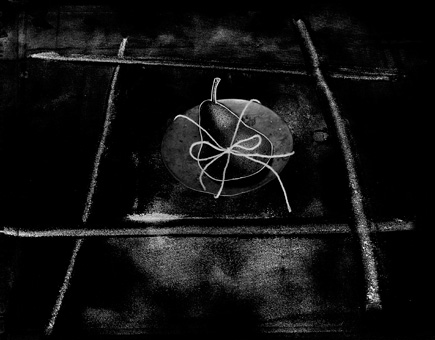 A self-taught photographer at the age of 17, photography became a serious preoccupation for the next 15 years. Balancing her work and a family, Hawkes began to make pictures of objects around the house. The dining room slowly turned into a studio and household objects became "subjects." Hawkes photographed familiar subjects placing reflective Mylar in the background to create a reflection from which she photographed her final image. "They were watery looking," she recalled, "often shells or bottles. The pictures became mysterious and abstract. I was learning how to see something that wasn't really there, that didn't really exist."
Today Hawkes' subjects are more diverse and her backgrounds are predominantly black velvet. She is intent on making each object different from what exists, making it her own. The strangeness remains. "I just do what I do," is the explanation.

Hers is an art of self-discovery, a way of bridging the gap and frustration of not being able to create something totally from imagination as a painter might do. Hawkes conceives her images from some place in her imagination and then seeks out her objects to create them, searching through the plethora of "stuff" in her studio for the right shapes, textures, and sizes.
Recently she began making photocopies of objects out of books or from etchings out of clip art. One image began with a photograph of a pear. "A real pear wasn't working," she explains, "but the etching was very flat, two dimensional. I could make it the desired size by just going to a copy place. Why not? It still represents a pear and I could use this now two-dimensional object in a three-dimensional still life. It had an odd look as did `Still Life with Bosschaert Flowers.' One could see these were not actual photos of a pear or a bouquet. The pear, secured with string and titled `Secured Still Life,' was the beginning of my `Surrogate Reality' series. The thinking in this series suits me. It seems subliminal. I like that. I'm not an in-your-face' kind of person."
"Wrinkled Nautilus Shell"
Three years ago, for her birthday, Hawkes' husband bought her a Nikon Coolpix 4500 digital camera, which she has upgraded to the 5700 that offers more options. "I brought it into the studio one day and went crazy, using up an entire 256MB card making these little abstract pictures," she recalls. "With an Apple computer and a 1280 Epson printer I switched my ink to Cone's continuous inking system to give me varying shades of black ink and a beautiful tonal range. Then in Photoshop I created a black background.

"I photographed my original digital prints slightly out of focus, then re-photographed them with my 4x5 Zone 6 field camera using Polaroid type 55 film to give me a negative from which I could make a 16x20" silver gelatin print. I would then make my final images, tone them with selenium and print them on Hahnemuhle, a soft paper."
One day Hawkes was sitting in her studio flipping through a magazine. Her digital camera lay beside her. Suddenly she saw a picture within a picture and wondered what it might look like if she photographed it with her digital camera that she could focus less than an inch away. Putting her finger down on the shutter partway to see what the subject would look like a bit out of focus, Hawkes loved what she saw. A series of new images sprung to life from these segments of photographs, everything finalized in Photoshop to create the now familiar black background. This was the beginning of the "People, Places and Things" series, though the people were mainly absent since Hawkes found that the way she saw them was most often not as they envisioned themselves in a photograph.

The new adventure took her to books, magazines, newspapers, anything printed that she found pleased her. Along with the group of segments from other pictures, this entire series was photographed and completed digitally.