Output Options; How To Protect Your Images; Photos On The Web Might Be Fair Game Page 2
Visible Protection
Of course, this isn't the only type of theft you need to worry about. There are plenty of examples of people who have had their images used online without permission. One way to help combat this, or at least make sure that viewers know where the image came from, is to embed a watermark or signature on the image that's visible at all times.
You can do this easily in Photoshop or Elements by selecting the Text tool and typing your copyright and name (if you use Windows, hold the Alt key and type 0169 on the numeric keypad; Mac users can type Option + G to generate the © symbol). This allows you to position and size the text however you like (#3).
This can be a little overwhelming for your shot though, especially if you have fine details you want to retain. If that's the case for you, it's a simple adjustment to make a subtler text overlay. First, click on your text layer in the Layers palette. Now, drag the Opacity slider down until you get a result that works with the image. I find 35 percent to be a good number for most images (#4).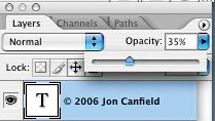 Finally, flatten your image and choose Save As, and select JPEG as the file type. The end result (#5) gives you both visible and embedded protection against unauthorized use. Is it foolproof? Of course not, but it will stop the casual user and protect you from Orphan Rights, which is enough for most everyone. If you have more serious needs, you can look into something like Digimarc (www.digimarc.com). A free trial version is included with Photoshop under the Filters menu. Digimarc allows you to embed visible and/or hidden watermarks in your images as well as provide tracking information to let you know where your images are being used online. Packages start at $79 per year for up to 1000 images and include backup to an online service, helping to protect your work in the event of drive failure, theft, or damage.
Final Thoughts
For most people, a simple metadata and watermark solution is all that's needed. Regardless of how you decide to proceed, you need to do something. Get your images tagged with copyright and contact information before it's too late. It's quick and easy regardless of your experience level. Without it, you might just be giving your work away.
To work along you can download the original image from the Instant Links section of the Shutterbug website (www.shutterbug.com/currentissuelinks/).

Jon Canfield is a popular instructor and author of several books on digital imaging, including "Print Like a Pro" and "RAW 101." You can visit Canfield on the web at: www.joncanfield.com.

LATEST VIDEO

SPONSORED VIDEO
Testing Tamron's SP 150-60mm G2 lens while capturing birds and alligators in Apalachicola, Florida.