Output Options; Easy Web Galleries; Layout & Design Options Page 2
Going Online
After adding your images and any additional comments or pricing info for shopping carts, the next step is to make your album. The process is pleasantly fast--for this column I created a gallery with 50 images in about 30 seconds (#4). Once generated, you can preview the website to make sure it looks the way you want before going live on your site. Most skins include a slide show option, or your visitors can manually navigate through images.
#4 The index page for your gallery varies from template to template. Clicking on a thumbnail shows the full-size image, while clicking on a folder icon will take you to that gallery.
The last step is to publish your site. You can either use your existing website, or if you haven't set one up yet, take advantage of the free 30MB MyJAlbum space available on the JAlbum server. To give you an idea of how the site works, and what a finished JAlbum site looks like (#5), the sample site created for this column is available for viewing at: http://joncanfield.jalbum.net/output_options.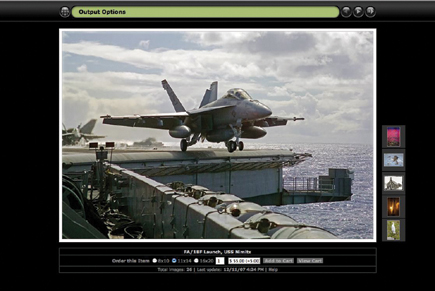 #5 The main image page, shown when you select a thumbnail from the index page, has navigation controls, and if you choose to add a shopping cart, easy links to sell your photos.
You can also use your own transfer software if you prefer, but I find that the JAlbum Publish module does a good job and works reliably. Of course, one of the main tasks with having a website is keeping it updated. JAlbum helps out here by letting you publish only the changes rather than going through the entire upload process every time you add a photo.
Jon Canfield is the author of several books on digital imaging and printing. A popular instructor at BetterPhoto.com, Canfield also teaches workshops for the Panasonic Digital Photo Academy (www.digitalphotoacademy.com). You can reach Canfield via e-mail at: jon@joncanfield.com.

LATEST VIDEO

SPONSORED VIDEO
Testing Tamron's SP 150-60mm G2 lens while capturing birds and alligators in Apalachicola, Florida.