Our 5 Favorite Photo Gadgets & Gizmos: Wacky & Wonderful Imaging Gear
The DSLR Wheel Of Filters: Would you like to change filters without having to fumble with color gels and multiple lenses? The DSLR Wheel of Filters makes it fast, easy and fun to create different effects with the 18 different filters and prisms that you can change with the simple turn of a wheel. Just mount it directly onto your DSLR body, snap on one of the two rotating wheels and enjoy. Wheel number one has colors, dual colors, and color surrounds. Wheel number two has lenses that include kaleidoscope, macro and more. The Holga base-lens is responsible for its distinctive lo-fi toy camera look and you can shoot video through it, too. The DSLR Wheel of Filters is available for Nikon or canon cameras and the retail price is $41.99.
More info on the DSLR Wheel of Filters here.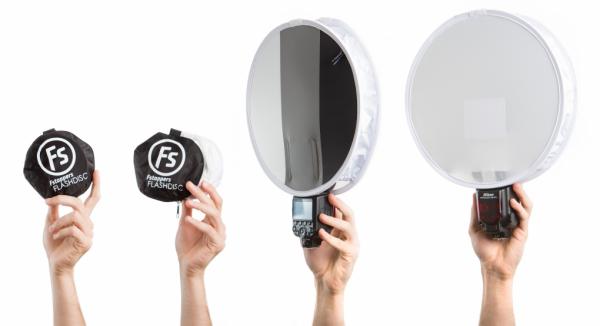 The Fstoppers Flash Disc Portable Light Modifier: The Flash Disc is a simple, versatile light modifier for small speedlights. The Flash Disc folds up like a reflector and can easily fit into your pocket, jacket, roller bag, or backpack. The unique design allows your portable flash to "bounce" up and fill the entire circular chamber to create a quality of light that is much softer than your speedlight's small opening. The Flash Disc has a small profile that makes it easy to move through large crowds. It is ideal for impromptu group shots when you want soft directional light or when you want your key light softer than a barebulb speedlight but more contrasty than a softbox. It is a fast and easy solution for detail shots such as rings, cakes, shoes, jewelry and can isolate small areas for light painting. The suggested retail price is $49.99.
More info on the Flash Disc here.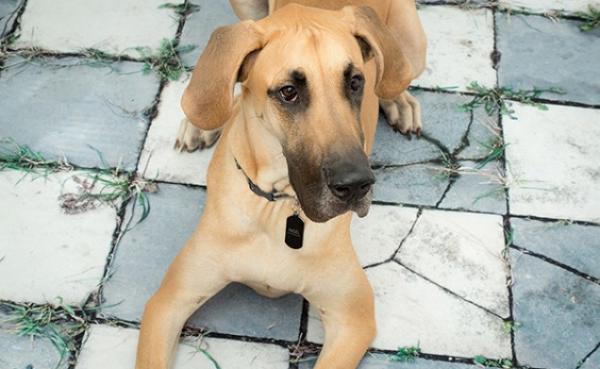 Savage Universal's Aged Pavers Floor Drop: Ideal for portrait photographers and any subject, the Aged Pavers Floor Drop feature a highly detailed and dimensional pattern that resembles a patio or walkway. The Aged Pavers Floor Drop is ideal for easily creating the look of a location shot in the comfort of your studio and can also be used as a backdrop. Floor Drops are printed on durable rubber, have a polyester finish on the print side (to protected the colors of the graphics) with a no-slip rubber backing. They are easy to walk on, roll up for storage and can be safely cleaned with a damp sponge and mild detergent. Floor Drops are available in two sizes: 5x7 feet and 8x8 feet. Floor Drops may be purchased from a variety of retailers. (Product photo by Ray Walsh)
More info on Floor Drops here.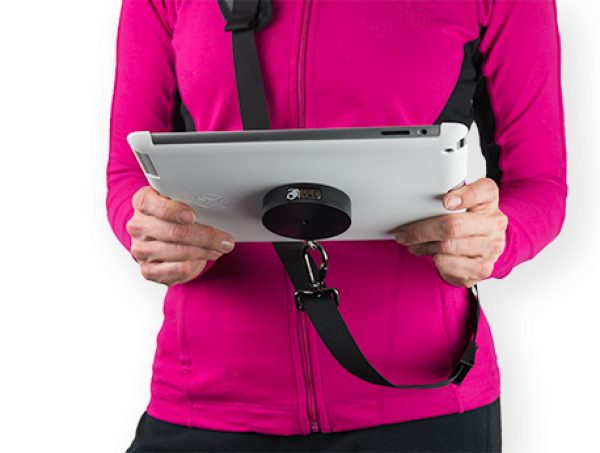 TetherTools TabStrap (featuring BlackRapid): The TabStrap (featuring BlackRapid) is a versatile, secure sling strap system for tablet users. With the tablet positioned in a Wallee Case (sold separately) and using the included "Hitch" D-Ring attachment, the Wallee Connect Lite lets the tablet lay flat against your body. BlackRapid's included ConnectR features a locking carabiner, swivel base and screw-lock gate that keep the tablet secure and allows it to glide on the strap for easy access. The Wallee Connect Lite secures the strap to the tablet by locking into the Wallee Case. The tablet can be rotated for portrait or landscape viewing. When not being worn, the Connect Lite and Wallee Case can mount to a tripod, arm or clamp for other uses. It is compatible with all Wallee Cases and has a retail value of $89.90.
More info on the TabStrap here.
Canon PIXMA MG3620 Wireless Inkjet All-In-One Photo Printer: The new PIXMA MG3620 Wireless Inkjet All-in-One (AIO) printer is designed for high-quality photo and document printing. For the home user (or college student), this new printer has a simpler Wi-Fi setup than in previous models and includes access to the updated Canon PRINT2 application, a four-color FINE ink Cartridge system for vivid colors and sharp text, Auto Power On/Off functionality, Auto Two-sided Print, and PictBridge3 printing via Wireless LAN for direct connection to select Canon Digital Cameras.
Featuring an improved wireless printing experience for compatible smartphones and tablets through the updated Canon PRINT application. Users can print from and scan images/documents to Facebook, Twitter, Flickr, Photobucket, Dropbox, Evernote, Creative Park and Creative Park Premium, Google Drive and Microsoft OneDrive. This model also supports Google Cloud Print, for printing from GmailTM webmail and Google DocsTM service on a mobile device, and from the Google ChromeTM browser for Mac, Windows, Linux and Chrome OSTM operating systems.
To expand on the usability of the Canon PRINT application and PIXMA Cloud Link4, new features include the ability to print images directly from Instagram , documents can be printed from SlideShare and users can send scanned documents directly to OneNote Plus. Canon Easy-Photo Print+5 and Creative Park Premium web applications can be accessed from compatible smartphones and tablets to share/edit photos using the cloud. Creative Park Premium features new print layouts that are available via the cloud or from compatible smartphones and tablets.
The Canon FINE ink Cartridge system produces high-quality output that is crisp, clear and vibrant. This model comes with My Image Garden6 software. My Image Garden also features Full HD Movie Print7 software to help users produce clear images of frames from videos captured on select Canon EOS Digital SLRs, PowerShot Digital Cameras, and VIXIA Camcorders. In addition, Special Filters, such as Fish-Eye, Miniature, and Toy Camera, can be applied for further image customization. The Canon PIXMA MG3620 Wireless Inkjet AIO printer's eco-friendly features include Auto On/Off functionality for energy savings and layout print options including two-sided printing and options for arranging more than one image per page to help save paper.
The new Canon PIXMA MG3620 is available now in three colors: white, black or red and has a suggested retail price of $79.99.
More info the Canon PIXMA MG3620 here.

FEATURED VIDEO