Our 5 Favorite Photo Gadgets & Gizmos: Great Stocking Stuffers $50 & Less
Luminosity Compact DSLR Holster: Protect your mirrorless camera or compact DSLR (with a standard lens) in this easily accessible, top-loading holster. The interior pockets store small accessories and the detachable non-slip strap allow you to securely carry the holster across your body or by the top grab handle. The soft blue nylex lining protects your gear and contrasts with camera gear to easily locate accessories, interior stash pocket fits a charger or lens cap, the zippered lid pocket stores slim camera accessory such as a lens cloth and the internal zippers have a zipper garage to protect your gear from scratching. The weather hood fits snugly over the bag to protect it from the elements.
The suggested retail price is $34.99.
More info on the Luminosity Holster here.
The Photographer's Pouch: The Photographer's Pouch from Photojojo keeps your small camera gear handy and safe. These pouches are made of soft felt to keep lenses (and phones) from getting scratched and the elastic keeps the case securely closed to keep small things, like memory cards, from falling out. Fill the pouch with photography extras or anything you can think of and then fill your bag with multiple pouches to keep it all organized. The Velcro back sticks to the inside of your camera bag to hold it in place. It measures 4 inches wide and 6 inches tall when closed.
One Pouch has a retail value of $12 or buy three for $30.
More info on the Photographer's Pouch here.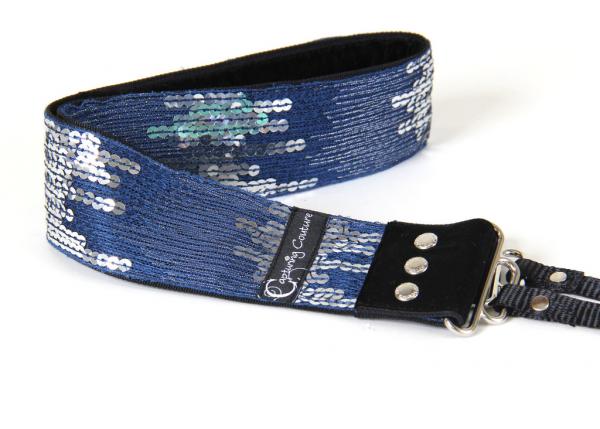 Capturing Couture's Sequin Ombre Navy Camera Strap: The ideal gift for stylish female photographers this camera strap features a comfortable plush velvet surface with customized metal logo rivets and nylon webbing for durability. It is adjustable and can be easily worn either around your neck or across your body (messenger bag style). The strap measures 2 inches wide x 30 inches long with up to 12-14 inches of additional adjustability on each side of.
The suggested retail price is $35.
More info on the Sequin Ombre camera strap here.
JILL-E Compact System Camera Bag: This bag features a stylish, weather-resistant microfiber exterior with durable, top-grain leather trim and a protective padded interior with adjustable dividers. The double zip top opening allows for fast, easy access to your gear, the interior zipper pocket safeguards those small valuables, the outside pocket is ideal for your keys and smart phone. The adjustable leather strap allows you to carry it cross-body or on your shoulder. The Compact System Camera Bag measures 9.50x3.25x7 inches and weighs one pound.
It is available in red or black and has a retail value of $49.99.
More info on the JILL-E Compact System Camera Bag here.
The Puffer PLUS: This ISO Mount is compatible with ISO hot-shoes Nikon, Pentax, Panasonic Lumix, Samsung, and Sony brand cameras. The Puffer PLUS flash diffuser from Gary Fong provides beautifully diffused lighting and eliminates harsh shadows, red-eye, and hot spots so photographers can achieve beautiful, pro style photos with minimal equipment. Its compact size makes it ideal for travel and portraits, group shots, or any scene that requires fill flash. The Puffer PLUS provides diffused lighting from camera's pop-up flash and mounts via the camera's flash shoe. It is adjustable for center positioning of any pop-up flash regardless of the size and does not interfere with flash functionality of your camera.
The suggested retail price is $24.95.
More info on Gary Fong's Puffer PLUS here.

FEATURED VIDEO