Our 7 Favorite Pro-Quality Lenses at Bargain Prices
Professional photographers live by their lenses—they know they're one of the keys to capturing high-quality images. That's why they often spend thousands of dollars for a lens that's optimized for their type of shooting, or gives them an edge over their competitors. But is it possible for serious photo enthusiasts without deep pockets or a business write-off to acquire lenses that deliver professional caliber imaging performance for a lot less money? Absolutely, so long as you eliminate inherently costly lens categories, e.g. wide aperture ultra-long telephotos, fast telephoto zooms, and super-speed prime lenses.
After combing through lens catalogs, consulting with lens manufacturers, and talking to a handful of experienced pros, I came up with the seven great bargain lens buys detailed below. Most of these premium quality lenses sell for under $500, and all of them can be acquired for under $800. Also, they are all current lens products, which you can buy new today.
Happy lens shopping and if you know of any other great current lenses for under $800, please leave your recommendations in the comments below.
1. Sigma 17-70mm f/2.8-4 DC Macro OS HSM Contemporary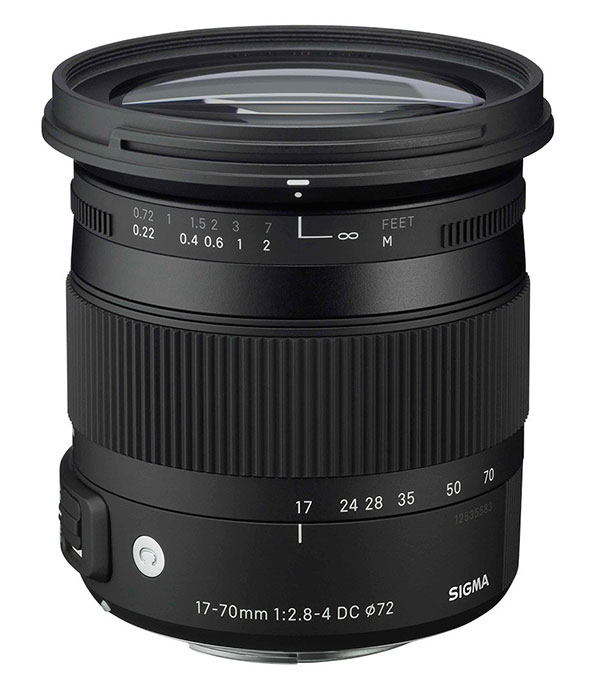 Covering an impressive 27.2-112mm-equivalent range on APS-C-format DSLRs this fast wide-to-medium-telephoto zoom from Sigma incorporates 2 FLD (fluorite equivalent) elements, one SLD (Super Low Dispersion) element, and 3 aspheric glass elements (including one double-sided aspheric element) to deliver outstanding imaging performance over its entire focal length and aperture range. It also focuses down to 8.7 inches (1:2.8 magnification) and provides a 2.2-inch macro working distance at the 70mm setting. Other features: a built-in Optical Stabilizer (OS) that provides a 4-stop anti-shake advantage in handheld shooting, a robust, lightweight Thermally Stable Composite (TSC) barrel, a Hyper Sonic Motor (HSM) for fast, smooth, quiet AF, and a durable solid brass lens mount.
Price: $499, in Canon EF, Nikon F, and Sigma SA mounts.
2. Olympus M. Zuiko Digital 45mm f/1.8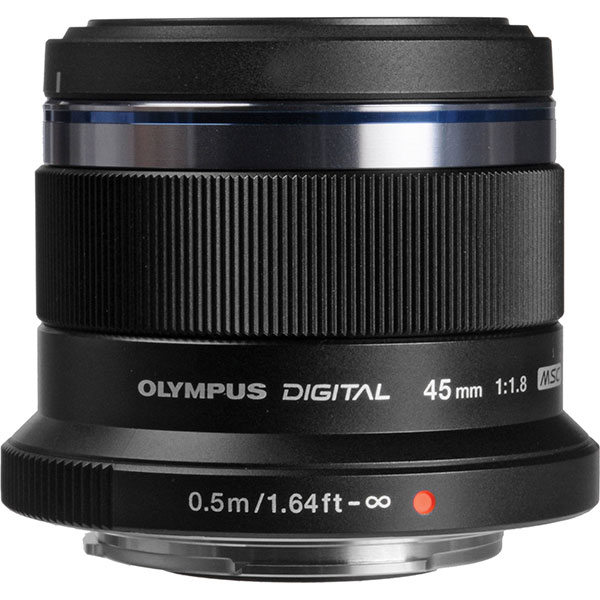 This high-performance Micro Four Thirds (MFT) System prime from Olympus provides a 90mm-equivalent focal length that's ideal for portraiture. Its wide f/1.8 aperture is great for low-light shooting and allows precise depth of field control for beautiful pictorial effects. The lens incorporates two extra-high refractive index elements to minimize distortion, control spherical aberration and achieve exemplary sharpness and clarity. Its Movie & Still Compatible (MSC) autofocus system delivers quick, quiet, precise AF in still and video applications, and its rounded 7-blade diaphragm enhances its beautiful bokeh.
Price: $324
3. Nikon AF-S Nikkor 50mm f/1.8G

An updated optical classic renowned for its excellent imaging performance, this fast, full-frame normal lens for FX-format Nikons also functions as a fast, 75mm-equivalent f/1.8 moderate telephoto on DX-format (APS-C) Nikons. It incorporates one aspheric element that virtually eliminates coma and spherical aberration, employs Nikon's Super Integrated Lens Coating (SIC) to enhance clarity and minimize ghosting and flare, and a Silent Wave Motor that delivers fast, quiet precise AF with full-time manual override. Its wide aperture makes it a good choice for low-light shooting and shallow depth of field control, and its beautiful bokeh is enhanced with a rounded 7-bladed diaphragm. It focuses down to 17.7 inches for compelling headshots.
Price: $216.95
4. Canon EF-S 10-18mm f/4.5-5.6 IS STM

This compact, high-performance ultra-wide-to-wide-angle zoom provides a 16-28.8mm-equivalent focal length range on APS-C-format Canon DSLRs. It incorporates one UD (Ultra Low Dispersion) element and one aspheric element and Enhanced Lens Coatings to deliver impressive imaging performance and clarity at all focal lengths, and its advanced Stepping Motor (STM), paired with EOS Movie Servo AF provides very quiet precise AF that's optimized for video applications. Other features: Optical Image Stabilization to minimize the effects of camera shake in handheld shooting, full-time manual focus override with focusing down to 8.7 inches, a rounded 7-blade diaphragm for enhanced bokeh, and a 4-group optical zoom that enables a compact, lightweight form factor.
Price: $279
5. Sony FE 85mm f/1.8

This impressive wide-aperture full-frame portrait telephoto prime in Sony E-mount is optimized for low-light shooting and portraiture, and also allows effective use of selective focus due to its shallow depth of field at its widest apertures. Its 9-element 8-group construction includes one Extra-Low Dispersion element to minimize chromatic aberrations, and deliver excellent clarity and color accuracy at all apertures. It incorporates a customizable focus hold button that can be used to hold focus and control additional lens functions, employs a double linear AF motor for quiet, smooth precise AF and has a physical AF/MF switch for tactile control over the focus mode. A rounded 9-bladed diaphragm enhances its inherently beautiful bokeh.
Price: $598
6. Sigma 30mm f/1.4 DC HSM Art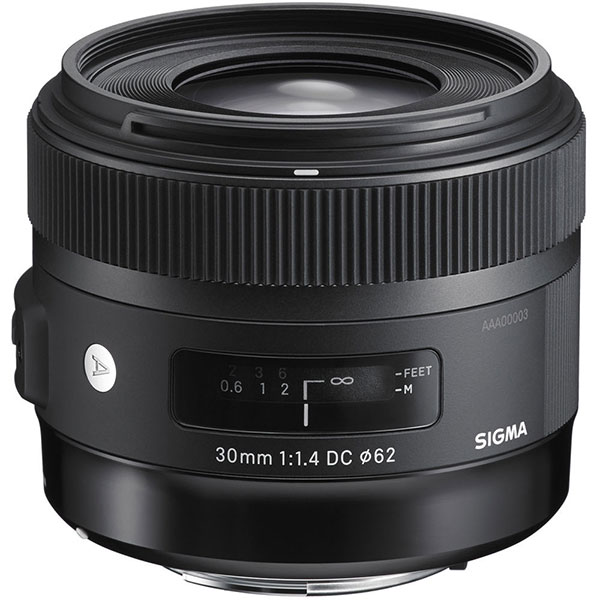 This superb prime lens for APS-C-format DSLRs is equivalent to a 45mm f/1.4 normal lens, and with its fast maximum aperture, it performs very well in low-light situations or where shallow depth of field is required for artistic effects. Its updated 9-element, 8–group design incorporates a double-sided aspheric element to optimize light distribution, minimize field curvature, and minimize spherical to achieve outstanding image quality at all apertures and focusing distances down to 11.8 inches. Other features: a Hyper Sonic Motor (HSM) for smooth, quiet, precise AF, Thermally Stable Composite (TSC) construction that combines excellent dimensional stability and lightness, and a durable precision brass lens mount.
Price: $499, in Canon EF-S, Nikon F, and Sigma SA mounts.
7. Panasonic Lumix G X Vario 12-35mm f/2.8 II ASPH Power O.I.S.

Panasonic's fast, high-performance, constant aperture, normal zoom in Micro Four Thirds (MFT) mount covers the popular equivalent focal length range of 24-70mm. It employs 4 aspheric elements, one extra-low dispersion element, and one ultra-high refractive index element to achieve a high degree of correction for chromatic and spherical aberrations. It also includes Nano Surface Coating and delivers impressive sharpness, color accuracy and clarity over its entire zoom and aperture ranges. A Power Optical Stabilizer (O.I.S.) combined with Dual I.S. provides enhanced anti-shake capability, and the lens features a durable all-metal housing that's dust-, splash- and freeze-proof, allowing operation in harsh conditions. A rounded 7-bladed diaphragm contributes to its smooth, pleasing bokeh.
Price: $799
If you liked this bargain lens guide, here are a few other stories that might interest you:
Our Top 10 Vintage Lenses to Use on Digital Cameras
Our 7 Favorite Classic Lenses of All Time

FEATURED VIDEO