The Original Lensbaby
Having Fun With Distortion And Soft Focus Page 2
Holy Macro, Batman!
The Original Lensbaby will focus to about a foot away from an object but I was closer than that to make this photograph of a silk rose. Sections of the image that show the texture of the cloth are visible in the actual photographic file, but the overall soft look (silk texture aside) makes this artificial flower look real. For this image, the EOS 20D was set in Av mode at ISO 400 with a shutter speed of 1/100 sec. No tripod, sorry.
Maurice The Moodman
So maybe Walker Evans wouldn't have used a Lensbaby for his Depression-era documentary photography, but the overall softness of this photograph of a shop on Brighton's Main Street appeals more to me than a more sharply focused one. The EOS 20D was set in Av mode at ISO 100 with a shutter speed of 1/2000 sec and the image was captured in monochrome mode and sepia toned in camera.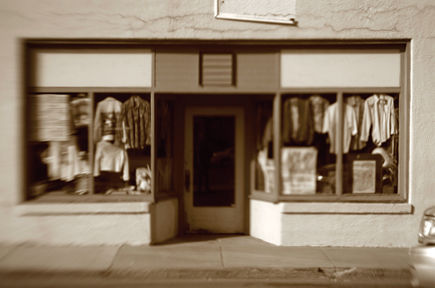 Architecture--Why Not?
Since you can move the front of the Lensbaby up and down and left and right like a view camera or perspective control lens, it should be just the ticket for architectural shots keeping all of those parallel columns nice and straight--huh? That's OK, if that's your thing, but even with the smallest Lensbaby aperture installed, the final image is never going to be completely in focus. However, placing the area of sharpest focus at the top of the building effects add a graduated soft-focus effect that would otherwise require an expensive prism filter. For this photograph of City Hall, I let the EOS 20D determine the exposure, which was 1/1200 sec at ISO 100 in Av mode.
What's A Holga Anyway?
The Holga is a $16.99 (www.freestylephoto.biz) plastic Chinese camera that uses 120 roll film, delivering 16 6x4.5cm images per roll, and even has a hot shoe! It is most famous for the optical imperfections it creates. Yes, kiddies, it has light leaks, and the lens--if you can call it that--has aberrations and vignettes like crazy; all of these characteristics are prized by practitioners of Holgarphy. A Lensbaby costs more than $20, but it fits most digital SLRs and provides the same level of fun and you get to see the results right now!
Technical Specifications
The Original Lensbaby (For Canon EF And Nikon F Mounts*)
Focal Length: Approx. 50mm
Focus Type: Manual (fingertips, actually)
Optical Glass Element: Yes
Aperture Type: Interchangeable f/2.8, f/4, f/5.6, f/8
Nominal Focus: From approx. 1 foot to infinity (and beyond)
Minimum Focus: Approx. 7"
Size: 2.25x2.5" Weight: 3.5 oz
Price: $96
*Olympus OM, Canon FD, Leica R, Pentax K, Minolta Maxxum, Minolta Manual, Contax/Yashica, and screwmounts have a focal length of 65mm and apertures of f/3.3, f/5.1, f/7.5, and f/10. All other specs are the same.

For more information on Lensbabies, visit www.lensbabies.com.


LATEST VIDEO

SPONSORED VIDEO
Testing Tamron's SP 150-60mm G2 lens while capturing birds and alligators in Apalachicola, Florida.