Organizing Digital Images; You Just Shot Hundreds Of Photographs--Waddya Do Now?
Photos © 2004, Joe Farace, All Rights Reserved
People who use digital cameras tend to shoot more images than when they had to pay for film and processing, but management and organization of these digital files is not free. You need software to organize those images, computers for "hot" short-term storage, and some kind of recordable media for long-term "cold" storage.

Software for organizing and managing digital images is multiplying like bunnies and everybody, it seems, has the "perfect" solution to organize digital camera files. Mac OS users are often, but not completely, let out of the picture. And some Windows-only programs are only available as downloads. Read, "Why I Don't Like Downloadable Software" for my take on that subject.

I think Steve Deyo, former editor-in-chief of ComputerUser, coined the word "imagebase" to describe a class of image database programs that allowed you to store and retrieve photographs and data about your images. While that term has fallen out of favor and been replaced by the notoriously trendy "digital asset management," the quality of the programs available still vary from pretty darn good to Ford Prefect's description of Earth in The Hitchhiker's Guide to the Galaxy--"mostly harmless." What follows is an opinionated look at software to help you organize digital image files.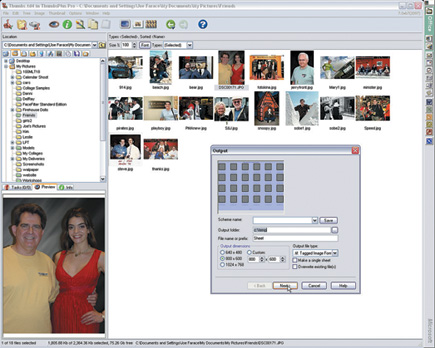 ThumbsPlus is one of the classic bits of Windows software in the imagebase field. (They tried producing a Mac OS version a few years ago and gave up. Too bad, it's a great product.) Windows users will be delighted with the capabilities of Version 7.0.
Start Organizing In Camera
While "chimping" may be a derogatory term to some, it's not to me. For every few minutes you spend deleting images of your left foot now, you'll save time and the cost of hard disk storage and CD/DVD archiving later. You don't have to be a ruthless editor; just get rid of the junk. After that you need software.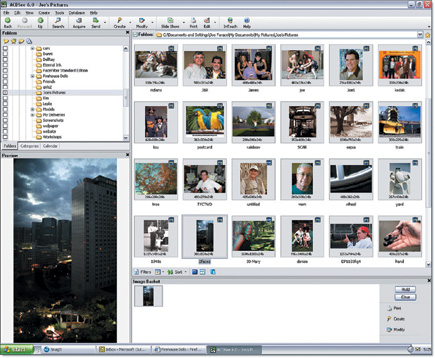 ACDSee software lets you see your complete photo properties in the browser window at any time. These include basic file information such as date, format, and dimensions, as well as metadata and your personal captions, keywords, ratings, and category information. You can sort by any properties at any time to make finding specific photos easier.
That software should be able to read lots of different graphic file formats. There are more than 100 graphic file formats and, unlike designers and desktop publishers who must be able to catalog many different file formats, photographers can standardize on a few, such as Photo CD, GIF, JPEG, TIFF, or BMP. Nevertheless, the program should be able to display the file as a thumbnail. Not all image file formats will display thumbnails, so consequently not all imagebase software displays every image file type. If a format does not contain thumbnails, programs such as ThumbsPlus (www.cerious.com) will automatically create them for you.

A good imagebase program lets you add "keywords" to your photographs, then allows you to search for the images that have those words associated with them. When assigning keywords, use characteristics that identify your image beyond a simple description, e.g., "red barn."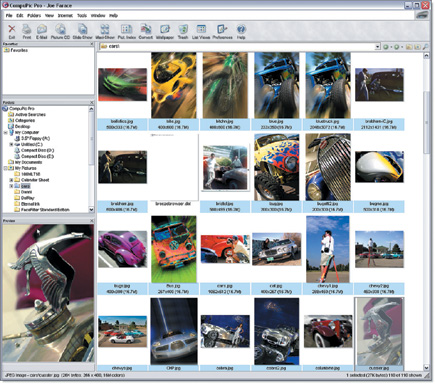 CompuPic Pro lets you create Photodex PictureCDs, including all the software needed for the recipients to view the pictures. You can use the included themes or write your own custom templates to publish your images online on customized web pages.
Finally, a good imagebase program includes a lengthy description field that lets you make detailed notes about the image, including its format, where it's located, or the kind of media on which it's stored.

LATEST VIDEO

SPONSORED VIDEO
Testing Tamron's SP 150-60mm G2 lens while capturing birds and alligators in Apalachicola, Florida.