Organizing Digital Images; You Just Shot Hundreds Of Photographs--Waddya Do Now? Page 2
The Album Phenomena
Album software produces a digital version of the kind of scrapbooks that amateur photographers have always used to display images. Digital album software offers a user interface that mimics traditional paper-based albums. Most album programs are Windows-based, while almost all digital asset managers are available for both Windows and the Mac OS. Clever web-based album software, such as JAlbum (
www.jalbum.net
), not only runs on multiple platforms including UNIX but also is free.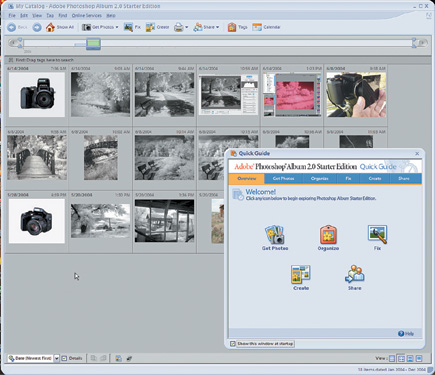 In addition to basic image editing, Adobe Photoshop Album can be used to create custom slide shows, cards, calendars, and photo books, using built-in templates that can be personalized with your photos. You can download a free Starter version from www.adobe.com.
Photoshop Album: In addition to basic image editing, Adobe Photoshop Album (www.adobe.com) can be used to create custom slide shows, cards, calendars, and photo books using built-in templates that can be personalized. You can send your photos by e-mail, PDAs, cell phones, display them in 3D web galleries, or view them on your TV. Photoshop Album lets you upload photos to online services to order prints for real-world photo albums, or you can print using a variety of picture packages at home.

3D-Album: 3D-Album (www.3d-album.com) is available in many versions, including a Commercial Suite that lets you publish and distribute DVDs, albums, catalogs, screensavers, and portfolios. You can specify a particular area of an image to be engaged to take an action such as playing a sound or video clip, display information, open another document, or link to your website. The Commercial Suite includes 100 templates for weddings, graduations, yearbooks, and other occasions, and new styles are added for free download.
3D-Album Commercial Suite takes the art and craft of creating presentations and screen savers to a whole new level. Not inexpensive, but well worth it as a promotional tool or a service pros can offer their clients.
Catalogers
At the risk of appearing cynical, it seems to me that calling these programs "digital asset management" software is a way to extract a higher price from unsuspecting computer users. I prefer the more descriptive term "imagebase."
ThumbsPlus: Some time ago, a friend introduced me to Cerious Software's Windows-only ThumbsPlus, an amazingly capable but easy to use image cataloger that simplifies the task of finding all kinds of media, including photographs, fonts, and animations. You can use ThumbsPlus to browse, view, edit, crop, launch external image editors, or copy images to the Clipboard. You can use drag-and-drop images to organize your catalogs or move them to appropriate directories.

PhotoBase: Like ACDSee, which was covered in detail in the May 2004 issue of eDigitalPhoto, ArcSoft's PhotoBase (www.arcsoft.com) is cross platform, but the Mac version lags behind in features, so my comments here are for the more powerful Windows version. PhotoBase 4.5 (Mac OS version is 2.5) is a complete multimedia manager. In addition to helping categorize and back-up image files, PhotoBase helps create presentations and web albums. The new Renamer feature lets you preview, rotate, and re-name files like you've always wanted to do, but was too hard or needed programming experience to accomplish. You can sort multimedia files in every folder organized by date or name. If you're scanning old prints, PhotoBase lets you acquire multiple photos at the same time. And you can add audio annotations to any file or folder.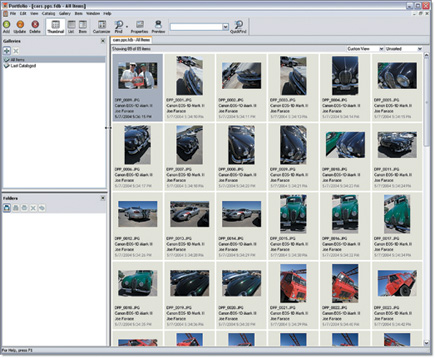 In addition to image management, Extensis' Portfolio can convert cataloged images into JPEG or TIFF file formats, and in the process change the image size, resolution, and color mode. Portfolio can also batch convert many images at a time including layered PSD, EPS files, and raw camera images.
Portfolio: Extensis (www.extensis.com) recently upgraded its Portfolio image management program to fit the needs of everyone from individual photographers to large companies and stock photo agencies. With a newly redesigned, single-window work space, Portfolio 7 makes it easy to organize, create, and access your catalogs and galleries. "Smart" galleries can be set to automatically find any cataloged file that meets your predetermined criteria. This ensures your galleries are always updated. You can save time by converting cataloged images (individually or as a batch) to JPEG or TIFF format within Portfolio 7 instead of using an outside image-editing program and even defining resolution, size, and color mode.

You can write EXIF (Exchangeable Image File Format), IPTC (International Press Telecommunications Council), XMP (Extensible Metadata Platform), and Portfolio's own metadata (keywords and descriptions) into image files, so the information travels independently with your files. My favorite feature is One-Click CD Publishing & Archiving that lets you collect image files, create a catalog, add a copy of Portfolio Browser, and burn a CD/DVD in one step. You can collect original images or low-res JPEG previews up to 2000 pixels in size and view your files full-screen no matter where they are stored.
Some Gone, Some Remain
In doing research for this story the one thing that I noticed is that many of my old favorites were gone: Image AXS? Poof. Kudo Image Browser? Kaput. I was surprised that some of my non-favorites, like Canto's Cumulus (www.canto.com) survived and prospered, which means the program must be a lot more user-friendly than the last version I tested. I downloaded a Mac OS X demo and gave it a spin. (Cumulus is available in Mac OS and Windows with identical functionality, which I hope sends a message to the other guys.)

Supporting Mac OS X and Windows platforms, the single-user version of Cumulus is intended for the home users who want to organize photographs, graphics, or MP3 files. It can manage two catalogs simultaneously that can contain 2000 files each, but get this: "Canto doesn't offer technical support for myCumulus." So you're on your own unless you pony up for the more expensive versions. Nevertheless, myCumulus offers customizable thumbnails, reads metadata such as EXIF and IPTC, writes IPTC data, and offers multiple cataloging and background cataloging.

LATEST VIDEO

SPONSORED VIDEO
Testing Tamron's SP 150-60mm G2 lens while capturing birds and alligators in Apalachicola, Florida.