The Opus Pro OPL-L300-Series AC/DC Location Kit; This Strobe System Goes Where You Go Page 2
Portable Power
The matching OPL-L301 battery pack comes in its own padded shoulder bag, so you can carry it separately or inside the larger carrying case (generally recommended). The controls are on the front panel, so you can rest it horizontally, on its side, or vertically on end when storing. In use, it should stand on its feet (horizontally), or with the aid of the provided kickstand, which affords a better view of the front panel. That said, and even though it's less stable (a touch wobbly), I did stand the unit on end without ill effect--just keep it clear of foot traffic.

When the kit arrived, I charged the battery fully. A full charge normally takes five hours. The pack supports one or two flash heads in tandem. (IMPORTANT: To avoid damage to the battery and flash heads, never operate the flash or connect it to the battery while charging. Disconnect the battery from the AC outlet, turn off the charging switch, set the flash head to "DC" operation, connect the flash head/s, and activate the battery/car/off rocker switch to the "battery" position.

Use the "car" position when powering off a car battery with the supplied cable attached.)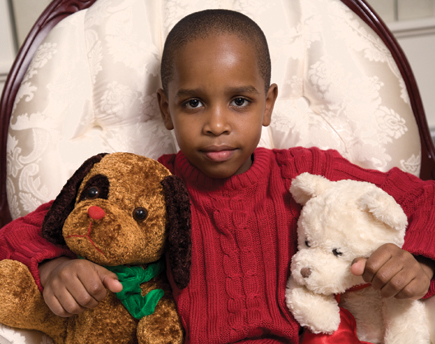 I carried one light, a stand, an umbrella, and a collapsible reflector to this portrait shoot. First I photographed the youngster seated, using the flash alone, exposing at the flash sync speed. I warmed the shot with an 81-series photo filter in Photoshop. The setup shows all three family members, with a friend of the family helping out with the reflector (but backed off a bit for this shot).
What's In The Bag?
While there are standard configurations that even include a radio remote triggering system (worthwhile to help you avoid using the long sync cable), I chose to do a custom configuration. First, I wanted to make the kit as light as possible, so I opted for the lighter-weight 7-foot stands--two of them, one for each head. While I would have preferred that the stands have rubberized leg tips to prevent them from sliding around on the floor, the narrower spread of these lighter stands does give you a bit more breathing room.

I requested the larger case only because it's wheeled. Big mistake. (Again, keep in mind those two flights of stairs.) It proved way too heavy and too large, especially when I would only be schlepping one head for the portrait shoot. I would have needed the second head for a large group, but not for three people, especially when I'd planned to use a broad light source--namely, an umbrella, complemented by a silver collapsible reflector for fill. Fortunately, I had a smaller wheeled case at hand, so I transferred the gear to this case.

Instead of the umbrella initially offered in the kit, I asked for the largest softbox and the smallest they had--the big one for small groups, the mini for tabletop sets. Well, the big one proved too big and unwieldy for these small lights. In the end, I didn't use either--even the mini-box proved too difficult to assemble (the online video instructions address the systems made for other flash heads). I was thankful for my umbrellas in the end.
Seeing The Light
One thing about portrait shooting: you tend to focus more on your subjects, their facial expressions and bodily attitudes, and less on flash recycling, provided the power supply keeps pace with your shooting. While both flash heads had visual flash-ready indicators, that's the last thing you pay attention to--especially when hidden by an umbrella. What I wouldn't have given for an audible beep, but alas, another feature sacrificed for the sake of battery operation. But lo and behold, during the course of the hour session, I never once found myself stopping to wait for the flash to recycle. The battery kept pace. Granted I wasn't shooting at the frenetic pace seen in fashion shoots, nor did I plan to with this lighting system. Not to mention, when you're constantly giving your subjects direction, enough time passes between shots that recycling is not even an issue--unless the battery is wearing down, which it didn't during nearly an hour of shooting.

For this portrait shoot, I used one light with a photographic umbrella (with soft white interior) positioned above head height and off to the right for some nice modeling. A friend of the family who happened to be there was put to work holding a silver collapsible reflector from the left side of the set.

A couple of days later, I hooked up both lights to the battery for a tabletop shot. As a rule, such sets require that modeling lights be used with strobes. And since I was shooting in my home studio, I could have operated both flash units off house current (120v/60Hz only). But I wanted to test the battery's capacity, not to mention see if one could manage without modeling lights in such situations. To get a better sense of what the lights were doing, I took a wide shot of the set. That let me see exactly where each light was hitting, visualize shadows and colors, and note what adjustments needed to be made. While I won't belittle the need for modeling lights, still I found myself doing quite well without them in this case. The battery easily held its own for this hour of shooting.
Conclusions And Recommendations
Add variable output, proportional modeling, and an audible ready signal and I'd buy the system without hesitation. As is, I was generally very pleased with the Opus L300 battery-operated lighting system--and especially with the results. Small size, lightweight, and ease of use combine to make it palatable to anyone new to studio/mobile strobe lighting.

For more information, contact Nadel Enterprises Inc., 425 Attwell Dr., Toronto, Ontario, Canada M9W 5C4; (416) 745-2622; www.nadel.ca.
Jack Neubart is the author of "Photographer's Exposure Handbook" (Amphoto, 2007).

LATEST VIDEO