onOne Software's PhotoTools 2: Pro Edition; Bringing Out The Best Page 2
My Tests
In my first test I wanted to see how PhotoTools 2 worked on up-close portrait shots. After opening a series of images in Photoshop, I opened them one by one using the plug-in (available from the onOne menu in the menu bar). There is no way to open a group of photos—you load each one separately into the plug-in.

I used the Model Skin effect first. With this filter, you can paint on the image to remove slight blemishes. It worked better than any tool I've tried in Photoshop, mostly because it is fine-tuned for performing that specific function. I also applied Boost Color and the powerful Magic Portrait Fixer. On a graduation day photo, this effect immediately removed all blemishes, sharpened up the photo, added a warmer color tone, and dramatically improved the color quality. I could see portrait photographers loving this tool because it works exceptionally fast.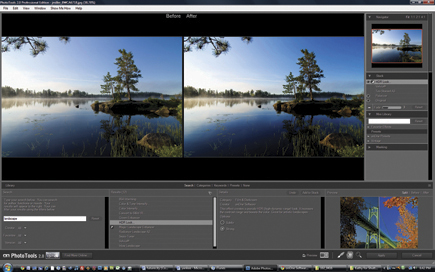 (Top): This effect adds an olive drab tone to an outdoor shot. Note how the trees look like they are frozen in time as opposed to the original more rustic look. (Center): The final effect after using PhotoTools 2 to adjust the colors, sharpness, and lighting. (Bottom): PhotoTools 2 allows you to stack effects—almost like layers in Photoshop—and apply the ones you want or rearrange them. These stacks can be saved as a reusable preset.
Photos © 2009, Joe Miller, All Rights Reserved
Next, I tried several outdoor shots, most of them from a photographer friend named Joe Miller (www.joemillerphotography.com). In keeping with my theme of not wanting photos to look overly digitized, I wanted to see if PhotoTools 2 could enhance these already amazing photos and bring out their true brilliance. Each time I edited, I clicked the Apply button in the plug-in and saved out the new layer.

I tried just about every effect available, but there were a few that really stood out. One is called Omaha Beach, which is a color reducer. I noticed in the photo of the Boundary Waters Canoe Area that the greenery was almost too green and the water almost too blue. I knew that at the heart of this photo, there's a "still life" look—almost like one of those scenes you might create for a model train where the trees and water look painted or plastic. The Omaha Beach effect worked perfectly in giving this photo a slightly darker, ornate look.
This casual shot now looks as though it could work in a magazine ad. Yet, the colors are not altered in a computerized fashion but with the same process used in a darkroom.
© 2009, Jamie Larson, All Rights Reserved
Without the new effect, I would have used several filters in Photoshop—maybe I would try experimenting with brightness, saturation, or one of the color effects—no one action in Photoshop enhances the colors in quite the same way. PhotoTools 2 uses algorithms to analyze a photo and the colors and change the tones, rather than just adding more saturation and brightness, which is what makes it so useful.

To experiment more with another outdoor shot, I stacked several filters, including Turbo Boost, Targeted Darkening, and Vignette Dark. Not wanting the image to look as though it had been overly retouched digitally or fed through a less powerful filter, I adjusted the sliders for each one to only about 60 percent to make sure the image still retained its lonely, mirrored-glass look. The image went from a bit too much red to a dark, more mysterious tonal treatment that worked much better.

This is the real power of PhotoTools 2—it never tries too hard and retains the fidelity of images. Just about every effect I tried worked well, although you do have to match the effect with the image. For example, the portrait effects have little bearing on outdoor shots.
Notice how the before image here is a bit raw and the color variant is poor. The Magic Portrait Fixer effect dramatically alters the image to make it more color rich.
© 2009, John Brandon, All Rights Reserved
It should be noted that onOne Software offers a community support portal called onOne Exchange where you can download new presets that are like "recipes" from other users, and upload your own.

I tested the Pro Edition of PhotoTools 2, which costs $260. I think it is worth every penny—it is a remarkable software add-on for Photoshop (and Lightroom and Aperture) that greatly enhances the color quality of photos in ways that would normally require painstaking effort using Photoshop Actions and effects. Sure, you can perform these same effects manually, but the immediate nature, quick access to effects, and amazing results make PhotoTools 2 a must-own.

For more information, contact onOne Software at: www.ononesoftware.com.

LATEST VIDEO