onOne Software's PhotoFrame Pro 3; Give Your Photos A New Edge
by Howard Millard
PhotoFrame Pro 3 is a Photoshop plug-in that allows you to create a tremendous variety of unusual borders, edges, mattes, and frames for your photos. Since I reviewed Version 2.5 over two years ago, onOne Software acquired PhotoFrame from Extensis and has significantly souped it up. With the new Version 3, you can quickly create an array of effects from high-quality templates with tools that allow you to try variations before making a selection. Or use the Instant Frame and Instant Edge systems to create your own effects from scratch. The number of preset edges has been doubled to 4000, and the software works with both Windows and Mac. Version 3 is compatible with Photoshop Versions CS and CS2, as well as Elements 3.0 and 4.0. Please note, though, that onOne says that 3 is not compatible with ImageReady or any additional applications that support Photoshop plug-ins other than these four.
The software installs quickly and its interface is cleanly designed, well thought-out, and easy to use. To apply a frame, first open your photo in one of the compatible Adobe programs. Next, select PhotoFrame from the onOne listing either in the menu bar or under Filter, then select a frame from the new Frames palette, or create a frame from scratch.

Completely redesigned, the Frames palette now includes a built-in frame browser. Simply scroll through small preview thumbnails of all of the frames, select one you like, then add it to your image with a double-click. In the Preview window, handles at the center of all four sides of your picture allow you to move, scale, and rotate the edge or border, to adjust each frame to fit your image precisely the way you want. For further special effects, you can apply drop shadows, glows, bevels, colors, and textures to your edge, matte, or frame. A large preview (up to full screen) shows your changes in real time. Click "apply" to add them to your original, and you're done, or ready to add more effects on top of this one.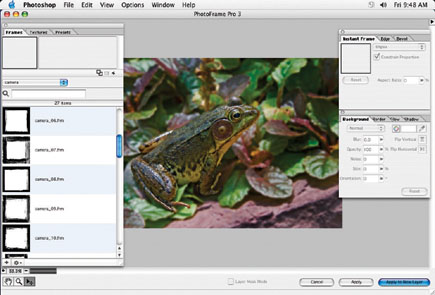 After installing the onOne PhotoFrame Pro 3 CD with its 4000 frames, I opened my photo of a frog in Adobe's Photoshop CS2. From the Filter menu I chose onOne> PhotoFrame Pro 3. This large re-sizable preview window opens showing the original photo with three palettes--the main Frame palette on the left and the Instant Frame and Background palettes on the right.
What's New?
What's new in Version 3? You can save your most frequently used effects as Favorites. Further, a Frame Preview Grid lets you preview multiple frames at once with different frames applied to an image, in order to compare and contrast frames and fine-tune the one you want. When you need a creative kick-start--and who doesn't from time to time--a new Random Frame Generator applies 3-5 randomly selected frames in combinations for you to consider, then adjust and apply as desired.

Additionally, photo-realistic color picture frames, including classic wood and metal, have been added to the mix. These include oak, teak, ebony, distressed paint and metals, and weathered wood. With the new Layer Mask mode, you can place any of the border or edge effects directly into a layer mask which you can then edit using the tools in Photoshop. Combine and customize up to 32 frames to create a unique look all your own. Finally, PhotoFrame Pro 3 supports frame files imported from other edge effects plug-ins.
To choose a frame style, go to this Frame palette and click on the double arrows to see all the frame categories and options. Select one, and all the frames in that category immediately appear in a list with a thumbnail image and a name. Scroll through them to find one that works well with your photo.
Furnished on CD in PDF format, you'll find a clearly written, comprehensive, full-color User Guide. For a great introduction and a jump-start, onOne has posted video tutorials online at: www.ononesoftware.com/tutorials_pfp3.html. Here you'll find tips and tricks for applying frame previews and layer masks, as well as an overview of the new Frame palette. An online gallery shows all of the frames available in Version 3.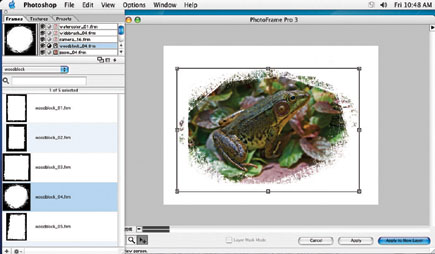 When you double-click on a frame thumbnail or its name, that frame is immediately applied to your photo in this Preview window. You can adjust the way the frame fits around and crops your photo by dragging the square boxes in the bounding box surrounding your photo. You can move, scale, and rotate the edge or border to adjust each frame to fit each image perfectly.

LATEST VIDEO