onOne Software's PhotoFrame Pro 3; Give Your Photos A New Edge Page 2
With Photoshop CS2 running on Mac OS X 10.3.9, I found that PhotoFrame Pro 3 performed quickly. The various effect tools are presented in floating palettes which can be repositioned, docked, or hidden, giving you freedom to customize your work space, as well as the ability to see your chosen effect applied to a full-screen preview. With Version 3, all edges and frames are installed on your hard drive, so they're always available via the Frames palette browser without having to insert a CD.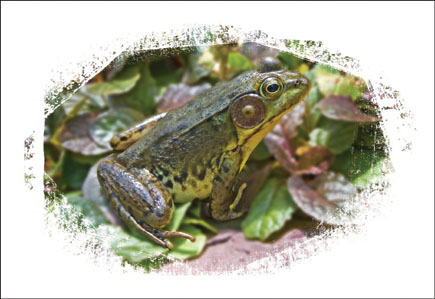 Once you have the frame exactly the way you want it on the Preview screen, click the Apply button at the lower right of the Preview window and your image will reopen in Photoshop (or Elements) with the effect applied. Note that you can also choose to apply the effect as a new layer, or as a layer mask. Here, I chose a woodblock effect to complement my image of a frog.
All Photos © 2006, Howard Millard, All Rights Reserved
PhotoFrame Pro 3 is compatible with Mac OS X 10.3.9 and higher and Windows XP Service Pack 2. It's available for an MSRP of $159.95, or $69.95 to upgrade from previous versions of PhotoFrame. At press time, several new downloads were added to the onOne website, www.onone software.com. First is a free upgrade to Version 3.0.2. Next, the Instant Film Frame Collection is comprised of 109 new frames free for owners of PhotoFrame Pro 3 or PhotoFrame Elements, a $69.95 scaled-down version for Elements users. Additional frame collections are also available for $39.95 each, designed by individual photographers, including my friend and colleague Rick Sammon, Vincent Versace, Jim DiVitale, and Helene Glassman. See the website for examples and details. Note that you must have PhotoFrame Pro 3 or PhotoFrame Elements to use these.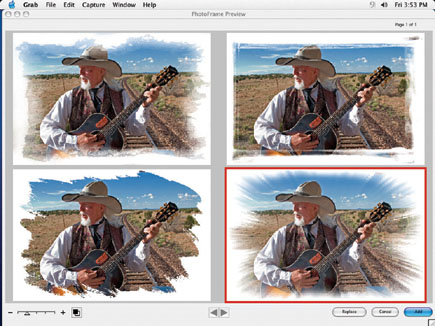 For this portrait I selected four possible frames in the Frames palette. Then I clicked on the small gear icon at the bottom of the palette and selected View Frame Grid. This brings up a grid of comparison frames, all applied to the same image. Note that you can change the size of the previews with a zoom slider at the lower left.

Whatever subjects you photograph, these distinctive edge effects and frames can creatively complement and enliven the tone and increase the impact of your pictures, almost as fast as you can select them.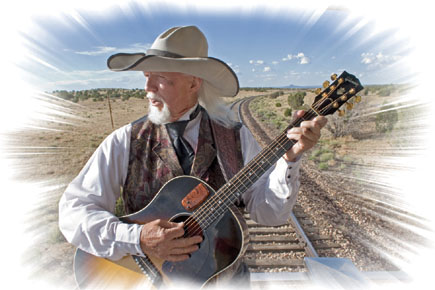 For my photo of Colonel Jim Garvey singing on the caboose as the Grand Canyon Railroad rumbled through Arizona, I selected the Volume 4 zoom_04.frm frame, since it conveyed a strong sense of the moving train.
For more information, contact onOne Software, 15350 SW Sequoia Pkwy, Ste. 190, Portland, OR 97224; (888) 968-1468; www.ononesoftware.com.

LATEST VIDEO

SPONSORED VIDEO
Testing Tamron's SP 150-60mm G2 lens while capturing birds and alligators in Apalachicola, Florida.