Olympus Unveils Small, Retro-Styled OM-D E-M10 Mark II Mirrorless Camera (Hands-On Photos)
Olympus took the wraps off a new entry-level mirrorless camera this morning: the small and retro-styled Olympus OM-D E-M10 Mark II. Like several of Olympus' models in its mirrorless camera lineup, the E-M10 Mark II uses a 16-megapixel Live MOS sensor in the Micro Four Thirds Format.
But the Olympus E-M10 Mark II offers several key upgrades over its predecessor, the E-M10, which was released in January 2014. For one, the E-M10 Mark II has been redesigned, adding raised, knurled dials and knobs on the camera's metal-accented chassis and better ergonomics overall with a rear thumb grip that makes the camera easier to hold for folks with larger hands, such as yours truly.
We had some hands-on time with the Olympus E-M10 Mark II (under a non-disclosure agreement) ahead of this morning's launch of the camera and found it to be noticeably more comfortable to shoot with a slightly more luxurious look and feel. We've included some hands-on photos with the E-M10 Mark II in this story.
Other upgrades to the Olympus E-M10 Mark II include the addition of 5-axis image stabilization, which corrects for camera shake by shifting the camera's sensor horizontally, vertically, and on the X (pitch), Y (yaw), and Z (roll) axes. (This 5-axis image stabilization is available on both step-up models: the Olympus E-M5 Mark II and flagship E-M1 mirrorless camera.)
Olympus has also slightly boosted the speed of the E-M10 Mark II, which, like its predecessor is powered by the company's TruePic VII image processor. The E-M10 Mark II can fire off image bursts of 8.5 frames per second compared to 8 frames per second of the previous model. The electronic viewfinder (EVF) has also been upgraded on the E-M10 Mark II. It has a 100 percent field of view and has a viewfinder magnification rate of 1.23x (35mm equivalent: 0.62x). The EVF uses a 2.36-million-dot OLED monitor that's designed to deliver crisp details while framing your subject.
There's also an AF Targeting Pad in the EVF that lets photographers maintain eye contact with the viewfinder while moving a thumb on the camera's rear touchscreen to adjust a focus point. For photographers who prefer optical viewfinders, Olympus has added a Simulated Optical Viewfinder (S-OVF) feature that's designed to offer higher dynamic range, putting it "more in line with what's visible to the naked eye," the company said.
The camera can shoot 1080p Full HD Video and features a touch interface on the tilting 3-inch display screen on back. A new Clips feature records short one-, two-, four- or eight-second clips. The clips can then be merged, in-camera, into a final video creationg and then uploaded directly to social media sites using the Olympus OI.Share app.
Here's a rundown of some of the other features in the Olympus OM-D E-M10 Mark II, according to the company's press announcement.
• Focus Bracketing: With a touch of the shutter button, multiple shots are taken with slightly different focus depths. Designed for those who shoot macro photography, users can select the image with the focus they prefer. By using image-editing software that offers an image stacking function, users can produce images with large depth of field even while using wider apertures.
• 4K Time-Lapse: Capture up to 999 images automatically at an interval of one image every five seconds. The camera will then combine the images into a 4K file in-camera, without the need for additional software.
• 14 Art Filters can be combined, in-camera, with Art Effects to create new, designed images and video.
• Photo Story: With five available patterns, Photo Story combines multiple photos into a single image.
• Live Composite: Select Live Composite mode to extract and composite the brightest areas from multiple, sequentially shot images. With the newest version of the OI.Share app for Android and Apple, you can make adjustments to your settings and monitor the progress of the image as it develops on your smartphone or tablet.
• Live Bulb and Live Time: Capture moving trails of light with the Live Bulb and Live Time modes to create light painting images.
• Keystone Compensation: Perspective distortion can be corrected in-camera, live, while shooting, with the ability to see your corrected adjustments as you shoot.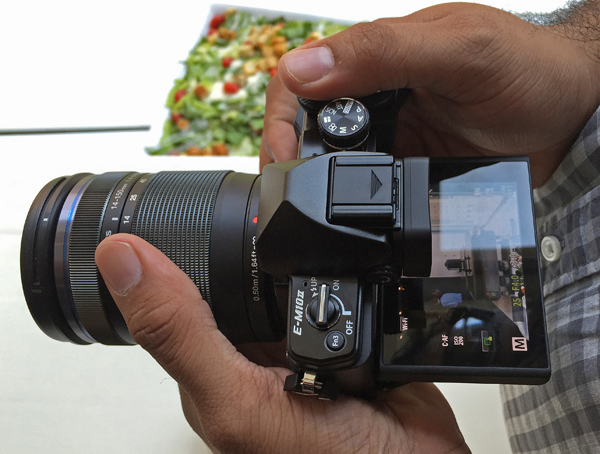 Pricing and Availability
The Olympus OM-D E-M10 Mark II goes on sale in early September 2015 in the following configurations: body only, in black and silver: $649.99 (U.S.), $749.99 (Canada). As a kit, in black or silver with the M.ZUIKO DIGITAL ED 14-42 f3.5-5.6 EZ lens: $799.99 (U.S.), $899.99 (Canada)
For more info on the Olympus OM-D E-M10 Mark II including a complete list of specs, go here.

FEATURED VIDEO