Olympus Debuts Rugged M.Zuiko 300mm F4.0 IS Pro Super Telephoto Lens with 5-Axis Stabilization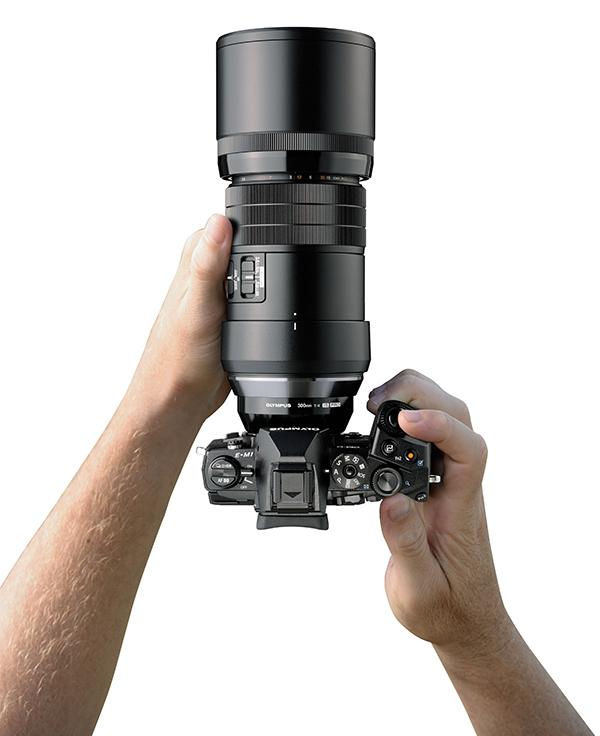 Bird, wildlife and nature photographers may have found another tool to add to their arsenal. Olympus just announced the Olympus M.ZUIKO Digital ED 300mm f4.0 IS PRO lens for Micro Four Thirds mirrorless cameras at the CES 2016 show in Las Vegas today. This new 300mm is a compact super telephoto lens offering a high level of image quality in a splashproof and dustproof build.
The M.ZUIKO Digital ED 300mm f4.0 IS PRO is also the first Olympus interchangeable lens with a built-in image stabilization mechanism, and when paired with the Olympus OM-D E-M1 (firmware version 4.0) or E-M5 Mark II (firmware version 2.0), in-body and in-lens image stabilization are designed to work together. The result is in a new 5-Axis Sync IS technology which, according to Olympus, "produces the world's most powerful image stabilization performance of up to six shutter speed steps of compensation." The lens can also be used with other camera bodies, with the in-lens stabilization mechanism alone providing four shutter speed steps of compensation.
With a length of 8.9 inches (227mm) and weight of a just 2.8 pounds (1,270g) – making it one third of the size and weight of most DSLR 600mm equivalents – the M.ZUIKO Digital ED 300mm f4.0 IS PRO is designed to be portable and a great travel companion for your next photo adventure. Despite its compact size, the lens is hermetically sealed in 17 places and features freezeproof performance down to 14⁰F (-10°C).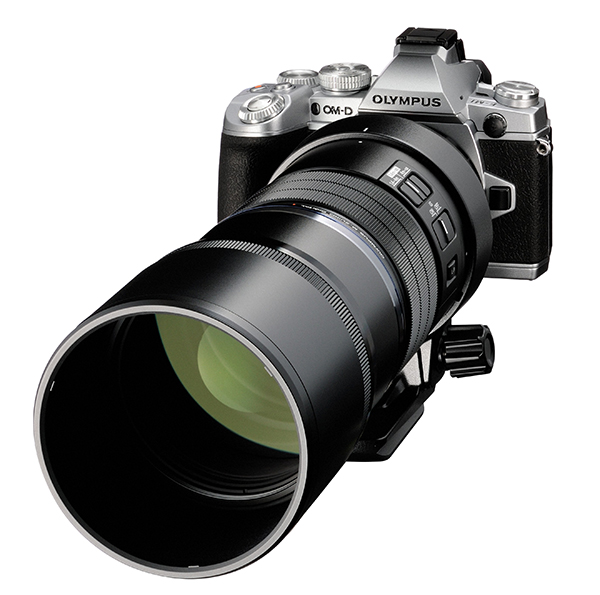 The M.ZUIKO Digital ED 300mm f4.0 IS PRO is Olympus's highest resolving lens even thanks to three Super ED lenses, one Extra-High Refractive index lens and three High Refractive index lenses which are desgined to help reduce the color bleeding and chromatic aberrations that tend to occur on typical super telephoto lenses. In addition to Olympus's ZERO Coating (ZUIKO Extra-low Reflective Optical Coating), a new lens coating technology called ZERO Coating Nano suppresses reflected light to minimize ghosts and flares for extremely sharp details of images, including car headlights. A layer of nanosized particles and a layer of air from the center to the surface of the lens achieves a refractive index similar to air and significantly reduces surface reflection.
The M.ZUIKO Digital ED 300mm f4.0 IS PRO is also designed to get up close to explore the beautiful, minute world of telemacro photography with maximum image magnification of 0.48x (35mm equivalent), with a minimum focusing distance of 46 inches (1.15m) from the end of the lens. When combined with the M.ZUIKO Digital 1.4x Teleconverter MC-14, photographers get a 840mm (35mm equivalent) lens with an increased image magnification of 0.67x (35mm equivalent) in a handheld compact body while maintaining the same minimum focus distance.
The lens also features a Manual Focus Clutch mechanism that makes switching to manual focus possible by pulling the focusing ring toward you. The side of the lens barrel features a Focus Limit switch (4m to infinity, all range, 1.4 to 4m), an IS switch (On/Off), and an L-Fn button, which can all be operated without ever taking your eye off the viewfinder. The built-in sliding lens hood can be locked into place when extended, and the tripod base plate with a quick shoe compatible rail is removable.
Olympus' M.ZUIKO Digital ED 300mm f4.0 IS PRO lens is available now for an estimated street price of $2,499.99 (U.S.) and $3,199.99 (Canada).

FEATURED VIDEO