Olympus Camedia E10 4MP SLR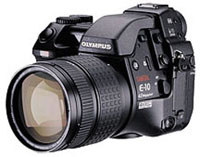 The Olympus Camedia E-10 is a professional level true SLR digital camera with an f/2.0 to f/2.4 4x zoom lens specifically designed for digital capture. Well separated left-hand controls include exposure compensation, close-up, manual/autofocus, metering mode and drive selection, as well as the pop-up flash release.
First, I must express my gratitude to Olympus. A few years ago when rumors of digital backs for 35mm SLRs first cropped up, I responded in print with the opinion that eventually cameras designed for and around a CCD chip would prevail. The new Olympus Camedia E-10 realizes that prediction by being the first real camera you don't have to apologize for by referring to the output with the excuse, "it's digital." There's no compromise in the way it handles and the functions it provides. It has the optics, the body, the operating modes, the viewing system, light metering and autofocus, as well as a full compliment of traditional manual controls that we have come to expect in an advanced contemporary camera of any kind.
The SLR Experience
For anyone who has a background of experience with SLR cameras, the first time you pick up the Olympus E-10 and make your first few exposures it is a familiar, confident experience. The reason is that the E-10 incorporates most of the important features of SLR cameras that have evolved and been refined over the last 40 years of photography. In other words, it's a very well designed SLR camera. The fact that it was designed around a 2/3" CCD chip is not apparent when you are making photographs. Besides an ideal weight, balance and size, the viewfinder provides a clear, detailed reflex image framed on the bottom with a digital display that informs you of all the crucial camera settings. And, adjustments to those options, like exposure compensation, are made by pressing a button and fingering a control dial without having to remove your attention from the scene in the viewfinder. The camera also has an angle-adjustable LCD panel display on the back. This makes over or under the crowd shooting angles easier, plus gives easy access to menu changes you might need to alter during a picture making session.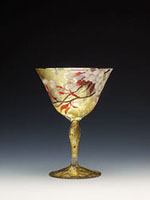 The prosumer digital camera designation of the Olympus E-10 was amply demonstrated by readily adapting to the challenge of a studio electronic flash illuminated still life illustration. Every nuance of detail and rich tonality was captured by the E-10 resulting in a superb 12x16" image print on 13x19 paper.
Photos © 2000, David B. Brooks, All Rights Reserved
Olympus Camedia E-10 Features
The Olympus E-10 is a true optical single lens reflex, with a viewfinder that also includes a convenient diopter adjustment. It only differs from most other SLR cameras by the fact that the reflex function is a fixed pair of optical glass prisms, so there is no mirror movement and no loss of the image in the viewfinder during the exposure. A viewfinder blind is provided to assure no light enters and affects the exposure or light meter when longer exposures on a tripod are made. The viewfinder blind knob is near the eyepiece and can be accidentally closed when the diopter setting is adjusted--the only design flaw I could find in the entire layout of the camera!
The lens is a fast (f/2 to f/2.4) 4x zoom that has a range equal to 35-140mm for a 35mm SLR. This is an entirely new optical design with ED glass and aspheric elements configured specifically to match the unique attributes required to expose a CCD array. It is supplemented by wide angle, telephoto, and macro accessory attachments that screw into the 62mm adapter ring on the front of the E-10 zoom. Two lens barrel rings provide zoom control as well as manual focus. The focus mode is switched by a handy lever on the left side of the body. In the auto setting the overall scene rough focus is established with an infrared sensor. Fine adjustment is then made from information captured by the camera's CCD sensor array.
The back of the Olympus E-10 includes a 1.8" LCD playback with buttons underneath to access histogram display, lock, and delete buttons. Right thumb control access includes the auxiliary control dial, AEL, display, menu, and four-way menu navigation, and selection OK. The SLR viewfinder window includes a ring diopter adjustment and viewfinder blind lever.
Well, we're halfway through the year 2001 and I'm finally getting used to the idea of living at the start of a new century. When we're all tucked away in the old photographers home we'll look back on this period as a time of major turmoil and exciting new opportunities in the photo world. There's new technology, new ways to view images, and new ways to take images. What has remained pretty constant is the desire of buyers of photography--magazines, ad agencies, graphic design firms, etc.--to look for the latest and freshest images.
My work is subject to the same scrutiny as any other artist. If I were to stick with the style and look that made me so successful in the 1980s I surely would have a hard time finding any work. Even if I had kept my style static from the '90s I would find more and more clients looking for something newer and fresher. Don't get me wrong. Slavishly following trends and creating a raft of "me-too" images will get your portfolio bounced just as fast as a bunch of amateur snapshots. Like any artist I'm affected by the culture around me. I react to the slow but steady style shift that affects all artistic endeavors. My work has evolved over the years, even though it was hard to notice as it happened.
Recently I assembled a new portfolio for my rep to show to prospective clients. The difference in styles became readily apparent. As I pulled out 10-year-old ads and replaced them with work from 2000 and 2001 I noticed a strong trend that has crept into my work--color. I don't mean bright color, I mean a strong, saturated fluid sense of color that most working pros today have to be able to create if they want to work.
Exposure Metering & Modes
There are four exposure modes provided: program, shutter, aperture priority, and manual. Exposure readings can be made with three modes: 1.5 spot, center-weighted average, and Digital ESP Multi-Pattern, all of which utilize the camera's CCD chip's sensitivity to determine exposure values. The effective film speeds that may be chosen are ISO 80, 160, and 320. The E-10 also includes iESP autoexposure control TTL for the camera's built-in flash as well as the accessory Olympus FL-40 flash when connected to the hot shoe. In addition, the Olympus E-10 provides a standard PC synch connector that allows the camera to be used in manual mode, setting the aperture and shutter speed to coincide with studio or independent auxiliary flash. As mentioned, there is an exposure compensation adjustment available, as well as an AEL (AutoExposure Lock). In addition, AEB (AutoExposure Bracketing) may be engaged through the setup menus via the LCD display.
The Olympus E-10 is close to an ideal camera for studio people photography with electronic flash. Besides having an immediate histogram check on exposure, any obviously bad frames can be immediately deleted. In addition the playback can be enlarged on a TV monitor for the subject and the photographer's review. And, quickly moving the memory card to a nearby computer could provide proof print-outs in just a few minutes after a portrait session is complete.
Finally and most significantly, once an exposure is made, you can switch to playback and, if set up, click the info button to see a histogram of the exposure overlaying the image as it is displayed in the LCD screen. This will confirm if the exposure is entirely within the gamut of the CCD's range. Color balance is established by default automatic white balance. In addition, the white balance can be set to a range of color temperatures from 3000-7500K.
All of these mode settings and exposure values can be set by pressing the appropriate control button and then turning the main control knob immediately behind the shutter release. The readout of values is displayed in the small settings LCD display between the Mode control knob and penta-prism. A symbol in the LCD panel and the information bar under the focus screen in the viewfinder reminds you of your setting. There is also an auxiliary control knob on the back of the camera immediately below the information LCD display. When the exposure Mode is set to manual, the main control knob sets the shutter speed, while the one on the back sets the aperture value.
E-10 Digital Features
The Olympus Camedia E-10 creates a full resolution image file of 2240x1680 pixels. The images may be saved in TIFF uncompressed (12MB), RAW data (uncompressed), as well as SHQ JPEG at 2.7:1 or HQ JPEG at 8:1 compression ratio, as well as a selection of smaller image sizes and compression ratios, totaling 15 in all. Image storage includes a slot for a SmartMedia card and a CompactFlash Type II card, but Flash Memory MicroDrive storage is not recommended. With a 64MB SmartMedia card and a 128MB CompactFlash card a total of at least 66 SHQ images, or 180 HQ images can be stored. A Photoshop plug-in with A/D converter for processing RAW files is included with the Camedia software.
The standard power supply is two CR-3V lithium batteries, which may be substituted with four Ni-MH rechargeable batteries. There is also an optional rechargeable lithium polymer battery that is part of a vertical handgrip accessory. In addition a 110v AC adapter is available to power the camera.
The Olympus E-10 computer connection is by a USB cable supplied with the camera. Image file downloading, as well as basic image-editing functions, are provided by Olympus Camedia software for Microsoft Windows and Apple Macintosh platforms. Also included in the camera is a video out socket for connection to a TV monitor providing a standard NTSC signal for monitor playback of images stored in camera memory (SmartMedia or CompactFlash card).
The camera includes 32MB of SDRAM memory, which supports rapid sequence exposures at 3 fps up to four frames in a burst. Unlike many digital cameras, the shutter release delay is under 10 milliseconds, shorter than many film cameras.
The normally high contrast of direct sun and shade is well within the exposure range of the Olympus E-10, providing accurate color fidelity across the tonal spectrum. Aperture priority can be used to select a wide lens opening to soften the focus of the background to contrast with a sharply defined foreground subject.
Test Shooting The Olympus E-10
As I suggested at the outset, the Olympus E-10 is a no compromise, full featured professional-level SLR camera. So, my test shooting plan included location, available light photography, studio still life and portrait photography using multiple source electronic flash illumination. Some subjects demanded a longer lens setting with close-up capability, while others demanded a wide angle of view and normal camera to subject focusing distances. In addition, I intentionally chose to photograph under a wide range of conditions, from soft, low-contrast lighting to just the opposite. Some subjects were finely detailed and required a great need for depth of field, while others involved smooth, hard to focus objects and surfaces.
I began with several days in the field making photographs of every kind of subject, including a new industrial building, agricultural scenes, a house under construction, another that needed to be condemned, and a new car. Nothing particularly original nor exciting, but after checking the exposures and downloading the images to Photo-shop an incredible level of consistency was established. In the process I gathered some more interesting images that also demonstrated a wide range of Olympus E-10 capabilities. I then was convinced that it was time to get serious about seeing what the E-10 would do as a studio camera with controlled, multiple electronic flash lighting. So I arranged a still life and a portrait session. This pair of test productions was photographed with the Olympus E-10 and a professional 35mm camera, a 100mm macro lens, loaded with Kodak Supra 100 film. The film results were scanned at 4000dpi. The selected E-10 images were transferred to Photoshop and enlarged by bipolar interpolation to 12x16" by 240dpi. Comparison prints between the film scans and the E-10 images were then made with an Epson Stylus Photo 1270 on 13x19" paper.
Conclusion And Recommendation
When comparing the 13x19 prints made from film scans with those from the Olympus E-10 it was obvious they were made by different media, but that one set was better than the other was debatable. Just to be sure I wasn't being subjectively biased I took the E-10 prints to my colleague's studio and he was duly impressed. OK, the E-10 is that good. It may be a bit hard to believe you can take a 4 megapixel that far, but it's not that unusual these days. Several recent digital camera models have undergone similar tests with like results. That the Olympus E-10 produces excellent professional level image quality is very positive, of course. But, as significant to my perception of this camera's image quality is how well does the camera lend itself to a wide variety of photographic applications. In my opinion it compares favorably to a wide variety of professional SLR cameras I have used over the years. I found it to be excellent, comfortable, and effective in all regards.
After the experience using the E-10, I can't help but feel that I'd sure have enjoyed what I've done photographically all my life a lot more if there was a camera such as the E-10 available. The bonus is the digital advantages it offers. For more information, contact Olympus America Inc. at (800) 347-4027, or visit their web site at: www.olympus.com.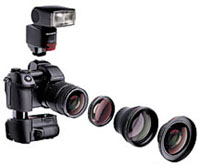 The Olympus E-10 system accessories include three optical converters providing close-focusing, wide angle, and telephoto accessory lenses extending the effective 35mm equivalent focal length range from 28-420mm. The FL-40 Olympus dedicated flash and a vertical handgrip with high capacity rechargeable battery round out the system.
Technical Specifications
Camera Type: Digital SLR camera with 4.5cm/1.8" color TFT LCD monitor
Recording System: Still image; JPEG (DCF: "Design rule for Camera File system"), TIFF (uncompressed), DPOF support RAW (16 bit per color)-ships with Photoshop plug-in for RAW 10-bit A/D converter
Image Sensor: 2/3" CCD solid-state image pickup 4.0 million pixel RGB Interlaced Scan
Image Controls: Contrast: Low, Normal, High (user selectable in menus); Sharpness: Soft, Normal, Hard (user selectable in menus); White Balance: iESP full-auto TTL, seven stage Preset Manual (3000; 3500; 4000; 4500; 5500; 6500; and 7500 K), "One Touch" Manual (set by White Card)
Lens: Olympus lens 9-36mm f/2.0-2.4, ED glass aspherical zoom lens, full multi-coated (all elements), (equivalent to 35-140mm lens on 35mm camera), optional 0.8x (wide) 1.45x, 3x (telephotos) and macro lenses, filter size 62mm
Photometric System: Digital ESP Multi-Pattern metering system, center-weighted, and spot metering
Exposure Control: Programmed autoexposure, aperture priority, shutter priority, +/- 3EV by 1/3EV steps exposure compensation, manual, ISO (user selectable at 80, 160, 320), auto-bracketing
Focusing: Dual AF-Active (IR and Passive TTL) system autofocus; Focusing Range: 8"/0.2m to (infinity), stepless
Manual Focus: Focusing Range: 8"/0.2m to (infinity), stepless
Macro Mode: 8"/0.2-30"/0.8m
Viewfinder: 95 percent V/H accurate optical SLR viewfinder
LCD Monitor: 4.5cm/1.8" wider angle color TFT LCD monitor with 114,000 pixels, brightness adjustment is possible
Flash Modes: Built-in Flash: Auto-Flash (low and backlight), Redeye Reducing Flash, Off, Fill-in, External Terminal: Off, Auto, Forced Activation (Flash Synch to 1/640 sec), Slow Synchronization (First-Curtain Synchronization effect, Second-Curtain Synchronization effect), Flash system uses exclusive iESP scene detecting flash
Flash Working Range: Wide; approx. 0.8-5.6m, telephoto; approx. 0.2-3.8m (ISO 100)
Sequence Mode: 3 fps up to four frames 1 sec shot to shot or faster at all times (unlimited quantity)
TruePic Technology: Available at all resolutions from SHQ-SQ
Self-Timer/Remote Controller: 12 sec delay/2 sec after optional remote controller operation
Outer Connector: DC input terminal, data input/output terminal (RS232C), USB interface, video output terminal (NTSC), external flash PC terminal, hot shoe (FL-40TTL)
Power Supply: Main Power Source: 2x lithium battery CR-V3/LiPo battery with optional Grip Kit 4x AA Ni-MH batteries/ 4x AA lithium batteries/4x AA Ni-Cd batteries/optional 7AU-AC adapter (Manganese batteries cannot be used)
Dimensions: 5x4.1x7" (128x105x178mm) (excluding projections)
Weight: 37 oz, 1048 grams (without batteries and SmartMedia card)
Estimated Street Price: $1999


FEATURED VIDEO