Olympus' Zuiko Digital 35mm f/3.5 Macro And Macro Flash; Versatility For Close-Up Shots Page 2
Real-World Performance
When all is said and done, what really counts is how well the lens performed. Optically, it was admirable--as good as the older OM macro lens did. Of course, with digital, it's hard to say where the camera (and its array of algorithms) leaves off and the lens begins. But this Olympus digital SLR does not appear to oversharpen, as does their point-and-shoot cameras--so images look real, not digitally enhanced right out of the raw conversion in Photoshop. Pictures were crisp and punchy, with good color saturation and no telltale color or optical aberrations. I didn't notice any appreciable drop-off edge to edge or corner to corner in image quality. In short, I liked what I saw; on a 24" widescreen flat-panel display, these images look awesome!

Where light levels were adequate, focusing with this 35mm f/3.5 macro lens was fast enough with most subjects. However, focusing fell short in very low light. As a focusing aid, when coupled to the macro flash, the system uses the illuminators built into the macro ring flash and twin flash tubes. These lights can be activated manually--a feature I made use of when photographing a collectible souvenir pin at home. But when you turn the twin flash tubes away from the subject, to feather the light for softer illumination, you also lose these focusing lamps--and that spells trouble for the system. Moreover, overriding focus manually, via the focusing ring on the lens, proved slow and tedious, although the action was smooth. I'm sure that it's something that I would acclimate to with continued use.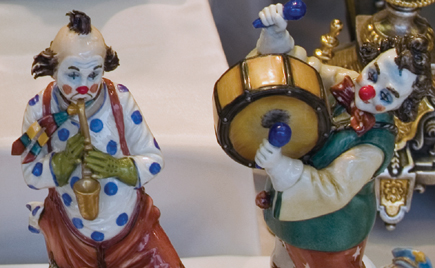 The lens was held at a downward angle against the glass to capture this store window display. Note the rich tapestry of color and excellent detail. That's even more apparent in the cropped section below. (Exposure: f/4.5 at 1/100 sec, built-in flash on EVOLT E-300.)
As is, I would have no qualms about buying this new 35mm macro lens. The price is right, performance is largely on target, and if I were shooting all my close-ups by available light, I'd be a happy camper. Adding the accessory macro flash system does add considerably to the overall cost. However, considering my current preference for macro flash, I would take the plunge, despite some reservations about the design of the system as a whole.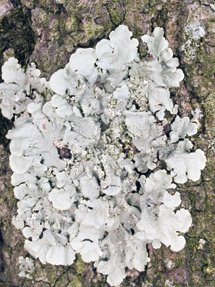 The ring flash proved the most practical choice (with lens aperture set to f/16, at ISO 400) to photograph this lichen formation growing on a tree trunk.
Olympus Digital Macro Flash
You can buy these macro-flash components alone or in kit form. I'd recommend starting with a complete outfit, then adding to it. If you prefer simplicity, go with the ring flash. Want something with infinitely more flexibility? Then opt for the twins. The nice thing is that you only need one controller, which makes it cheaper to buy both a ring flash and twin flash. It also means less concern about batteries, since only one set of four AAs is required, instead of two.

The ring flash consists of one circular tube. The chief benefit of using this flash, other than its compactness and extreme lightweight, is to penetrate foliage, so that leaves and branches don't block the light--remember, the ring mounts to the front of the lens. While also mounted to the front of the lens, the twin flash heads protrude somewhat, so you can't squeeze the lens through tight spaces and bypass foliage as with the ring flash. The twin tubes, however, have the advantage of greater user control. Not only can each little head be independently positioned around the front of the lens, but they can also be removed and held aloft, where practical. But it doesn't stop there. The controller lets you set output ratios on the two heads, so the light can shape the subject and give it much more depth and dimension than is possible with flat lighting. This ring flash doesn't provide that option. Hopefully, it will in the future.
The entire twin flash assembly surrounds the 35mm macro lens. The lens benefits from the focusing lamps on each flash head. These lamps (when manually activated) also come in handy to help you see the subject in low light. The controller sits atop the hot shoe to deliver TTL flash exposures. The lens itself is almost lost to view with the adapter attached, which also hides magnification data on the lens barrel. The flash head diffuser is in place on the head at the right. (Shown with focusing lamps on.)
Note: The best way to purchase these accessories is to buy the STF-22 twin flash outfit ($739.95) and then purchase the RF-11 ring flash head ($249.95) separately. You can also buy the SRF-11 ringlight kit ($559.99). The FR-1 adapter ring ($99.95) is a necessary option for both when used with the 35mm and 50mm Olympus digital macro lenses.
Technical Specifications
Mount: Four Thirds mount 35mm (= 70mm in 35mm format)
Aperture Range: f/3.5-f/22
Reproduction Ratio: 1:1 without adapter (ratios marked on lens barrel)
Closest Focusing: 5.8" closest focusing distance
Lens Construction: Six elements/six groups; multi-coated
Filter Diameter: 52mm
Size/Weight: 2.8x2"/6.35 oz
Accessories: Accepts: TF-22 twin flash or RF-11 ring flash (adapter ring and controller required); EX-25 extension tube; EC-14 tele-converter
Price: $229.99
For more information, contact Olympus America Inc., Two Corporate Center Dr., Melville, NY 11747; (631) 844-5000; www.olympusamerica.com.

LATEST VIDEO