Olympus' E-30; All The Filters Of The Rainbow Page 2
Turning on the Image Overlay option allows the photographer to combine a raw image from the memory card with another (to be) captured image to create a multiple exposure. Images made one week, six weeks, or six months earlier can be used in a multiple exposure as long as they were recorded in the Olympus raw file format. But get this: in Live View you can see the first image so you can line it up with the image you're about to make. There is another way to combine images by using the Multiple Exposure Edit command found in the Edit menu in Playback mode. This allows up to four Olympus raw images from a memory card to be combined into one image and lets you manually adjust the brightness in each individual image.
When you select Multiple Exposure from the camera's Capture 2 menu, it gives several choices, starting with turning it on, after which you get to specify the number of frames from two, three, or four. The E-30's Auto Gain feature then automatically adjusts the brightness of each image to ensure the final frame is properly exposed.
In The Field & Studio
The ergonomics of the E-30 are similarly comfortable to those of the E-3, and I quickly got used to everything, including the quirky sliding on-off lever that orbits the four-way controls like Pluto rotates outside the inner planets. The controls are well placed and fall readily at hand even when wearing bulky gloves as I discovered when doing cold weather testing at 4?F during a snowstorm. The large LCD preview screen worked great under these conditions and I shot everything during that test in Live View mode.

I was able to test the E-30 with the optional ($199.99) HLD-4 Power Battery Grip that was originally designed for the E-3 and it's splash- and dust-proof. It holds two rechargeable BLM-1 lithium-ion batteries instead of one in the body and allowed me to shoot all day without running out of power. The HLD-4 provides a vertical grip and shutter release with controls such as a programmable Fn button and adds 2.7" in height and 11 oz (plus batteries) in weight. Photographers who prefer big cameras will like it but even Mary, who has small hands, found the HLD-4 comfortable, even though she didn't like the E-1's similar grip. It must be the ergonomics.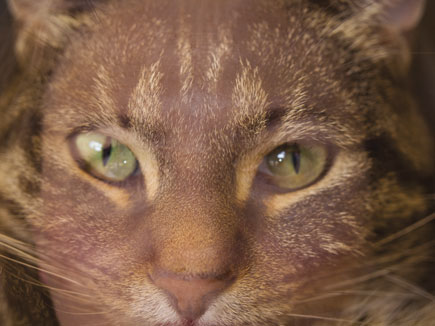 This double exposure was made in camera after copying a photograph of Sally Smith-Clemens' cat onto my memory card. Then I used the E-30's Image Overlay feature to photograph Mary Farace, combining that portrait with the photograph of Sally's cat. Exposure on my photograph of Mary was 1/100 sec at f/3.5 at ISO 200 and was made with window light.
© 2008, Sally Smith-Clemens/Joe Farace, All Rights Reserved
A studio shoot using Adorama's (www.adorama.com) Flashpoint II monolights went flawlessly, tripping them with Booth Photographic's Flash Waves wireless transmitter and receiver. (See the October 2008 issue of Shutterbug.) What was most striking about all of the photographs made using studio lights was how correct the color was right out of the E-30. No additional tweaking was required to get accurate skin tones.

All of this activity played out in increased battery usage because—and you will notice this when you shoot—Art Filter JPEGs take additional time to process. That manifests itself in longer than normal write times to the memory card and increased battery consumption. Tip: On a long shoot like ours, two fully charged batteries in the HLD-4 are more than a good idea. It's sanity protection and those who need the additional power for lots of photographs, such as wedding photographers, should use the HLD-4 grip despite any concerns about its extra bulk.
I'm not chimping! I'm using the camera's Live View feature while doing cold weather testing of the E-30 during a snowstorm with the temperature at 4?F. The camera worked perfectly under these less than ideal conditions. Mary was inside warm and cozy and shot this photo of me through a window using an Olympus Stylus 790 SW point-and-shoot camera.
© 2008, Mary Farace, All Rights Reserved
I ran the E-30 through my standard low-light tests and saw that the noise levels produced were admirably low for a camera with a relatively small (13x17.3mm) imaging chip. Based on the testing procedures described in my story "Noise Reduction Comes Of Age" (see the March 2009 issue of Shutterbug), I shot the JPEG files test with Noise Reduction (NR) ON and used the Standard NR filter to maximize image sharpness while reducing noise levels. At ISO 400, noise was fine and evenly distributed. At ISO 800 and similarly at 1600, the noise remaining after applying the Neat Image (www.neatimage.com) NR plug-in was so fine that only Ansel Adams wannabes would find something to complain about. At ISO 3200, it's noisy even with the in camera reduction so you just have to live with it. Out here in the real world Mary shot available light raw files of a wedding ceremony using her Olympus E-500, a circa 2005 camera that's much further down the NR food chain than the E-30, at ISO 1600 and was able to do a double-page album spread of the photograph. Tip: One of the best ways to minimize noise is to use raw capture to minimize JPEG artifacts and any noise that remains on your processed raw file can then be eliminated or at least minimized using NR software.

Image quality in both Raw and JPEG modes was of high quality but in the megapixel race you gotta be asking, "Is 12 megapixels enough?" I think it is for many readers and if you don't agree, ask yourself why you were previously happy with images made with 6-megapixel cameras. If you liked those image files, you're gonna love the 4032x3024 photographs from the E-30, especially when captured in raw format.
I shot the following series of images with the E-30 with in camera noise reduction ON and with a filter setting of "Standard." The series was made at ISO 400, 800, 1600, and 3200. The starting exposure at ISO 400 produced an exposure of 1⁄6 sec at f/8 and ended with an ISO 3200 exposure setting of 1⁄40 sec at f/8, which is a balancing act between the accumulative noise minimized by the shorter shutter speed time and the amplified noise produced at the higher ISO. Directly out-of-the-camera noise even at this higher level is barely noticeable when viewing a full-screen image on a 23" widescreen monitor. When I made a full-bleed letter-sized print of the ISO 3200 file the noise was noticeable at that size but not obnoxiously so.
© 2008, Joe Farace, All Rights Reserved
Wedding photographers will find that the E-30 is the perfect companion to their E-3 and the ability to shoot using Art Filters will let them add many impressive images to a bride's album. Photographers fond of using camera filters, such as Cokin's, will have fun making images with the E-30 as well. The E-30 is a tough, semipro camera that should find its way into many pro or aspiring pro photographers' camera bags. Its clever combination of Live View, mechanical Image Stabilization, and Dust Reduction built around a framework of creativity provided by the Art Filters and Multiple Exposure function make it a triple threat in a world of increasingly blah D-SLRs.
For more information, contact Olympus Imaging America Inc. at: www.olympusamerica.com.

E-30 AF Tips
For faster autofocus response in low light, set the E-30's active target points to "Group" by pressing and holding the AF target direct access button on the upper right-hand corner of the back of the camera. When pressed, the AF target menu appears on the LCD screen. Use the camera's front control wheel to select one of three options:
All 11 points active, Single point active, or Group of five active points.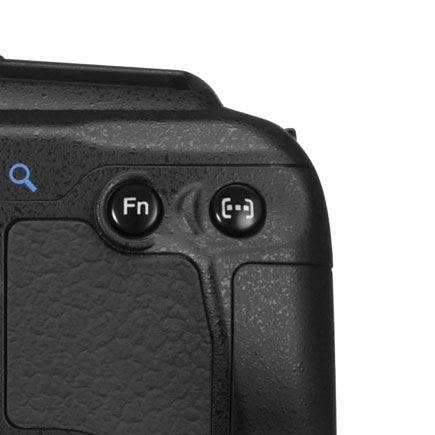 Group AF target works great for general shooting and in low light. Single AF target works great for macro photography or when shooting through extraneous objects that surround your subject. All AF targets ON is a good choice in situations where the contrast of your subject stands out against the background. After you adjust the AF target area you can adjust the position of the AF targets by using the control wheel on the back of the camera, which is handy for situations where the subject may not be centered in the frame and the camera is on a tripod.
Sync And Safety
Mary and I shot a daylong series of portraits with several models using various Art Filters before switching to a conventional capture mode. The E-30 lacks a traditional sync connection but that shouldn't keep you from using your studio lights. Traditionalists might decide to use a hot shoe to PC adapter to connect the sync cord from camera to main light but because of the high voltages across the tip of a sync cord, using a cheapo adapter can fry the electronics inside your camera. Don't! It's a better idea to use one that, like Booth Photographic's (us.boothphoto.com) High Voltage Safe Hot Shoe Adapter, only allows 3v to touch the camera's sync circuit.
While photographing Audrey Moore in the studio, Mary clicked the E-30 into Art Filter mode and while using the Flashpoint II monolights (no flash) she made this dramatic portrait in Grainy Film mode. Exposure determined by the E-30 was 1⁄13 sec and f/4.6 at ISO 800. The E-30's built-in Image Stabilization steadied Mary's favorite 40-150mm f/4-5.6 zoom lens, shot at 73mm, even at low shutter speeds.
© 2008, Mary Farace, All Rights Reserved
The Lens, Boss, The Lens II
Adding to the line of Four Thirds lenses, Olympus sent me their new Zuiko Digital 14-54mm f/2.8-3.5 II to use with this camera and, unless otherwise noted in the captions, all of the images in this report were made with this versatile lens. The design features 15 elements in 11 groups, including three aspherical elements. The lens has a circular seven-leaf aperture mechanism that adds a subjective element of bokeh to the image, creating perfectly circular out-of-focus highlights. The lens provides the equivalent field of view to a 28-108mm equivalent zoom range, making it ideal for everything from wide angle shooting to telephoto shots to zooming in for close-ups with its closest-focusing distance of 8.66"! The Zuiko Digital 14-54mm f/2.8-3.5 II lens has a 67mm filter thread, is bundled with a well designed lens hood, and costs $599.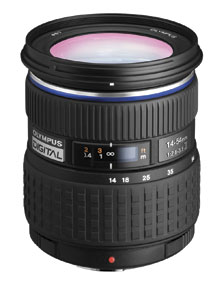 The word bokeh, that some say comes from the Japanese bokeru for becoming blurred or fuzzy, describes the appearance of out-of-focus areas in an image. Olympus' Zuiko Digital 14-54mm f/2.8-3.5 II lens has a circular aperture for higher imaging performance but also produces perfectly circular highlights.
© 2008, Joe Farace, All Rights Reserved
Technical Specifications
Lens Mount: Four Thirds
Effective Pixels: 12.3 million
Viewfinder Field Of View: Approx. 98 percent
Focusing Screen: Fixed (Neo Lumi-Micro Mat screen)
Metering System: TTL open-aperture metering system: (1) Digital ESP metering (49-point multi pattern metering; (2) Center-weighted average metering; (3) Spot metering
Metering Range: 1-20 EV
Exposure Modes: (1) Auto; (2) P: Program AE (Program shift can be performed); (3) A: Aperture priority AE; (4) S: Shutter priority AE; (5) M: Manual; (6) Scene program AE (Portrait, Landscape, Macro, Sport, Night + Portrait); (7) Scene select AE (Children, High Key, Low Key, DIS mode, Nature Macro, Candle, Sunset, Fireworks, Documents, Panorama*
(*available only with the Olympus xD-Picture Card), Beach & Snow
ISO Sensitivity: Auto (ISO 100-3200)/Manual (ISO 100-3200), 1⁄3 or 1 EV steps
Exposure Compensation: ±5 EV in 1⁄3, 1⁄2, 1 EV steps selectable
Exposure Bracketing: Three or five frames in 0.3, 0.5, and 0.7, 1 EV steps selectable
ISO Bracketing: Three frames in 0.3, 0.7, 1 EV steps selectable
Picture Modes: Vivid, Natural, Portrait, Muted, Monotone, Custom (default setting: Natural)
Shutter Speeds: P (Ps), S, A, M mode: 60-1/8000 sec
Sequential Shooting Speed: Approx. 5 frames per sec (fps) in sequential shooting H, 1-4 fps selectable in sequential shooting L
Built-In Flash: GN=18 at ISO 200
Compatible External Flashes: FL-50R, FL-36R, FL-50, FL-36, FL-20
Art Filter Modes: Pop Art, Soft Focus, Pale & Light Color, Light Tone, Grainy Film, and Pin Hole Camera
Number Of Pictures For Multiple Exposure: 2-4 pictures
Size: 5.57x4.23x2.95"
Weight: 23.1 oz
Cost: $1299.99, body; $599, 14-54mm f/2.8-3.5 II lens
Joe Farace is the author of the long out-of-print book "Plug-in Smart," a look at special effects plug-ins that was originally published by Rockport Press.

FEATURED VIDEO