The Nikon N75
The New Breed Of Film SLRs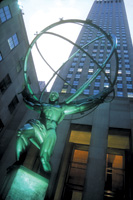 Using Night Portrait mode, the statue of Atlas near New York's Rockefeller Center at dusk came out great. The flash added just enough illumination to add detail and the longer exposure time brought out detail in the building and even opened up the dark sky. All photos made on Fujichrome 100 Provia film.
Photos © 2003, George Schaub, All Rights Reserved
Now that digital SLRs are knocking on the door, film SLRs are undergoing a renaissance that makes them smaller, lighter, easier to use and carry. They also are incorporating many advanced features of their pro film SLR cousins but in a way that makes all that amazing technology virtually transparent to the user. In some sense we are in the golden age of film SLRs, and while their appearance may be that of a basic camera with point-and-shoot ease they are quite impressive in their potential to be full-fledged picture making machines. One such in this new breed is the Nikon N75, first announced at this year's PMA Show. Unlike some vaporware cameras--where you have to wait six months for them to actually appear--the N75 arrived on our desk soon after the show was over and is available now in stores.
Simple To Use
While the camera body and grip are made for smaller hands than mine, I can see how they would work well for most folks. The controls are quite straightforward, especially after you have used a digital SLR with all the possible options, menus, etc. that sort of camera offers. In fact, the simplicity is a bit of a relief and the application of the various shooting programs and controls couldn't be easier.
This painter's table was in the Art Student's League in New York. No compensation was required on the flash and the focusing area snagged the edge of the paint bucket in the center of the table. An aperture of f/8 using the 28mm focal length on the supplied zoom kept all the objects sharp. The Matrix Meter nailed the exposure.
On the left top of the camera is the exposure mode and shooting mode dial. For so-called "user controlled" exposure modes there's the typical aperture- and shutter-priority and manual exposure controls, plus a Program mode that's Flexible, allowing you to shift aperture and shutter speed combos on the fly. This is probably the best of the lot and frankly I'm not sure why we bother with the others at this point, especially for those who know what a narrow aperture and/or fast shutter speed can do.

For those who are still perplexed by apertures and shutter speeds there are the "point-and-shoot" exposure modes, as Nikon calls them. They can be used when you want to set up a shot for full Auto, Portrait, Landscape, Close-Up, Sports, and Night Portrait modes. Even experienced shooters can benefit from these modes, and we found the Macro and Night Scene modes worked great. By the way, if you set the exposure mode to Auto the setup is for Matrix Metering, a 25-segment meter that does an excellent job in most lighting situations; indeed, that's the default for every other exposure mode than Manual, which sets the metering pattern at Center-Weighted.

For those who like to refine the camera's metering opinion there are also some advanced features such as exposure compensation (+/- 3 EV in 1/2 EV steps), Auto Exposure Bracketing (AEB) that can be customized to start from various points by first setting the exposure compensation, and Multiple Exposure, with a well-written guide to set compensation values for various sets of overlapping images. Of course, multi-exposure is a fairly inexact science, so experimentation for success is key.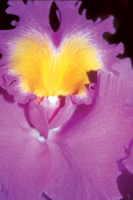 Set at Marco mode, the focusing points in the N75 viewfinder confirmed sharp focus and the exposure was dead on. The 1.1 ft minimum focusing distance of the 28-80mm lens set at 80mm let us get up close and personal with this orchid.
Point-And-Shoot And Creative Options
The nice thing about the N75 is that it contains both point-and-shoot features for making images on the grab and some fairly sophisticated options for those who want to play around with their images. A case in point is the focusing alternatives. You can use the camera in both manual and AF modes, with an AF lock available for making way off-center subject focusing choices. The N75 does have a fairly wide focusing target, however. But on the back of the camera is a toggle or rocker panel that has three options--Dynamic AF with closest subject focus priority, Dynamic AF with the centered subject (middle target) as priority, and Dynamic AF, which allows you to pick a subject from one of the five targets in the finder and keep with it, so to speak, if it moves. The rocker panel allows you to choose among the five targets while three options around the dial allow you to pick the focus area mode best suited to what and whom you're photographing.

There are a few options in various exposure modes. For example, if you change the exposure mode to Auto or a Vari-Program from one of the priority or manual modes then the focus area resets to the center target, but if you shift around in the priority modes it doesn't. This is probably the most complicated part of the N75, but a few rolls will dispel any problems. Basically the N75 might revert to default if you shift it around in the middle of making exposure calculations, but sometimes it doesn't. Exposure and focusing are linked, and that's where the reversion usually applies. Being an SLR this is no big deal, as you usually see what you get in the viewfinder if you use the depth of field preview function.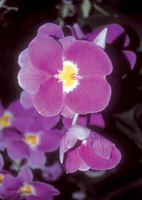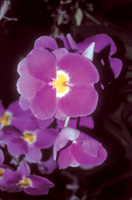 When using built-in flash you might have a problem with some cameras with close-ups. Our first exposure (left) is quite good and was made with no exposure compensation; our --1 EV exposure is better on slide film, but the uncompensated shot would be fine with print film as you can always get the print made a bit darker. This is a testament to the Nikon exposure system and tells us that the N75 metering system will deliver great shots in even difficult lighting conditions.
Custom Setting Suggestions
Being a Nikon the camera can be further customized to your way of shooting using the Custom Settings. Here are some I suggest you use: Get rid of the beep (CS1-disabled); activate Focus Area Illumination (always on, CS4-option 2); put the AEL in shutter release button (CS5-option 1); and change the Time Delay of Auto-Meter Off (CS8-option 10--the default 5 seconds is too short for me). In total there are 12 Custom Settings, and of course you will set them to your own way of working. By the way, though not touted too much, you can also set up a spot metering using Auto Exposure Lock via a Custom Setting (CS7-2).
Other Features Of Note
There are of course other things to explore with this camera, such as a mid-roll rewind, a continuous advance mode (up to 1.5 frames per second), a nice built-in diopter adjustment, and an optional remote control. The built-in flash has a Guide Number of 39 (ISO 100/ft) that at a middling aperture of f/8 yields a maximum coverage of about 5 ft. If you use ISO 400 film that goes up to about 10 ft, so if you like to work with flash you're probably better off getting an auxiliary flash for this camera or always working with faster film. The built-in flash has all sorts of sync modes, but unless you load with fast film (and I still consider ISO 400 fast) there's little reason to get too deep into using it because the coverage is limited. I did use the built-in for Night Portrait Mode and the combination of flash and slower shutter speed did a great job on a statue near New York's Rockefeller Center. But in general if you like to use a lot of flash techniques and like to work with slower speeds then get yourself one of the fine Nikon Speedlights that will allow you to take full advantage of all the flash modes in many more shooting situations.

The "kit" lens for this camera is a 28-80mm f/3.3-5.6, which gives you some idea of the marketing target. The lens is very lightweight and delivered very sharp images in a variety of shooting situations. Of course, you can use a whole bunch of Nikon lenses, and for first time Nikon users the N75 ushers you into the world of Nikon glass and accessories. For the price this camera is well worth it, considering what digital SLRs go for and the fact that all that technology is built into a lightweight, fully functional body. The N75 proves that when it comes to modern film SLRs you can get a lot of bang for your buck.
Technical Specifications
Type: 35mm SLR with electronically controlled shutter
Exposure Modes: Auto, Program (Flexible or Shift), TV, AV, M, and Vari-Program
Viewfinder Frame Coverage: At 89 percent
Focusing: AF, Nikon Multi-CAM 900
Focusing Modes: Single or Continuous; Manual focus. Three selectable Dynamic AF choices: Closest Subject Priority, Center Subject Priority, and Dynamic AF. Five AF targets.
Metering: 3D 25-Segment Matrix; Center-Weighted, Spot
Flash: Built-in; flash sync at 1/90 sec
Flash Coverage: 28mm or longer
Handling: Motorized advance and rewind; mid-roll rewind available
Power: Two 3v CR2 batteries
Size: 5.2x3.6x2.6"
Weight: 13.4 oz
Price: Street, with 28-80mm f/3.3-5.6 lens, at $349. Also comes in a QD (Quartz Date) model; street price body only at $289.
Contact: www.nikonusa.com

LATEST VIDEO

SPONSORED VIDEO
Testing Tamron's SP 150-60mm G2 lens while capturing birds and alligators in Apalachicola, Florida.