Nikon AF-S Nikkor 24-70mm f/2.8E ED VR Lens Review
Like many photographers, when Nikon introduced their 20-35mm f/2.8 lens I just had to have one. Being a commercial photographer, the ability to carry a zoom that would cover this field of view was very handy, especially for assignments that involved shooting in buildings or offices for public relations clients. While the lens was exciting, the best images were captured at around f/5.6 to f/8 when the corners started to match the sharpness of dead center. Following that was the Nikkor 28-70mm f/2.8, which was more commonly known as the "beast" in photographic circles because it gave us more breathing room at the long end, complete with AF-S focusing. Although it weighed in at two pounds, it was a sharp lens!
Progress never stops, so the 2007 launch of the Nikkor 24-70mm f/2.8G ED, complete with Nano Crystal Coat and ED (Extra-Low Dispersion) glass, was the next step in the evolution of Nikon's mid-range zoom. In all honesty, this lens has turned out to be my go-to lens out in the field and especially on long hikes.
Now we have yet another new 24-70mm f/2.8 to consider for our photographic outings, this one designed for full-frame cameras: the AF-S Nikkor 24-70mm f/2.8E ED VR. (DX users can extrapolate the difference, allowing for a lens that nicely fits into a 36-105mm category.) Let's take a closer look at this new potential "master of the mid-range."
Features & Build
Price is always a touchy subject and you are looking at a 33 percent hike in the price (from around $1,800 to $2,400) of the new Nikkor 24-70mm f/2.8E ED VR lens, along with a bit more weight: from 31.7 ounces to just over 37 ounces. Because of the weight factor, this is one lens you do not want around your neck for casual travel shooting on vacation when attached to a professional DSLR body.
No doubt, this lens is big for a mid-range zoom and actually gains some width in the body, especially on the front end. Where the older model came in at 80mm across the front of the lens barrel, the new one comes in at 85mm. Therefore, and you know where I am going with this, you now need 82mm filters and larger expensive polarizers to replace the almost now standard 77mm filters we all like so much today. Overall, it grew from 5 1/4 inches to 6 1/8 inches from the front element to the lens mount at the rear with the lens set at 50mm.
Inside there are some big additions to the lens such as 20 glass elements in 16 groups with a few exotic elements, including two ED, one aspherical ED, three aspherical, and one HRI (High Refractive Index) element. Here's what Nikon has to say about the HRI glass: "With a refractive index of more than 2.0, one HRI lens can offer effects equivalent to those obtained with several normal glass elements and can compensate for both field curvature and spherical aberrations. Therefore, HRI lenses achieve great optical performance in an even more compact body." In addition, the Nikkor 24-70mm f/2.8E ED VR lens features the standard Nano Crystal Coat, plus Super Integrated and fluorine coatings to boot.
The big news with this new 24-70mm lens is that it adds Vibration Reduction (VR) image stabilization technology, offering a Nikon-rated four stops of improvement. I find this to be a critical enhancement, which, somewhat, justifies the price and weight hike.
The usual controls are on the left side of the lens along with a horizontal slide switch housing the Off, Normal, and Active selections. Nikon's proprietary Silent Wave Motor is included in the mix and when it comes to speed, I would rate this new 24-70mm lens about equal to its predecessor. There's full-time manual focus override available any time in the shooting process. Meanwhile, the lens' internal focus actually lightens the overall weight while balancing it since the lens maintains its length while zooming.
With an eye to the future, this new Nikkor 24-70mm f/2.8 is an "E" lens, making the aperture control electronic instead of mechanical. Nikon's Electromagnetic Aperture control is designed to help capture more consistent exposures during high-speed shooting bursts. To shoot pleasing blurred backgrounds (aka bokeh), the diaphragm in the lens offers nine blades. It stops down to f/22.
Performance
When it comes to the sharpness of any lens, naturally it is up to the individual photographer to bring out the best in any optic. That means control over technique, the use of a tripod, and careful post-processing. This is why I was concerned over a DxOMark report on the Nikkor 24-70mm f/2.8E ED VR that claimed this lens had "disappointing scores" during testing. As a working photographer, I don't have access to sophisticated benchmark equipment to test any lens scientifically, so I have to go with my gut reaction during field testing, common sense, and what I see in my prints and on the screen.
For testing, I used a Nikon D4S, a sturdy tripod, and the use of my shed. With plenty of old wood, open grain, and a perfect histogram to work with, here are my findings of both the new and older (non-VR) 24-70mm lenses.
First off, I know my older 24-70mm f/2.8G ED lens is sharp. Having it for years on end, traveling around, this lens yields prints large enough (sometimes to 20x30 inches) for art shows. I have never been disappointed with this product and will continue to use it. Checking my records, the middle part of the aperture range (around f/5.6) is the best, but venturing into the forbidden grounds of f/16 and f/22 has yielded me more than acceptable results, especially when shooting landscapes.
Here is my take on the new 24-70mm f/2.8E ED VR lens. I process everything with Nikon Capture NX2 at 100 percent. I don't know what DxOMark uses for settings, but reading their reports the numbers to me are so close in some respects it could be a tie. With this new "E" lens, they are right, at f/2.8 most any lens is sharp in the center with some softening at the edges at 70mm. But if you use this for portraits, I see no issue here.
For outdoor work, I use 70mm a good deal of the time, rarely if ever do I shoot at f/2.8. However, looking at my tests, I believe the older version has a bit of a leg up on the newer version when it comes to sharpness. With the new lens at 24mm, I found f/5.6 perfect for my needs. In the middle at 50mm, f/5.6 is still good, but f/8 would be my choice. At 70mm, f/8 was good, f/11 slightly better with the corners coming in to round up the package. At f/22, no matter the focal length, the diffraction devil sneaks in, but that is true for just about all lenses made today.
Vignetting is not a problem; most cameras will compensate for this as will software, and wide open at the lower settings (24mm) is where I found a touch of it. Depending on the focal length, I did see a hint of some barrel distortion, especially at the wider end if you had a straight line on the edge of the photo. Looking at all the results, the MTF curves are close to each other—really close! I think, for the most part, the newer lens is a tad sharper, but keep in mind that samples can change over time as well as your technique so we might be a bit fussy here.
I had the opportunity to test this lens in Vermont just before the winter holidays, spending three days around Manchester and Arlington. I took the lens everywhere I could, taking photos at different apertures and shutter speeds, using the D-Lighting and the HDR features in the Nikon D4S when needed. The tripod went in the trunk of the car because I wanted to stop at the Roaring Brook outside Arlington; the day I stopped was overcast, making it perfect for slow exposures on the stream. Along with covered bridges, the Old First Church and a stop at the Robert Frost gravesite behind this impressive structure in Bennington were on the hit list. Except for the lack of using my 77mm filters on the lens, I had an excellent shooting experience with this improved Nikkor.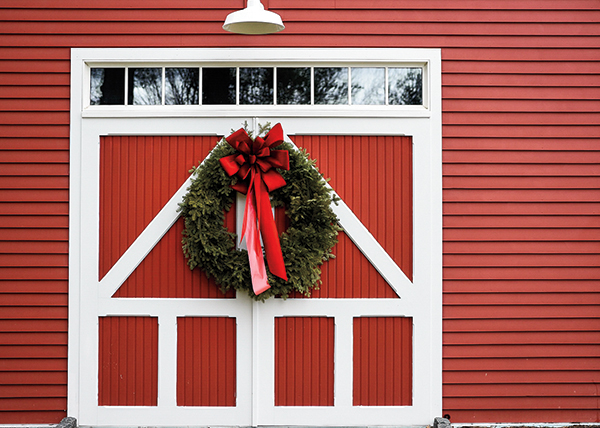 Conclusion
In conclusion, the plain facts are that the newer version has gained some weight, takes a larger filter size, works only with the more recent cameras (because of electronic aperture control), and costs more. If you compare apples to apples, to me, in the end there is no reason to upgrade, especially if you are happy with the previous version. On the other hand, if you're thinking about buying the new Nikon D5 DSLR with its jump in frames per second (12 fps with full AE and AF, or 14 fps with the mirror locked), are searching for the Holy Grail in sharpness, need the VR option, and want the latest and greatest lens, this "E" version could be for you. I don't think you'll be disappointed in the least.
Pricing
The current retail price on the Nikkor 24-70mm E lens is $2,396, which includes the CL-M3 case, 82mm front lens cap, LF-4 rear lens cap, HB-74 lens hood, and a five-year Nikon warranty.

FEATURED VIDEO