Nikon's D300; 12.3Mp, Live View, Picture Control & More Page 3
But Nikon takes this a step further, again, by allowing you to save the Picture Control setup to a memory card, making that card, in essence, a type of "film" that has a particular set of parameters. Then, when you load this card you merely select that Picture Control (by uploading it) to your or a fellow shooter's camera. You can also create custom Picture Controls using Nikon software and uploading that to a memory card, or the camera. This is something the memory card folks floated a few years back but never followed through on, figuring correctly that they could never quite match every person's personal preferences. But the possibilities here are quite intriguing for those who want to take the time to mine the potential in this procedure. (Note: Do not Format a card thus programmed.)
Image Size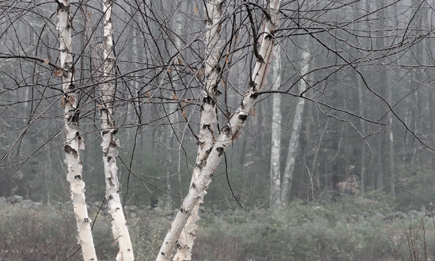 Getting a 13x19" print size right out of the camera without post-exposure interpolation is quite cool, and why this camera should have high appeal to those who like to complete their shot with a print image. The 12.3-megapixel sensor makes it happen. You can shoot in 12- or 14-bit NEF, which also adds to the image info and print quality. This shot was converted to black and white, then opacity of conversion was changed in the Layer palette. It was printed on Sihl PE 300 Silky paper at the full 19" width without any loss of detail or tonality.
There are other fun and useful items within the Shooting menu, including multiple exposures on the same frame (up to 10) with an auto-gain and non-gain option, and interval timer shooting, with start and stop options that allow you to commence a few seconds after setup or a set time according to the camera's internal clock. And if you want to connect your camera to a TV or VCR there's a supplied cable for doing so. Noise reduction kicks in for exposures longer than 8 seconds (you can turn it off if desired) and at ISO 800 or higher (more than the usual noise reduction in the processor) in three degrees of effect. You can set white balance using the presets or copy a setting from an image already recorded on the card. You can work with an optional GPS setup as well.

Those who have what is known as "legacy glass" (non-CPU lenses) can now optimize the exposure and EXIF data settings using the "Non-CPU lens data" menu item. You input the focal length and maximum aperture and, in essence, register the lens with the camera. This allows you to use Matrix metering on most lenses, although Nikon advises that some may be better served with spot or center-weighted patterns. And while this expands lens use, note that you might be better served using this with fixed focal length lenses, as zooming in or out necessitates changing the setup to the focal length in use. While some lenses might not give you access to all the camera offers for exposure control, Nikon's promise to maintain the usefulness of past lenses has been maintained with the D300.

The D300 LiveView setup takes advantage of its very bright and detailed 3" monitor. There are two modes--Handheld and Tripod mounted, the latter being a benefit for those doing macro and tabletop work, with the ability to "zoom in" by magnification. The former is actually quite useful in the field, due to the quite legible monitor even in fairly bright light. Frankly, I am hard-pressed to recommend LiveView over eyepiece shooting, due to posture/steadiness considerations, but it's there if you want it. In one instance I used it to position the camera above a high fence to get the shot, and it allowed me to compose and confirm focus without having to resort to finding a temporary step ladder. LiveView without an articulating monitor is a bit hindered, but frankly I have always been a bit frightened of the durability of a monitor that hangs by a small arm from the body. There's no denying, however, that having a swing and tilt monitor would greatly enhance this experience.
Field Facility
A camera should allow you to make spontaneous judgments as you work and not cause undue hassles for getting just the exposure, color rendition, and focus you desire. Being bright I set the D300 at ISO 200, chose AV mode, Matrix, set aperture to f/16, checked shutter speed for steadiness in the finder, had the camera set to Cloudy White Balance (to increase warmth), had NEF+JPEG (small) already set, focused on the foreground beams and confirmed foreground focus with a lighted target, checked depth of field with the depth of field preview function and shot. Sounds complicated in the writing, but all that takes a few seconds, less if you are working the street and have most of it set up to go anyway. The D300 is a responsive, fast, and highly accurate camera for all manner of photography.
The ISO settings go from 200 to 3200, with the option to go to 100 (via an EV setting) or way up to 6400, where only the foolhardy should venture. The amount of image processing increases as you go higher in ISO, and there are various NR (Noise Reduction) settings you can apply over and above what the image processor does anyway. The three levels of NR are applied at sensitivities at and above ISO 800 when NR is turned on. There is no hard and fast rule about the levels to use, but keep in mind that the higher the NR applied the lower the resolution of the image. You might even use NR as an effect, but that's for another day.
Conclusions
In short, the D300 is a camera that allows for picture taking in just about any lighting condition for any type of rendition you desire. It does require time to get to know the camera and all its options, witnessed by the supplied 400+ page instruction manual. And experimentation with all the menu items you might like to change is important before you commit to some serious shooting. But focusing, exposure, and image customization is certainly state of the art, delivering stunning images in either 12- or 14-bit NEF (Nikon raw) files. You can also shoot TIFF with this camera, a file format I thought had gone away, as well as various sizes and levels of compressed JPEGs. And should you want to simplify matters you can even create a consolidated display that Nikon calls My Menu, which should help you narrow down the many choices once in the field.

The build, heft, and ease of control access certainly make this a strong contender for the hearts and minds of serious photographers. Making great exposures with swift focusing is at the heart of any such camera. The D300 delivers the above with breathtaking ease, and much, much more in the bargain. There's no question that for very serious Nikon fans and pros there will be a toss-up between this and the new FX ("full frame") D3. There's simply no more waiting for the "other (full frame) shoe" to drop in the Nikon line-up. It might come down to price, or to how important wide and super wide coverage is to your style of work, given the D300's 1.5x focal length magnification. I can only say that the D300 is one formidable camera and unquestionably the flagship in the Nikon DX-format line-up. In fact, the D300 is, in many respects, a D3 with a smaller sensor. Given the $3000 price spread between the D3 and D300 there may be no debate at all.

For a full list of specifications, visit Nikon's website at: www.nikonusa.com.

For more information, contact Nikon Inc., 1300 Walt Whitman Rd., Melville, NY 11747; (800) 526-4566.

LATEST VIDEO

SPONSORED VIDEO
Testing Tamron's SP 150-60mm G2 lens while capturing birds and alligators in Apalachicola, Florida.