Nikon's D200; A 10.2-Megapixel Digital SLR Built For Comfort, And Speed
The latest Nikon entry in the digital SLR market is the D200, a 10.2-megapixel digital SLR that combines a strong, pro-caliber build with 5 fps speed, all for a competitive $1699 list price (body only). The Nikon DX format CCD retains the 1.5x magnification factor of previous Nikon sensors, plus borrows many of the metering and some of the image-processing capabilities of the pro D2X. Similar to the D2 line is the 11-area AF and 3D Color Matrix Metering II as well. Indeed, perhaps reading more into the naming than Nikon may have intended, the D200 is a D2-type pro camera aimed, and priced, at the higher end of the avid amateur market. Being between the amateur and pro offerings, the D200 shares many features and functions with its pro siblings, including image quality that's hard to beat.
The camera is not lightweight, and rightfully avoids the "plasticky" feel of more amateur-oriented models. The large (2.5") LCD makes selecting the many options easy, although those used most often in the field are evoked by buttons on the camera body, including ISO, white balance, quality settings, and various AF and AE options. The D200 accepts CompactFlash and Microdrive cards only, and allows you to shoot in various JPEG modes, in NEF (Nikon's raw file format) or with NEF+JPEG in three levels. Unlike some rivals it does not have a dual card slot.

Increasingly, digital SLRs should be judged by what's under the hood, as many of the body dynamics are becoming fairly standardized, at least in specific camera classes. And what's inside should drive image quality, shooting speed, and responsiveness, and of course should also open the door to greater creative potential. Many digital SLRs are now featuring more and more image enhancement options, of interest mostly to those who shoot JPEGs. But setting those enhancement features (or Optimization, as Nikon calls them) also assigns the attributes to the raw file, although the raw version can be swapped out for other attributes easily enough later.
High NR Filter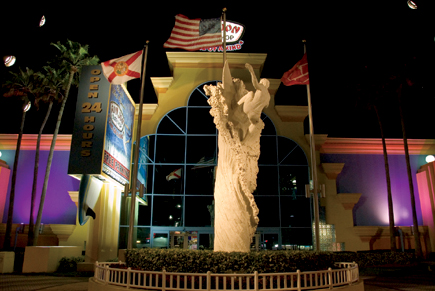 Digital SLRs have opened up a whole new world of low-light, handheld shooting, and the D200's built-in Noise Reduction (NR) filter made it an even more attractive pastime. This shot of famed Ron Jon's Surf Shop at night was made with the Nikkor 18-200mm VR lens at the widest settings and an exposure of f/4.5 at 1/30 sec at ISO 1250; high NR filter was on. This is a straight shot with no exposure compensation or after-exposure processing, a testament to the 3D Color Matrix meter's ability to capture a wide range of light.
All Photos © 2006, George Schaub, All Rights Reserved
It should be noted that Nikon continues to charge extra for their Capture (now Version 4.4, $99) software, which gets the most out of their NEF files. Their included PictureProject software allows for conversion of NEFs to JPEGs or TIFFs, but does not offer advanced raw processing. The Adobe Raw 3.3 upgrade that handles these D200 NEFs hit the Adobe website right as this camera came to market, which speaks to perhaps increased cooperation between the two companies. I found that either route to process raw worked fine, although Capture does afford more camera/software interoperability.
NR vs No NR
NR OFF
NR ON
To see if the NR filter made a big difference, I shot after sunset along Port Canaveral at ISO 1000. These are cropped from the full frame and enhanced in Curves to bring out da' noise. Exposure handheld was f/3.5 at 1/8 sec with VR mode 1. (NR OFF) shows how the crop looks without High NR; (NR ON) shows with NR on, a considerable difference. While there is some softening, as expected, the NR filter makes a world of difference.
Start Up And Shooting Response
The issue of time lag on start up and shutter release is moot for many digital SLRs, and the D200 is no exception. It is virtually imperceptible. What has improved is what is called "blackout time," the time that the viewfinder scene blanks out between exposures. This can be seen when shooting at the highest framing rate, which for the D200 is 5 fps. While the framing rate is more than most will need, what is more impressive is the "burst" rate, the number of frames you can shoot consecutively without pausing for the image processor to take over. Given that you use a high-speed card, such as the Lexar Professional Write Accelerated (WA) card we used for testing, that burst rate can be as high as 37 JPEG or 22 NEF images in one shutter release in Continuous shooting mode.

Part of that responsiveness is due to the camera's new 11-area AF system, which can be converted to a seven-wide AF system. Both setups are based on their Multi-CAM 1000 AF Sensor Module. The setup is quite flexible, allowing for Nikon's Dynamic AF, Closest Subject Priority Dynamic AF (our choice), and Group Dynamic AF. Dynamic AF is where you select an AF target within the finder; if the subject moves the focus follows. Closest Subject Priority is where the AF system automatically selects the subject closest to the camera. As with all Nikon AF setups, especially with the Nikkor 18-200mm VR DX lens we used for this test, autofocus reacts swiftly and silently to every subject, even in low light. Note that the Nikon pro models sport a Multi-CAM 2000 Module and have Focus Tracking with Lock On.
Bracketing In Continuous

If in doubt about an exposure, or just if you want to compare frames made at different exposures, use the built-in bracketing with Continuous Advance mode. You can do white balance, flash, and exposure bracketing. You can set which one you want in the menu and then fire away. You can bracket in 1/3, 1/2, or 1 EV steps for up to nine shots (bracket steps), and even use exposure compensation to start your brackets at plus or minus normal exposure. These three shots were made with center-weighted metering, three shots, 1 EV steps, AE only. The camera fired them off in no time.
Body Build And Functionality
The D200 body has a magnesium-alloy chassis and body cover with a claimed enhanced sealing system, which helps keep out dust and moisture. The double-bladed shutter is said to be tested to over 100,000 cycles, plus the shutter unit has a refined mirror balance mechanism, said to virtually eliminate any mirror bounce. The decidedly right-handed body contour has rubberized grip and coating, giving one a firm feeling in hand. While it is fairly lightweight, it certainly has more heft than the amateur models, which is to be expected.

First-time Nikon digital SLR users will be presented with a cacophony of buttons, toggles, and dials, but their functions, and functionality, is learned quickly enough. We applaud digital SLRs that put most of the important operating functions on the body, rather than having to plow through menus and menu options, and the D200 shines in this regard. Every important and even minor change you might want to make in the field is easily at hand, including focusing modes and options, metering patterns, ISO settings, white balance, file format and size, drive speeds, AE and AF locks, etc. are handy and well marked. You delve into the menu for Image Optimization (changing image attributes), Noise Reduction (NR), and the clever Nikon multi-exposure and image overlay functions.
Raw Conversion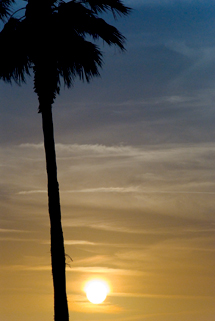 For the full experience with this camera shoot in raw (NEF) or raw+JPEG mode. Raw gives you more options for image finishing that only add to the image's personalization and camera functionality. You can convert and play with Nikon's Capture Version 4.4 or as here, with Adobe's Raw 3.3. Here's the NEF image clicked on in Adobe's Photoshop CS2's Bridge. This shot was made at ISO 1000 with no NR filter on and Auto White Balance. Just for fun the final is converted using Fluorescent White Balance; now that's the way to get blue into a sunset sky.
I used the internal menu often when shooting in low light at a high ISO, such as 1600; that's where the two-level NR filter resides. Tests show that NR works very well and encouraged me to shoot a lot at higher speeds, more than usual just to see how NR would work. And happily the filtration did not take an inordinate amount of time and never got in the way of the next shot, even when recording in NEF+JPEG file format mode.



FEATURED VIDEO