Nik Software's HDR Efex Pro; HDR Software For The Rest Of Us Page 2
Viewing options include a large preview, split screen, or split and separate before and after windows. While I prefer to work within the large window focusing on the final results, seeing before and after using the other options certainly has its appeal, if only because of the late Edward L. Bafford's advice on working in the traditional darkroom to have "somebody hit you upside your head with a 2x4 if you get carried away with manipulations," something that's all too easy to do when working in the HDR genre. In addition to the seven global adjustment sliders, the bottom of the right-hand control panel includes Finishing Adjustments that allow you to add and manipulate Vignettes as well as apply Levels and Curves adjustments from a pop-up window that lets you tweak the final image within HDR Efex Pro.

(Top): The HDR Method pop-up menu on the right-hand side of HDR Efex Pro contains 20 different tone mapping options that can be controlled by a slider that lets you apply effects from zero to 100 percent. (Above): Proving that HDR can be produced in monochrome, this image was captured in a three-shot bracket using a Canon EOS 5D and an EF 16-35mm lens with a nominal exposure of 1⁄125 sec at f/13 and ISO 200. This proves that HDR Efex Pro's built-in anti-ghosting algorithm does an excellent job when used with handheld shots like this one where minor camera movement is inevitable.
One of the most important controls on the right side is the HDR Method option that uses four tone mapping algorithms, which enable virtually unlimited HDR looks that can be adapted to a particular style of photography, whether that's realism or fantasy. HDR Method features a pop-up menu containing 20 different options, ranging from Natural to Harsh Local Contrast, to produce effects ranging from, well, natural looking to the artistic or cartoony, depending on where you stand on the whole HDR issue. Mr. Bafford would have been pleased to know that a digital 2x4 is available via the Method Strength slider that lets you vary the overall effect from zero to 100 percent in 1 percent increments. You can even create monochrome HDR images by using two black-and-white presets that are labeled 11 Artistic and 12 Artistic, but if you look closely you will see that the basic effect was produced by dragging the Saturation slider to zero, which opens up an infinite number of possibilities when combined with the other sliders and built-in HDR Methods.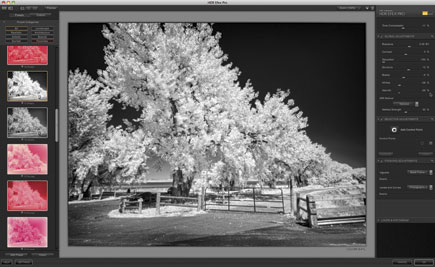 Opening a five-shot bracketed sequence in HDR Efex Pro, I immediately applied the 11 Artistic monochrome preset (at left) and used the sliders (at right) to produce the final result, which appeared to have more depth than the single-shot digital IR images that I have created in the past. HDR Efex Pro may open new vistas for photographers capturing images with invisible light, too.
Nik's HDR Efex Pro accommodates JPEG and TIFF files in addition to Raw. Purists will still want to use Raw but you may have some bracketed JPEG sequences in your archives that you can now turn into HDR images. Since I always bracket exposures when shooting digital infrared, I decided to take some of the three- to five-shot bracketed sequences made with the modified Olympus E-P1 to see what happens. Using one of the two monochrome (11 Artistic) presets and then fine-tuning using the sliders on the right, I was able to create digital infrared images with a much greater sense of depth than simply processing one of the images using Adobe Camera Raw or any of the other monochrome techniques that I've used over the years.
The final image was cropped slightly to remove a bit of the foreground and distracting elements on the left. The modified Olympus E-P1 was tripod mounted with a nominal exposure of 1⁄400 sec at f/11 and ISO 200 using an M.Zuiko Digital ED 9-18mm f/4.0-5.6 lens.
HDR For The Rest Of Us
HDR Efex Pro's suggested retail price is $159.95 and is available as a free update to North American buyers who purchased the Nik Complete Collection after July 25, 2010. Free trial versions and live online training can be found at: www.niksoftware.com/hdrefexpro.

Legendary digital imaging guru Kai Krause once told me that "there were thousands of images hidden inside each of your photographs just waiting to be unleashed" and I think that's especially true of HDR imaging. Rarely has a new software product opened so many imaging possibilities as Nik's new HDR Efex Pro. Working with merged TIFF, JPEG, or Raw images to create HDR images now takes on aspects of creative play and I can't remember the last time I had that feeling with any software product.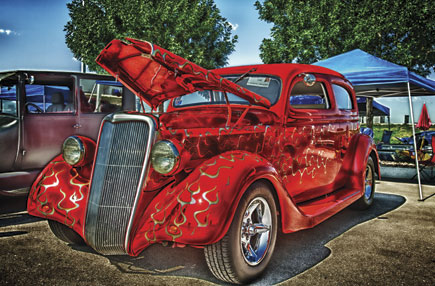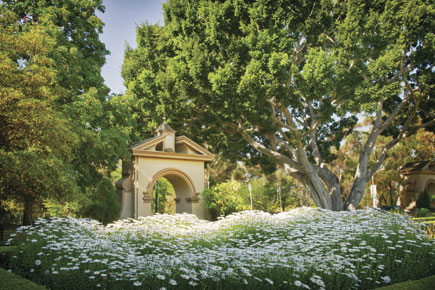 (Top): The editorial director asked me to move out of my HDR comfort zone with some of the illustrations, so I decided to use the color original three-shot sequence of the red Street Rod that I used to produce the monochrome HDR photograph. So here's Joe as a "wild and crazy" HDR guy. (Above): Another Balboa Park image was created from a three-shot bracket and the Canon EOS 5D was tripod mounted with a nominal exposure of 1⁄25 sec at f/18 and ISO 200 using an EF 28-135mm lens. It was processed, as I prefer, using more natural effects but by using extensive slider play to tweak the image I created an idealized version of the original captures.
System Requirements For Nik's HDR Efex Pro
Windows
• Windows XP, Windows Vista, and Windows 7
• AMD or Intel processor
• 2GB of RAM (4GB or more recommended)
• Adobe's Photoshop CS4 through CS5 (64-bit compatible only); or Adobe's Photoshop Lightroom 2.6 through 3.0 or later (32-bit and 64-bit compatible)
Macintosh
• Mac OS 10.5 through 10.6
• Intel processor
• 2GB of RAM (4GB or more recommended)
• Adobe's Photoshop CS5 (64-bit compatible only); Adobe's Photoshop Lightroom 2.6 through 3.0 or later (32-bit and 64-bit compatible); or Apple's Aperture 2.1.4 through 3.0 or later (32-bit and 64-bit compatible)

For more information, contact Nik Software at: www.niksoftware.com.

LATEST VIDEO

SPONSORED VIDEO