New Tokina AT-X 28-80mm f/2.8SD AF PRO
Even on extremely bright sunny days, flare was rarely a problem, thanks to the corner cut lens hood and internal flare-cutting precautions. This factor is important since many zoom lenses are prone to contrast reducing flare. (At 35mm; f/11; B+W polarizer; Elite Chrome 100.)
Photos © Peter K. Burian, 2000
Dedicated to sophisticated design and engineering, Tokina makes lenses with an excellent reputation; the best of these bear the AT-X designation, denoting "Advanced Technology-Xtra." These models--bearing a gold stripe indicating premium grade optics--include the most advanced technology, superior mechanisms, and lens coatings. The newly redesigned AT-X 280AF PRO is a fine example. Retaining the best features of its 28-70mm f/2.6-2.8 predecessor, the 28-80mm f/2.8 model offers several added benefits: an extra 10mm, internal focusing, a constant maximum aperture, an upgraded optical formula, and a refined AF/MF switching mechanism.
The previous 28-70mm model included an element of low dispersion glass, but the addition of two aspherical elements helps assure even better image quality at the short focal lengths of the new model. Such elements--with a non-spherical surface--cause all light rays to converge at a common point. This design feature offers several benefits: correcting linear distortion and spherical aberration (curvature of field) for more consistent edge to edge sharpness even at wide apertures, reducing halo and comatic flare, and minimizing size/weight as fewer elements are required to achieve high optical quality.
Several mechanical features have also been improved. The "focus clutch" mechanism--used to shift between manual and autofocus--now operates at any focused distance, so the shift can be made instantly. A new distance scale under glass allows the photographer to determine focused distance not only in manual focus, but also in autofocus operation. Finally, the "feel" of the manual focus ring has been improved, with greater friction to satisfy the most demanding traditionalist.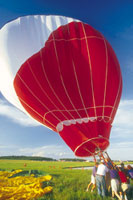 Because this Tokina zoom is a professional tool, I used it with confidence while shooting on assignment. The technical quality of the images proved to be exceptionally high, easily competitive with that of many single focal length lenses. (At 28mm; f/11; B+W polarizer; Ektachrome 100VS.)
During the summer, I used this zoom lens often for a variety of subjects including the colorful craft at a drag boat race, pleasure boats and its occupants on a lake, architecture, portraits of people at several festivals, the action at a hot air balloon race, and flower gardens. In all cases, the lens performed in an exemplary manner as detailed in a later section.
Design Characteristics. Even on first examination, this zoom certainly appears to be a professional tool. It's built of aluminum alloy instead of "space-age plastics" to withstand pro level abuse. This does increase weight but also increases the pride of ownership. The lens bayonets onto the body with an authoritative click, assuring a tight fit. As befits the PRO designation, long-term reliability seems probable. The external matte, crinkled finish is hardened Alumite for increased durability and a top quality appearance. Other features are worth noting as well:
The matching "corner cut lens hood" is designed to shade the front element at all focal lengths and it's well flocked to minimize flare. The hood for the earlier 28-70mm zoom screwed into that lens' filter thread so it was a bit slow to mount and remove. That problem has been solved. The hood for the AT-X 28-80mm f/2.8 AF PRO attaches to the external part of the barrel, with a mere 45 twist. When not in use, it can be mounted in a reversed manner, another advantage of the new design.
When any lens is tilted upward, linear distortion ("keystoning") occurs. This is not an optical flaw in the lens. In fact, the PRO Tokina zoom is very well corrected for linear distortion. (At 28mm; f/11; B+W polarizer; Elite Chrome 100.)
Multilayer coating is applied to all elements (made by Hoya Corp.) for maximum light transmission, excellent contrast, and reduced reflections or ghost images of the diaphragm in strong backlighting.
Focus and zoom operation is "internal" so the front element does not rotate. This made using a polarizer most convenient because the effect did not change when focusing or zooming. As well, the overall length of the barrel does not change, so optimum balance is maintained.
This is a rotary (not push/pull) type zoom with a stiff, incredibly smooth operation indicating precise machining tolerances. This stiffness assures that focal lengths do not shift accidentally.
Noticeably larger/heavier than its 28-70mm predecessor, the AT-X 28-80mm f/2.8 AF PRO is well-balanced, and ideal for use with a hefty pro SLR camera. Tokina offers some compact/ lightweight zooms, too, but for its professional line, no compromises were made purely for the sake of convenience.
The manual focusing mechanism is so well damped that most photographers making the switch from an older conventional lens will notice little difference in operation.
The distance scale (in feet and meters) is highly legible, as are the markings for focal lengths. Infrared focusing index marks are provided for the 80mm, 50mm, and 28mm focal lengths.
As with most rotary zoom autofocus lenses, no depth of field marks are provided; use the camera's depth of field preview control or refer to the charts provided in the instruction sheets.
This Tokina AT-X PRO lens is capable of producing images of high contrast, with extreme sharpness and excellent resolution of intricate detail across the frame. Color rendition is accurate and linear distortion is very well controlled. (At 80mm; f/8; B+W polarizer; Elite Chrome 100EC.)
Autofocus Evaluation. The focus clutch mechanism is still rare on most lenses but its method of operation is worth noting. For autofocus (AF) push the focusing ring forward until it reaches the line marked "AF." On the older 28-70mm zoom, the focusing distance scale was covered by the ring, but this does not occur with the new lens. As with most recent AT-X lenses, the ring does not rotate during AF operation. Because there is less load on the focus motor, autofocus is smoother, faster, and quieter. Though not silent, operation is fairly quiet with a high-pitched sound.
With this latest AT-X lens, there is no need to set the focus for infinity before shifting between manual and autofocus. For manual focus, pull the ring back (toward the camera) anytime, until it snaps into place at the line marked "MF." In the Nikon and Canon AF mount versions, the lens can be set for manual focusing without setting the AF/MF control on the camera body to MF, increasing overall speed of operation. (With Minolta and Pentax cameras, the AF/MF switch on the camera body must also be flipped to change focus mode.) Contrary to some comments on Internet photography web sites, focus cannot be touched up manually when the lens is set for AF.
With an EOS-1N, autofocus response was extremely reliable with portrait and landscape subjects. Focus was instantly achieved on the desired area, such as a person's eyes. Even in low light around sunrise and sunset at the lake, reliable AF operation was maintained; this was understandable, as the wide maximum aperture of this PRO lens transmits plenty of light to the AF sensors. Continuous tracking focus performance with soldiers marching at a fast pace was highly acceptable, surprisingly good for a lens with a conventional autofocus motor. However this may be academic because a zoom of this focal length range is unlikely to be used for action photography such as motor racing or sports.
Optical Evaluation. As expected with pro lenses, the Tokina AT-X 28-80mm f/2.8 AF PRO produced excellent image quality at all focal lengths, focused distances and apertures. The super-low dispersion element countered aberrations at the longer focal lengths, while the two aspherical elements assured superior image quality across the entire frame at shorter lengths. The AT-X 28-70mm f/2.6-2.8 AF PRO zoom received a five-star ("Super") rating from Germany's highly respected foto magazine and this AT-X 28-80mm f/2.8 AF PRO lens is a superior lens. Flare is very well controlled with internal measures. Clarity, resolution, sharpness, and definition of fine detail range from excellent to superlative. Under a 10x loupe, all of my slides are razor sharp. Even at the widest aperture, center sharpness is extremely high. By f/4 edge sharpness is excellent. From f/5.6 to f/11, edge sharpness matches central sharpness at all focal lengths, an impressive achievement. Even in extreme close focusing, resolution is very high.
This wide to short tele-zoom is capable of producing image quality adequate for a fine 16x20 print, or a double-page spread in a magazine, at all but the widest aperture at all focal lengths. At f/2.8, you should still be pleased with 11x14 prints. Aside from sharpness, contrast is high, important especially in flat, cloudy-day lighting for snappy images. As with any zoom, the hood is least effective at longer focal lengths so change your shooting position slightly if flare is apparent on the viewing screen. For the absolute sharpest images at any focal length, stop down to f/11 and the results will satisfy even the most critical photo buyer.
Conclusion. While the moderately priced Tokina lenses--like the AF 28-105mm f/3.5-4.5 zoom--tend to be the hot sellers in this brand, serious photo enthusiasts should definitely check out the professional caliber AT-X 28-80mm f/2.8 AF PRO. Its superb performance, rugged construction, and wide maximum aperture definitely warrant the extra cost for those who demand the finest quality and want a "fast" problem-solving lens as well. As the only 28-80mm f/2.8 AF zoom (at the time of this writing) it's more versatile than the 28-70mm models, with the extra 10mm making it useful as a portrait lens.
In comparison to some of the camera makers' pro zooms, this AT-X PRO lens will seem surprisingly affordable. Can you still get a lens of rugged construction and fine imaging capabilities? I cannot vouch for every Tokina lens, but the answer is a definite "yes" for the AT-X 28-80mm f/2.8 AF PRO model. It merits a place in the "best value" category of lenses likely to satisfy the discriminating photo enthusiast and the working professional. If you're looking for a "fast" zoom for serious photography, this model is worthy of your consideration. For more information contact THK Photo Products, 2360 Mira Mar Ave., Long Beach, CA 90815; (562) 494-9575 fax: (562) 494-3375. www.thk.com.
Technical Specifications

Lens Construction: 16 elements in 11 groups; one low dispersion and two aspherical elements
Angle Of View: 75 to 30
Maximum/Minimum Aperture: f/2.8 and f/22
Minimum Focusing Distance: 1.6' (0.5m)
Filter Size: 77mm
Dimensions: 3.3x4.5" (84x120mm)
Weight: 28.6 oz (810 g)
Accessories: Hood and soft case included
AF Mounts: Canon, Minolta, Nikon D, Pentax

FEATURED VIDEO