The New Minolta DiMAGE Scan Elite 5400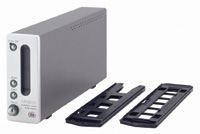 The new Minolta DiMAGE Scan Elite 5400 packs a lot of performance into a slim, all-metal container.
Sometimes it is a good thing to be proven wrong, and to also be happy to admit it. For the last few years I have been using 4000dpi dedicated film scanners and was convinced that other than the ability to make larger prints there was little to be gained from any substantial boost in scanner resolution. After testing the new Minolta DiMAGE Scan Elite 5400 I am now convinced that there is a considerable image quality advantage derived from scanning at 5400dpi resolution. The resolution advantage of the Elite 5400 is backed up by two other primary performance factors--a color depth of 48 bits (16 bits per RGB channel) and a 4.8 dynamic range. The Elite 5400 also features Applied Science Fiction's (now a part of Kodak) Digital ICE dust and scratch removal system, which performs exceptionally well with this scanner.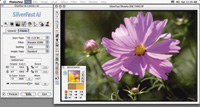 LaserSoft SilverFast Ai 6 is, from my experience with the Elite 5400, essential to efficiently and effectively obtain the most and best digital information from a 35mm film image.
Photos © 2003, David B. Brooks, All Rights Reserved
The Elite 5400 has an all-metal construction with very effectively designed film carriers in a configuration that is entirely enclosed, including a dust exclusion door. The film plane and sensor are also upright, further preventing any dust and dirt from accumulating and affecting scan performance. The computer interface connection provides both data transfer speed and the choice between USB 2.0 and FireWire. All of these very positive attributes are also quite affordable. At around $900, the new Minolta DiMAGE Scan Elite 5400 is very competitively priced in the middle of the range of high-performance dedicated 35mm film scanners.

The 5400dpi Difference
When you work with this 35mm, 5400dpi scanner you might not be able to see, or appreciate, its full capability unless you output images at its highest setting. The max output produces an image file scanned from a 35mm film frame of about 16x24" at 300dpi. In 24-bit RGB--in uncompressed TIFF format--that's a file size of about 120MB (in 48-bit color depth the file size doubles to 240MB). Obviously, this demands that the computer used with the scanner is equipped with a generous amount of RAM.
This portrait made in my first daylight studio, recorded on K-12 process Kodachrome-X, had eluded a completely successful translation to digital until the Minolta DiMAGE Scan Elite 5400 came along.
Driver Performance
There is one shortcoming that affects the otherwise superlative attributes of the Elite 5400--the native Minolta software driver. Like all of the other scanner hardware manufacturers, Minolta software is not really equal to the physical performance of the scanner. Apparently, as was suggested to me by an industry insider, scanner manufacturers provide the bulk of their research and development resources to the hardware engineers. The programming of the drivers must occur after the hardware is largely complete, so the software programmers are shorted in both time and resources to get the driver ready for the marketing of the scanner.

Fortunately, I have learned that LaserSoft Imaging had come to an agreement with Minolta allowing LaserSoft to develop and offer SilverFast Ai 6 for the Minolta line of scanners. From numerous tests with scanners in the past, the availability of SilverFast assures a user will be able to obtain the best the hardware can provide in precisely color corrected scan output, both efficiently and effectively. Before completing my test scanning with the Elite 5400 I was able to install a beta copy of the SilverFast Ai 6 driver and confirmed that it does in fact provide optimum performance and easy access to produce ideally color corrected scans with the Minolta DiMAGE Scan Elite 5400.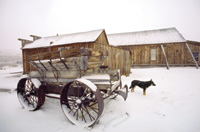 My most memorable visit to the ghost town in Bodie, California, was made so by almost being snowed in. This particular shot from that visit captures--in the best quality I've ever gotten from a scan--the mood of the town on that day.
Using The Minolta DiMAGE Scan Elite 5400
To test I chose a selection of 35mm images made over a broad span of time on just about every kind of film, including many images I had scanned previously. These image files from those previously scanned are on CDs in my digital library and were available for comparison. After some initial scans with the Minolta software, which I found frustrating and disappointing, I simply set the resolution to 5400dpi output at 48-bit color depth and then edited and color corrected the resulting 230MB files in Photoshop 7.01 or with LaserSoft SilverFast HDR 6.

Using this approach I soon discovered that even the most challenging and difficult images, which in the past never yielded really satisfying final images, became uncompromised successes. In fact I began to marvel that my photography was really that good even in the early days.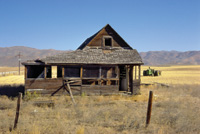 In 1981 I made a shooting trip by car completely circling the entire US and part of Canada. One of the more haunting scenes along the highway was this abandoned farmhouse along the border area of Nevada and Idaho captured on Kodachrome. The Elite 5400 reproduced the scene with unusual detail, clarity, and richness, exactly replicating the colors of the scene.
To be a bit more specific, what I was discovering was that the Minolta DiMAGE Scan Elite 5400 was capturing very minute details of image information at every level of density in the slides, even the very contrasty K-12 process Kodachome images I'd made in the 1960s. However, with these Kodachrome scans, as well as scans of silver-based black and white negatives, I had to turn off Digital ICE, and then used SRD in SilverFast to remove dust and scratches. Besides obtaining fully and acutely defined detail across the density scale, I was able to reproduce incredibly clean color. I could remove any color cast and restore and adjust colors and saturation to achieve excellent fidelity with the original. In fact, many of the scans produced results that looked like the original from 20, 30, and even 40 years ago.
Evaluation And Recommendation
Is the Minolta DiMAGE Scan Elite 5400 for you? Well, if you have a desire to get everything out of the 35mm film as possible and into a file that will make large prints, then you should certainly consider it. But to accomplish this as efficiently and as effectively as possible I would not consider purchasing the Elite 5400 without also getting LaserSoft SilverFast Ai 6 as the software to run it. Fortunately the total price of both will not break the bank. In fact with the $199 price of SilverFast added it should be less than the top-priced 4000dpi scanner without SilverFast, and even lower than another popular 4000dpi model with SilverFast.

If you'd ask me today about what personal equipment I need to reproduce the best quality I can afford I'd certainly include the Minolta DiMAGE Scan Elite 5400 scanner. I believe that anyone who wants the best scans of 35mm film they can obtain should try this scanner--it's a must-have for the discerning digital darkroom enthusiast. For more information, visit the Minolta website at: www.minoltausa.com. For more information about LaserSoft SilverFast Ai 6, visit the LaserSoft Imaging website at: www.silverfast.com.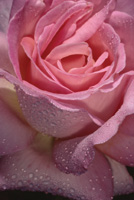 Flower photography has been an enduring fascination throughout my career in photography. This early shot on Kodachrome never looked any better than now. I would not hesitate to print at the file's full size of 16x24" at 300dpi. In fact I'll likely do just that for a future printer test I have scheduled.
Technical Specifications

Type: 35mm film scanner
Film Type: Color/black and white, negative/positive
Optical Resolution: 5400dpi
Scanning Dimensions: 24.61x36.69mm
Maximum Pixel Dimension: 5232x7800 pixels
Image Sensor: Three-line primary-color CCD with 5300 pixels per line
Multi-Sample Scanning: 16x, 8x, 4x, 2x, Off
A/D Conversion: 16 bit
Color Depth: 8 bit and 16 bit per color channel
Dynamic Range: 4.8
Computer Interface: IEEE1394 (FireWire), USB 2.0 (1.1 compatible)
Focusing: Autofocus, Point AF, Manual focus
Light Source: Cold cathode fluorescent tube
Estimated Retail Price: $899

LATEST VIDEO