New Lenses For 35mm And Digital SLR Cameras
Super Teles And A Host Of Wide Zooms For Todays And Tomorrows Digital SLRs
As several manufacturers are releasing new SLR cameras--both 35mm and digital--we're also seeing far more new lenses than we did in the past few months. The new lenses range from very affordable zooms to ultra wides and others with new high-tech features. Nikon and Olympus have announced a new series of lenses exclusively for use with their digital SLR cameras, a trend that is likely to continue. For the next three to five years sensors smaller than full frame 35mm size will probably remain standard in consumer digital cameras. That's because of the excessively high cost of large, full frame sensors, and because of the trend toward smaller and smaller SLR cameras and lenses. No matter what type of camera you own, or plan to buy, some of the following lenses will probably be of interest to you.
Long Telephoto Lenses
Following the lead of several other manufacturers, Minolta is now offering lenses with an ultrasonic focus system, designated as SSM lenses, for Supersonic-Wave Motor. During the PMA show, I was able to confirm that this feature provides very fast and quiet autofocus with the Maxxum 7. (Most current Maxxum models are also compatible with SSM lenses, although the Maxxum 9 requires a service upgrade for full compatibility.) The first SSM model, the AF 300mm f/2.8 APO G(D)SSM also incorporates the very finest optics, including three low dispersion glass elements, and should produce stunning image quality in wildlife and sports photography. This lens features internal focusing plus two Direct Manual Focus modes that allow focus to be fine-tuned even in AF mode plus other focusing options described on Minolta's web site. Extensive use of magnesium alloy makes this lens fairly lightweight (5.1 lbs, 2310 g) and very rugged. (Price not yet set.)
Few manufacturers are still making manual focus lenses, but a couple of companies are still doing so to satisfy owners of older cameras. Phoenix is one of these and their latest product is a 100-300mm f/5.6-6.7 model, with close focusing to 4.9 ft, producing maximum magnification of 0.25x. This is a compact and moderately lightweight zoom lens (5.3x2.5"; 52mm filter size; 17.6 oz) with a single zoom/focus ring. It is available in the following manual focus mounts: K, Nikon AIS, Canon FD, Minolta, Olympus, and Yashica/Contax. (Street Price: $150.)

An ideal partner for the compact, lightweight Pentax cameras with silver finish, the silver Pentax FA J 75-300mm f/4.5-5.8 AL zoom is small (2.7x4.6"; 58mm filter size) and weighs only 13.6 oz. While it will often be used for distant subjects, this long zoom focuses as close as 4.3 ft, allowing for high magnification of small objects: just over 1/3 life size, at the 300mm focal length. The optical formula includes an aspherical element. In order to keep the price moderate, the designers did not specify any low dispersion elements for superior image quality at wide apertures. For a lens of its type, the 75-300mm f/4.5-5.8 AL is surprisingly affordable making it a great choice as a second lens for an entry-level camera owner. (Street Price: $189.)
Mid Range Telephoto Lenses
The second new Minolta SSM lens, the AF 70-200mm f/2.8 APO G(D)SSM tele-zoom, will become a very popular model because of its more typical focal lengths. This model also incorporates premium-grade optics, including four low dispersion glass elements plus two aspherical elements intended to eliminate optical aberrations and distortion, producing optimal sharpness and color rendition. As a bonus, this 3 lb pro lens features a very short minimum focus distance (3.9 ft) and takes 77mm filters. Like the 300mm model, the SSM zoom includes a circular diaphragm mechanism, a rotating (removable) tripod mounting collar, focus range limiter and focus hold buttons, plus a lens hood. Both SSM lenses are fully compatible with the new 1.4x and 2x APO (D) tele-converters that maintain the ultrasonic focus operation. (Price not yet set.)

"Standard" Zoom Lenses
These days, zoom lenses such as the 28-80mm, 24-135mm, and 28-200mm are often considered to be standard for SLR cameras, because such models are compact and quite versatile. The new Pentax FA J 28-80mm f/3.5-5.6 AL is a perfect example of this type. This is a very small lens (2.5x2.6"; 58mm filter size; 6.3 oz) but should offer good performance thanks to the use of one aspherical lens element. Available in a silver finish that matches most current Pentax SLR cameras, it offers very close focusing ability, down to 1.3 ft (0.4 m) for maximum magnification of 0.25x. (Street Price: $70.)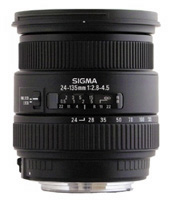 Since a 28mm focal length does not offer a very wide angle of view, especially on most digital SLR cameras, Sigma now makes a new 24-135mm f/2.8-4.5 EX Aspherical IF zoom. Although moderately priced (under $400), this zoom includes a low dispersion glass element plus two aspherical elements to correct optical aberrations. Thanks to internal focusing, the front element does not rotate, so the effect of a polarizer will not change when focusing. This lightweight (20.6 oz) zoom lens is available in AF mounts for Sigma, Canon, Nikon (D), Minolta (D), and Pentax cameras.

The first short Nikon zoom to incorporate the Vibration Reduction (camera shake compensating) system, the AF-S 24-120mm f/3.5-5.6G VR zoom also employs internal focusing and the Silent Wave focus motor for fast, quiet operation. In order to ensure high image quality, this lens includes two ED glass and two aspherical elements, plus a round, seven-blade diaphragm. This moderately large Nikkor zoom (3x3.7"; 62mm filter size; 20 oz) comes with a corner-cut lens hood (77x94mm; 575 g). As a G lens, it does not include an aperture ring, but is fully compatible with Nikon's digital SLR cameras and all of their current 35mm SLR bodies, except the F55 and F65. This new zoom will replace the original 24-120mm model and should be available by late summer. (Price not yet set.)
Advertised as "the world's lightest" zoom of its type, the new AF Nikkor 28-200mm f/3.5-5.6G IF-ED lens is also surprisingly compact (2.7x2.8"; 62mm filter size; 12.7 oz). As a bonus, this model focuses closer than its competitors: to a mere 1.3 ft at the 200mm end. As a multi-purpose zoom, it includes the most popular focal lengths for people pictures and travel photography, so it will often preclude the need to carry other lenses. Thanks to its two ED glass and three aspherical lens elements, plus internal focusing, this model should provide great image quality and fast/smooth autofocus. The AF Zoom Nikkor 28-200mm f/3.5-5.6G IF-ED is compatible with the same cameras as the 24-120mm model and also incorporates a round diaphragm. (Price not yet set.)
Ultra-Wide Angle Lenses
Designated as a "Digital SLR Zoom Lens," the Nikkor AF-S DX 12-24mm f/4G IF-ED is the first model in the new DX series that's intended exclusively for use with cameras that employ the 23.7x15.6mm image sensor. (While it can be mounted on 35mm bodies, a DX lens produces a small image circle, so it causes severe vignetting: darkening of the corners of the frame.) The primary advantage of a DX lens? Reduced size and weight plus optimal image quality across the entire digital image frame. In spite of its very short focal lengths and fast, constant f/4 maximum aperture, this 12-24mm zoom has a surprisingly small diameter (3.2"; 77mm filter size) and weighs only 1.07 lbs. On a digital camera, it offers an angle of view from 99 to 61Þ, making it comparable to an 18-36mm zoom on a 35mm camera, for true ultra-wide angle effects.
While the Nikkor AF-S DX 12-24mm f/4G IF-ED zoom is not designated as a pro lens, it includes many advanced features. Two ED glass elements promise great color, sharpness, and contrast while three aspherical elements minimize distortion and optical aberrations such as coma. The ultrasonic Silent Wave motor and internal focusing provide smooth, quiet ultra-fast AF operation, while the M/A mode enables instant manual override of autofocus at any time. A round diaphragm renders out of focus highlights as circular even at f/8 for more natural effects, while the 11.8" minimum focus distance is certainly impressive for a lens of this type. (Street Price: $999.)

Designed to satisfy the demand for an affordable and fast wide angle zoom for digital EOS cameras, the new Canon EF 17-40mm f/4L USM model is equally useful with 35mm bodies. This L-series lens includes pro-grade optics, with three aspherical elements plus a new type of low dispersion glass element: Super-UD to correct color aberrations. Other noteworthy features include the silent, super-fast ultrasonic focus motor, full-time manual focusing even in AF mode, a circular aperture design, and weather-resistant gasketing for protection in light rain. This pro-series zoom is much smaller and lighter (3.3x3.8"; 17.6 oz) than the EF 16-35mm f/2.8L model and also far more affordable, making it a preferred choice for the photo enthusiast. (Street Price: $799.)
First shown on the new *ist D camera, the Pentax FA J Zoom 18-35mm f/4-5.6 AL zoom will be an ideal companion for that digital SLR body, offering focal lengths equivalent to 28-54mm in the 35mm format. Naturally, this short zoom will also be a great choice for those who want an ultra-wide lens for a conventional Pentax SLR camera, whether autofocus or manual focus. At our press time, the specifications and price were not yet available for this aspherical lens, but you should find full information on the Pentax web site by the time you read this issue.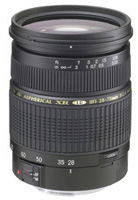 New From Tamron
From Tamron comes three new lenses, plus the ones they already showed at photokina that have just hit these shores (see our photokina coverage in the December, 2002 issue of Shutterbug). Their new SP AF70-200mm f/2.8 lens is a fast, lightweight high-performance zoom that weighs in at just 41.9 oz, making it, says Tamron, the world's lightest fast telephoto zoom lens. It is equipped with what Tamron dubs FEC (Filter Effect Control), a new design that makes the rotation of the polarizing filter easy even with the lens hood attached. There's also one-touch switching between auto and manual focus and a quick-release tripod mount. And, thanks to the reduced chromatic aberration the optics provide, the images made with this lens yield beautiful soft background blurs, a real boon for portrait photographers. The company also showed a very light and compact "standard" zoom, their SP AF28-75mm f/2.8 Macro. Weighing in at 17.99 oz and just 3.6" long, this is another "world's lightest and most compact" design. Their SP AF180mm f/3.5 Macro yields a 1:1 RR (Reproduction Ratio) without the use of extenders or tubes. Because this is a 180mm lens with a minimum focusing distance of 18.1", 1:1 shooting can be done at a working distance of 9.4", a great advantage for macro practitioners. This means that shadow fall is less of a problem and that "shy" living subjects can be captured with more ease.
New Olympus Lens System
Although full specifics will not be announced until June 24, 2003, Olympus will begin shipping four new lenses for their digital E-system in August. All are black and offer a professional look, resembling Sigma's EX series. These include the 300mm f/2.8, 50mm f/2 Macro, 50-200mm f/2.8-3.5, and 14-54mm f/2.8-3.5. Since the Olympus "four-thirds" sensor is exactly half the size of a 35mm film frame, the system produces a 2x focal length magnifier factor. In other words, these lenses will provide the following effective focal length in 35mm system terms: 600mm, 100mm, 100-400mm, and 28-108mm. That's great news for sports, action, and wildlife photographers, but not for those who prefer ultra-wide angle effects. Presumably, Olympus will introduce shorter lenses later this year, hopefully including a zoom that starts at 12mm for an effective 24mm focal length. (Prices not yet set.)

FEATURED VIDEO