New Gear For 2007: PMA Report; Studio And Mobile Lighting: Strobe, Hot, And Cool Lights Page 2
Interfit Photographic debuted the Pro-lite 3-bulb, 5-bulb, and 9-bulb fluorescent lamp heads, with each bulb rated at 24w (equivalent to 100w each in actual output). These lights can be used for product and portrait photography. They feature a Perspex central disc to diffuse the light and prevent hot spots in product photography. Also new is the Super Cool-lite 5 kit, which comes with a 24" softbox and a 15" high-contrast reflector, with five 24w daylight-balanced bulbs with a life cycle of 5000 hours.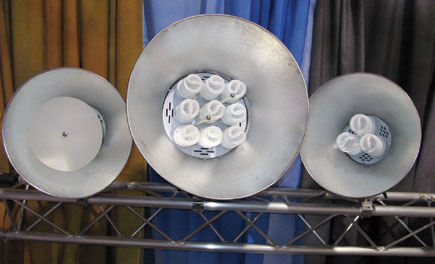 In an effort to make studio photography accessible to all, from a technical standpoint, Westcott introduced a novel concept and a new division, Photo Basics. Available in kits with two or three lights, the system revolves around very attractively designed and colorful 500w photoflood heads and a floor plan that outlines where each light, backdrop (included), and subject should be positioned for carefree photography. Now anyone can become an accomplished studio photographer! All the basic accessories are included, and kits are priced starting at $399 (MSRP). It even comes with the DigiTent diffusion housing for small products ($75 when sold separately) and instructional DVD on lighting and posing. More info at www.photobasics.net.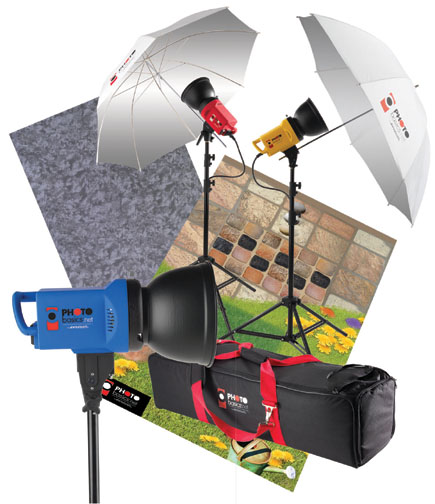 What's New In Tabletop Lighting, Backgrounds, And Accessories?
Diffusion housings for tabletop photography often come with a built-in backdrop or with accessory backgrounds that easily attach to the interior. But sometimes we need a backdrop for larger subjects, and we have a couple to suit anyone's taste. And there are variations on these themes. The beauty of it is that these lighting solutions are all portable. Beyond that, there are accessories designed to facilitate any shoot.
American Recorder Technologies introduced the supersized Photo Studio In A Box--the Professional Model SIB-180. The SIB-180 unfolds into a 16x16x16" soft lighting tent with built-in reflector system and two 5500K cool lights. Also included are a double-sided background and a heavy-duty camera stand that will support a full-size D-SLR. This is an ideal solution for anyone who doesn't like to mess with the lighting, as each light is fixed in position on opposite ends of the housing. The soft lighting tent and reflectors fold down into a 17x17x5" carrying case which holds all the included accessories, weighing just 8.4 lbs. The MSRP is $199.95.
American Recorder Photo Studio In A Box
Booth Photographic introduced the Aurora Asymmetric Stripbox. The lamp is positioned closer to one end of the strip light, which is a narrow softbox. By positioning the lamp to one side, it lets you use one part of the box to light the subject while feathering the light through the remaining portion of the box for a graduated lighting effect, with 1.5 stops difference between the "key" and "fill" areas. In a full-length portrait, using the box vertically lets you focus more light on the face and upper torso, drawing less attention to the rest of the body. You can also position the box horizontally, with the key light at either end. Available in two sizes: 18x43" ($295, MSRP) and 28x59".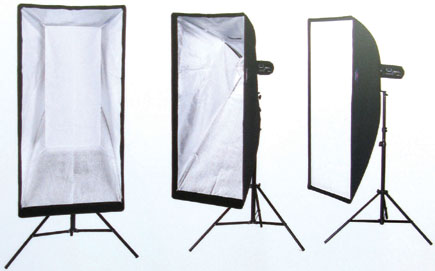 Booth Aurora Asymmetric Stripbox
Interfit Photographic provided a fetching backdrop for its lights with a new range of high-quality muslin drapes with a non-reflective surface. Each is individually sprayed with an acrylic paint, then baked in an oven for longevity, thereby withstanding multiple washings. You can also use the reverse side, which is lighter in tone. Available in a variety of patterns and colors.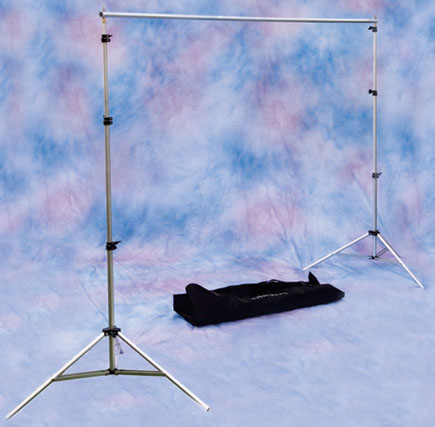 Interfit Photographic Backdrop
The shooting table has long been a staple of the small product/still life studio, and traditionally has been very heavy and cumbersome, requiring it to be set up and left in place. JTL came up with a practical solution in its Product Table (item code 5034), which measures 80x38" ($400, MSRP). This table is portable, featuring a milk-white sweep surface made of highly durable engineering nylon with a load capacity of over 18 lbs. The design focuses on ease and simplicity in setting it up and breaking it down, requiring less than 10 minutes to fully assemble. It folds down to a convenient size, fitting in a convenient carrying bag (included). All you need to do is add the lights. The beauty of this table is that it allows you to light from any side, even underneath. It comes complete with metal support struts and tubing.
The Lastolite division of Bogen Imaging Inc. demonstrated the HiLite illuminated background, a unique approach to portable backgrounds rooted in the Lastolite concept: imagine a pop-out diffusion housing that opens nearly flat--just wide enough for a light head to fit in. This self-standing backdrop does away with the need for background supports. Moreover, the light head uniformly illuminates the backdrop from inside. It's perfectly suited to high-key portraiture and product photography beyond the tabletop. An optional Super White Washable Vinyl train can be attached to either the long or short side of the HiLite for full-length portraits. The HiLite is available in two sizes: 5x7 and 6x7 ft. Also from Lastolite is the LiteTable. Unlike traditional tubular framed light tables, the revolutionary design of the LiteTable allows it to be assembled in a matter of minutes without tools or screws. The fully-enclosed LiteTable gives you complete control over light distribution, letting you create gradated effects where needed. It is available in two sizes: 28x28x60" and 39x39x72".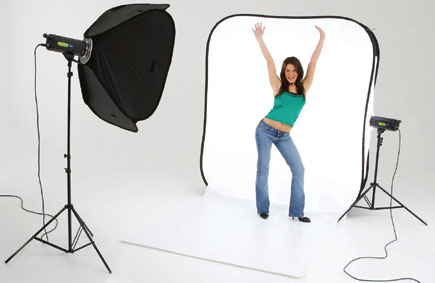 Here is something different. Professional and amateur photographers alike have long used Mini Maglites for light painting, but they haven't been a practical tool for lighting small tabletop sets--until now.