New Epson Stylus Photo 1200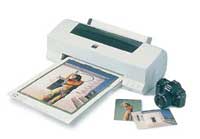 The Epson Stylus Photo 1200 takes up little desk space but produces big, beautiful color prints.
A complete, ideal digital darkroom includes three basic elements: input from a scanner or digital camera, a personal computer with image-editing software, and output in the form of a photo-realistic printer. From my perspective the output is "the proof of the pudding" and has been improving dramatically in performance relative to price recently. Epson's latest Stylus Photo models, the 750 I reported on last month and now the 1200, have brought the price performance relationship to a level even the most advanced photographer will not find compromised. The Epson Stylus Photo 1200 has all of the performance specifications supporting superb quality photographic print production just like the 750 model while printing with a much larger maximum paper size of up to 13x44".

The new features shared by the 750 and 1200 which contribute to its high-performance as a photo-realistic printer include a new smaller ink drop size of 6 picoliters down from the 11 picoliters of the 700/EX Stylus Photo models. A 150 percent increase in printing speed which equates to making a 720dpi 4x6" color print in one minute, and an 8x10" in two minutes. The 750 and 1200 now have USB (Universal Serial Bus) connection that supports fast data transfer from computer to printer assuring maximum print speed even with large high-resolution images. Much improved, easier to use software, including new ICC/ICM color management profiles which produce WYSIWYG print performance matching image screen appearance. Variable Dot Technology which creates smooth image tones with finely defined image detail. The 1200 has the ability to print effectively at the full maximum 1440dpi even on plain paper. This latest Epson Photo printer supports Windows 95/98, NT, and the Apple Macintosh platforms.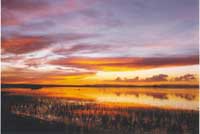 Using Epson's 11x17 photo paper for many prints, regardless of the subject, brightly colored or subtle, landscape or portrait, as long as I had the image quality in my file open in Photoshop, the resulting prints turned out to more than meet every expectation the screen image suggested.
Photos © 1999, David B. Brooks, All Rights Reserved
What distinguishes the Epson Stylus Photo 1200 is its print size capability. It looks very much like the Stylus Photo EX model, only a bit wider. This width allows the 1200 to accommodate 13" wide paper. The color ink cartridges for the 1200 are also different from the 750 which uses the same five color and black ink sets as the previous 700 model. Assuming the 1200 will be used largely for photo and color graphics printing, the five color ink cartridge has been increased in size and capacity, while the black cartridge has been kept the same as it is for a number of Epson ink jet printer models to keep weight and mass at a minimum. Combined with its noticeably faster print speed and the continuous data flow supported by its USB connection, printing 12x18" images on 13x19" paper in full color at 1440dpi is a practical reality. All of the new features at an official selling price of $499 make the Epson Stylus Photo 1200 an ideal complement to the digital darkroom.
The Epson Stylus Photo 1200 printing on Liege Fine Art paper creates images with rich qualities beyond what can be normally achieved with conventional photographic materials.
Using The Epson Stylus Photo 1200 Ink Jet. The timing of my tests with the 1200 was fortuitous following work with the Epson Expression 800 scanner, permitting me to print some 120 size film scans. It was also concurrent with my testing of Polaroid's new SprintScan 4000 which allowed making higher resolution scans of 35mm images capable of printing at an image size of 12x18". Another timing advantage involved the fact I had recently acquired a new "blue" Mac G3 computer. This enabled me to evaluate the printer's speed using USB and a fast computer in comparison to printing with an enhanced parallel interface with a Windows 98 machine, and to use the latest version of Colorsync on the Mac for output control.

The images I was working with were also advantageous to evaluating the color reproduction performance of the 1200. They consisted of a number of scans of 35mm slides I'd made when I was into flower photography, some landscape transparencies and a few studio fashion/glamour portraits. This image selection involved a full range of colors that are fully saturated, subtle tone gradations, as well as delicate skin tones contrasted with extremes in highlight and shadow detail in landscapes. My printing concentrated on using Epson 11x17 photo paper, but I also printed with Kodak ink jet paper, Pictorico glossy ink jet paper in 13x19" size, as well as Liege Fine Art ink jet paper in 13x19 and 11x17. (There is more relating to the use of special papers in the section covering Monaco EZ Color.)
Evaluation And Recommendation. There are only two drawbacks in having an Epson Stylus Photo 1200 printer: First, it is such an addictive pleasure making really big, beautiful prints one after another that bring out everything in an image. Second, if your original image isn't that good or the color correction is seriously lacking, when it is printed big with the inherent qualities of the 1200, those flaws are really apparent. Seriously though, after a long time working with photographs in digital format, reproducing them with the Epson Stylus Photo 1200 is the satisfaction that has until now been an illusive promise. It makes that potential the kind of reality you cannot dream could be any better.

At a cost of under $500 the Epson Stylus Photo 1200 makes a really professional quality digital darkroom far more affordable, and much easier to set up and accommodate in your home than a "wet" color darkroom. It also makes the process of reproducing photographs more efficient, controllable, and at a material cost that's just a fraction of the price of having prints made at a custom photo lab. Even users of the latest megapixel digital cameras can make big prints with the 1200 since it was just announced Genuine Fractals 2.0 LE will be bundled with the Epson printer. This software enables users of the 1200 to start with an original RGB image up to 5x7" at 300dpi, which is around 9MB of data, and increase the size or resolution of the image up to 65MB without degrading the image quality. For example, an image that looks great as a 5x7" print at a resolution of 300dpi will look just as good at the same resolution when enlarged to take advantage of the full printable size of Epson's Super B, 13x19" papers. Adding every factor together I cannot help but conclude the Epson Stylus Photo 1200 is a most highly recommended addition to a digital darkroom. For more information call (800) 463-7766 or visit their web site at: www.epson.com.
Technical Specifications
Printing Method: Advanced Micro Piezo ink jet technology
Color Configuration: Six color with separate black ink cartridge
Maximum Resolution: 1440x720dpi black and color on all media
Dot Size: 6 picoliters with variable drop technology
Print Speed: 4x6" print, color at 720dpi = 1 minute; 8x10" print, color at 720dpi = 2 minutes
Compatibility: Windows, Macintosh, iMac
Interfaces: Bi-directional parallel IEEE-1284, Macintosh mini-DIN 8-pin serial, USB
Paper Capacity: 100 sheets, 10 envelopes
Paper Sizes: 4x6 photo through 13x17" and panorama
Maximum Printable Area: 12.76x43.34"
Printer Dimensions: 16.9x10.34x6.6"; 11.5 lbs
Price: $499

FEATURED VIDEO