The New ColorVision PrintFIX PRO; Precisely Accurate Professional Print Matching For the Rest Of Us Page 2
PrintFix PRO, however, requires you to provide it with information; lacking same it just won't be able to aid you in getting great prints. After the first step described earlier you go on to the next page, where you are confronted by a dialog form that has to be filled in with information naming and identifying your print, the paper media identification, the printer's ink, driver media setting, and date. Once the information is entered identifying the printer, paper, and ink you are about to calibrate and profile, you can go on, but don't click on "skip" and detour to the profiling process--go to the next page. A Print Quality Check screen will appear with instructions on how to perform a printer test.
If in doubt about what to look for and how to identify printer performance errors, open the associated Help file, which will reveal examples of quality errors. Once you are confident your printer is functioning properly, go to the next wizard page, the Media Setting Check. This print test is invaluable, especially if you are using an older printer, and a must if you are profiling a third-party paper not made by the company that is your printer manufacturer.
This process allows you to make a visual assessment of whether the inking for a particular driver media setting works with the paper you are profiling and whether it over or under applies ink. Again, going to the associated Help file reveals illustrations that give you visual clues to problems identified by print test results. This Media Setting Check allows you to make four printer imprints on one letter-size piece of paper with different media settings for easy comparison.
Once you are confident of the Media Setting to use, go on to the next wizard screen, Select Target, which actually begins the profiling process. A target is an image file stored with the PrintFIX PRO application that is based on ICC standard color. You need to print the target so the result can be read with the spectrocolorimeter to measure and profile your printer, paper, and ink. There are different target sizes to choose from. The High Quality Target is the most appropriate choice. Once it is selected then follow the instructions exactly to make a print of the target. When the print is made, let it dry thoroughly and go to the next wizard page, the Read Patches screen.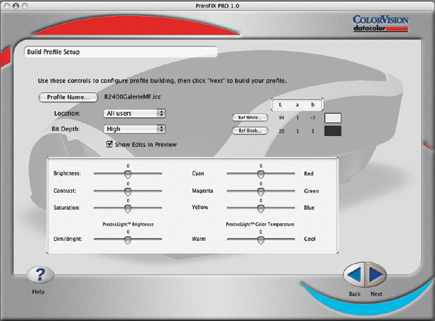 PrintFIX PRO supports creating individually adjusted profiles to produce prints that are tailored to the tastes of individual photographers as well as the environment in which the prints will be displayed. In fact, it is quite easy to produce several variations of a printer profile for a particular paper, inkset, and printer.
The first action the screen prescribes is to choose a file name for the measurements. Once that is done click on the "read patches" button and you get a replica on screen of the target page you have printed, but with only half the color in a diagonal portion of each patch filled in with color. Your printed target should be on a flat surface between you and your computer display. Then, begin reading each patch from top left going across and down the page, carefully centering the front of the spectrocolorimeter on each patch and then clicking to make each measurement. When all of the patches have been read, measured, and recorded, you are ready to go to the next wizard page.

The Build Profile Setup wizard screen first requires that you click the "profile name" button and choose a file name for the profile you want to create. There is also a big box with sliders to adjust brightness, contrast, saturation, and color balance, as well as sliders to adjust print output for different environments in which the print will be displayed. This can include descriptions of both the brightness and the warmth or coolness of the light illuminating a displayed print. My suggestion is that for your first profile you leave all of the settings at the default zero, and go on to the next page, Print Preview.

There you will see that your profile has been created successfully and is filed in the appropriate folder in your operating system. Then you can go on to make a test print to evaluate the result, with choices of different Rendering Intents. Once you have printed a test page with your new profile you have completed the process, and from my experience you should have a fine result. But one of the great advantages of the PrintFIX PRO software wizard is that you can "personalize" it if you so desire. If, after making a few prints, you would like a profile that is tweaked to provide warmer or cooler prints or more or less saturated ones, the measurement file is still available from within the wizard. There you can make slider adjustments and build another profile with a slightly modified file name. Or, if you are not satisfied because you think you made a mistake, you still have the target print so you may re-measure it and make a fresh profile very easily and quickly.

Evaluation And Recommendation
My involvement in the beta testing of PrintFIX PRO provided an opportunity to get to know this product as or more thoroughly than any other new product I have tested for a Shutterbug report. Perhaps like some of you, the ability to make professionally precise and accurate printer profiles has been for some time the most significant missing link in my digital darkroom experience. So I am very pleased to report that ColorVision's PrintFIX PRO provides an affordable and practical tool that helps photographers make the best quality prints possible.

Over the entire experience I made profiles for two of my printers, an Epson R800 and an Epson R2400, using almost two dozen different papers, including Moab's new double-sided Kayenta Photo Matte paper, and their double-sided, resin-based satin finish paper dubbed Kokopelli (www.moab paper.com). My tests also included making profiles for numerous "third-party" papers, including several Premier Art papers. I also custom profiled several Epson papers. In every instance, when compared with generic "canned" profiles, I obtained cleaner print color results, superior print quality, and better screen matching fidelity from the PrintFIX PRO custom profiles. That also held true when compared to the generic Epson profiles. I even went so far as to profile a Canon i9900 printer for a reader living way up in eastern Canada, as well as a friend's Epson 2200 printer, in each case producing superior profile performance.

Until ColorVision released the PrintFix PRO, professional precision printer profiling with a spectrocolorimeter was not available unless you wanted to invest at least $1000, and often more. At a list price of $549, and just $100 more if you buy the "Suite" that includes a ColorVision Spyder2PRO for monitor profiling, professional profiling is now reasonably available to serious photographers. However, this is not a tool you'll use every day, so that may still seem like a big expense. After giving it a bit of thought, particularly after profiling a printer for someone across the continent, why not share? If you belong to a camera club, maybe each member could chip in and share, or a group of friends who do photography could vote one as the "designated profiler."

Do I perhaps sound too enthusiastic? From my experience I don't think so. I get way too many e-mails from readers who are not satisfied with the print quality they are getting or the fact that their prints don't match their image on their computer monitor. It doesn't have to be that way, and PrintFIX PRO can provide the solution.

For more information, contact ColorVision, Inc., 5 Princess Rd., Lawrenceville, NJ 08648; (800) 554-8688, (609) 895-7430; www.colorvision.com.

FEATURED VIDEO