New 35mm SLR And Rangefinder Cameras
Short On Intros, But Tall On Tech
Because the manufacturers are devoting the vast majority of their resources to developing digital equipment, we're seeing few new 35mm cameras. At PMA 2004 for example, only Canon and Konica Minolta announced new 35mm SLRs and not a single distributor showed a new rangefinder camera that accepts interchangeable lenses. In spite of the widespread lack of interest in 35mm camera development, the few new models are certainly worth considering.

The SLRs are affordable to mid-range models but they take advantage of technology and components developed for high-end cameras including digital models. That's good news, particularly for budget-minded photographers who want a 35mm SLR with an advanced autofocus and/or flash metering system.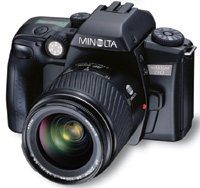 Minolta Maxxum Duo
Although Konica Minolta has announced the development of the Maxxum 7 Digital SLR, the company recognizes that some consumers still prefer the greater simplicity and affordability of a 35mm SLR. Two new models will meet that continuing need: the Minolta Maxxum 70, targeting photo enthusiasts, and the Maxxum 50, intended for families or for those first switching from a point-and-shoot camera to an SLR system.

The Maxxum 70 is particularly desirable, with its nine-point autofocus sensor for great versatility plus multidimensional predictive tracking focus and 3 fps continuous advance that's great for sports photography and for quickly shooting a series of candid photos of people interacting. When used with a Maxxum Flash 5400HS, 5600HS(D), or 3600HS(D) this camera also allows for high-speed flash sync, great for fill flash when shooting at very wide apertures in bright light. Mount a D-series Maxxum lens and the camera provides ADI (Advanced Distance Integration) flash metering when using the built-in flash or a D-series Maxxum flash. By considering subject distance, ADI provides better exposures of subjects that are very dark or very bright, increasing the odds of a perfect slide or negative.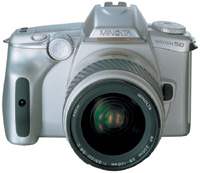 The Maxxum 70 also includes most of the advanced capabilities that we expect, such as three light metering patterns; ISO and exposure overrides; nine shooting modes ranging from Program to semiautomatic options to a fully manual mode; depth of field preview; and more. In spite of its wealth of features, this model is surprisingly compact (5.3x3.6x2.6") and lightweight (13.2 oz), making it ideal as a camera for travel photography. Attractively priced at $270, this handsome Maxxum camera should satisfy the needs of many experienced photographers.

An even more affordable model ($199), the Maxxum 50 does not include all Maxxum 70 features but it does offer the essentials for family photography. These include a three-point AF sensor; advanced multidimensional tracking focus; ADI flash metering with D-series lenses and flash units; six Program modes plus semiautomatic and manual options; two-zone evaluative metering; exposure compensation; and a 1.7 fps continuous advance rate. The Maxxum 50 is the same size as the Maxxum 70 but it's a featherweight at a mere 11.8 oz and is even easier to operate. That combination--plus the modest price--make the Maxxum 50 a great choice for family events and vacation trips.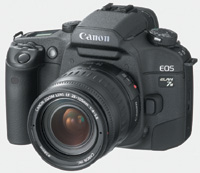 EOS Cameras With Flair
The third generation of Canon's EOS ELAN cameras, the new ELAN 7N and 7NE replace the popular EOS ELAN 7 and 7E. Designated as "flagship advanced amateur 35mm" models, they're designed for maximum speed and versatility while maintaining intuitive operation. Constructed of the same aluminum alloy panels as their predecessors, the new cameras offer controls that are easier to read. Significant improvements include a superior autofocus and flash metering system.

First, it's important to note that these cameras are identical twins except for one feature. The 7NE includes a bonus, the Eye Controlled Focus (ECF) option that allows photographers to select an AF point simply by looking at it through the viewfinder. (The ECF system employs a safe IR beam that reflects from the cornea; a "gaze detecting sensor" above the eyepiece determines eye movement and calculates what you are looking at.) After calibrating the 7NE to my eye, I found that the ECF system worked perfectly with or without eyeglasses, and it functioned equally well in horizontal and vertical shooting.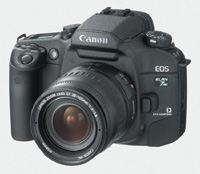 Both new cameras employ a seven-point AF system and they take advantage of the high-speed circuitry developed for the EOS 10D. According to Canon, this technology allows these affordable cameras to match the focus detection and lens drive speed of the professional EOS-1V and EOS-1D. Their continuous framing rate is high, too: 4 fps in One-Shot AF or manual focus, and 3.5 fps in Continuous AF, with nearly silent film advance. However, the maximum sync speed remains a relatively slow 1/125 sec.

These ELAN cameras also employ the new, "smarter," E-TTL II flash metering system that was developed for the EOS-1D Mark II professional digital SLR. This system is not linked to the active focus point (as E-TTL is) but employs a more sophisticated distance data calculation said to produce more accurate flash exposures, particularly with light, dark, or highly reflective subjects. E-TTL II flash metering requires an EX-series Speedlite and is available with most Canon EF lenses.

The ELAN 7N/NE Specifications list is very long and includes three metering modes; exposure controls for ambient light and flash; a full 11 operating modes; 13 custom functions; and more. The cameras are also compatible with a wide range of EOS system accessories, including Battery Pack BP-300 as well as remote controllers, eyepiece accessories, etc. The ELAN 7N and 7NE are moderately compact (5.8x4x2.7") and lightweight (20.5 oz) models that offer excellent value at $349 and $399, respectively. Although intended as a primary camera for photo enthusiasts, either body would also be a suitable back-up to a professional EOS camera.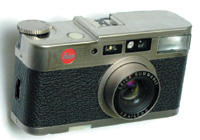 Premium-Grade Leica Camera
Although it's not a true rangefinder camera and does not accept interchangeable lenses, I decided to include the Leica CM in this report because it's an advanced model that targets serious photographers. The first compact Leica camera completely assembled in Germany, the CM follows the classic styling of M-System models and offers similar superlative quality in the body and built-in lens. This camera features a titanium body, elegant leather trim, and a six-element SUMMARIT 40mm f/2.4 lens with new multilayer coating. Unlike many compacts with a built-in lens, the Leica CM is not tiny or ultralight (4.6x2.5x1.4"; 10 oz) nor is it inexpensive. Expect to pay $1000 (including a black "jewel" box and a high-grade suede pouch) for the "new level of optical and mechanical excellence" that Leica promises.

Featuring many enhancements over the older Minilux, the CM includes a Program mode and autofocus, also fully controllable. The primary features include manual focusing with a focusing aid; two-zone metering and exposure compensation; Aperture Priority AE for f/stop selection; many flash modes; and shooting data in a viewfinder that's reminiscent of the M7 finder. In addition to the built-in flash, the camera accepts the optional Leica SF 24D flash unit like other models with a 3502 M4 adapter for even greater versatility. The Leica CM commands a premium price but it exudes the Leica mystique that attracts those who value pride of ownership, unsurpassed quality, and intangibles such as prestige and exclusivity.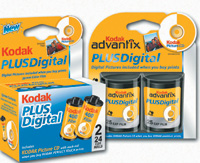 In Memoriam: A Death Knell For The APS Format
First announced in 1996 with much fanfare, the Advanced Photo System (APS) has been experiencing a steady decline in the past few years. By 2002, all of the APS format SLR cameras and lenses had been discontinued. In the following year, Minolta (a small player in the APS market) announced that it would totally discontinue marketing compact APS cameras as well. More recently, Kodak decided to stop selling Advantix cameras, citing "unsatisfactory returns." The company reiterated its commitment to manufacturing Advantix film, but its primary announcement was viewed as another nail in the coffin of the small format. Although Fuji showed a few new (re-styled and re-packaged) point and shoot APS cameras at PMA 2004, we expect that other manufacturers will quietly begin discontinuing their APS line.

Of course, the picture was not always this bleak. Initially, many consumers were attracted to the APS format, because they were simply looking for something new, or because of the claimed advantages for the smaller 24mm format: greater film loading convenience, the ability to select any of three formats, plus superior film technology and high-tech photofinishing that promised better prints. In 1998, some 10 million APS cameras were sold.

Many of us who cover photo equipment remained skeptical about the superiority of the smaller format with a surface area that's only 56 percent of a 35mm film frame and wondered why the industry made such a massive investment in developing APS. After all, the 35mm point-and-shoot cameras--as well as entry-level 35mm SLR models--produced superb prints and they were already compact and convenient to use. As I wrote in 1997, "APS appears to be a solution that's looking for a problem."

Kodak attributes the drop in APS camera sales to the increasing popularity of digital cameras, a valid assumption, at least during the past two years. Frankly, that trend has also affected the sale of 35mm cameras and these are expected to decline by 10 million units (worldwide) this year. Consequently, Kodak will also stop marketing 35mm cameras in the Western world by the end of 2004.

If that makes you wonder about the viability of the 35mm format, think about this: In 2004, over 100 million rolls of 35mm film will be sold and several manufacturers will announce new 35mm SLR cameras. To paraphrase Mark Twain, rumors of the death of this format are greatly exaggerated. Pessimists disagree with my assessment and point to a June 2003 InfoTrends (www.infotrendsrgi.com) report that claimed: "The shift to digital photography will be nearly complete by 2008."

In spite of that prediction, new 35mm SLR cameras should be available for decades. They may even experience a resurgence in popularity should the current interest in digital photography eventually decline. The same cannot be said for APS, a format that will soon become merely a footnote in the annals of photographic history.

Where Are The New Medium Format Cameras?
For the first time in our long history of trade show coverage, this issue of Shutterbug does not contain a report about new medium format SLR cameras or lenses. That's not due to an oversight but the fact that I could not find any such equipment while scouting the vast halls at the Las Vegas Convention Center. Granted, there's no compelling need for new products in this category because the market is already well served by the many existing cameras and lenses. Still, the lack of announcements is surprising considering the value of medium format when used with a high-resolution digital back.

Apparently, the digital trend has not accelerated the sale of medium format equipment to a great extent because many photographers find digital backs for them to be prohibitively expensive at $12,000 to $20,000+. (In fact, Kodak recently discontinued their highly-rated Pro Backs citing inadequate sales volume.) At this time, many photographers and small studios are meeting the need for digital images with the more affordable 35mm size cameras. But the larger sensor offers advantages and digital back prices will eventually decline, making medium format more viable in the future. We expect to find new cameras and lenses at the photokina show in October, or at the latest, at PMA 2005 next February. In the meantime, we'll report on any announcements in future issues of Shutterbug.

Manufacturers/Distributors'

FEATURED VIDEO