Natural Selections; Gil Lopez-Espina's Brand-New Blank Canvas
Photos © 2004, Gil Lopez-Espina, All Rights Reserved
No matter how far we get from the starting point, there's always something that calls us back. Early influences, first goals, original career choices--they all have a way of hanging around at the edges, only to show up strong somewhere down the line.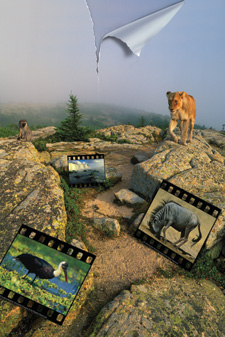 "When I put all the elements in," Gil says, "I realized I had too much blank sky. I needed something to fill the space that would at the same time make it an active space. So the tear came at the end, and I drew it in with the Wacom tablet." He also drew the film frames for his "outdoor gallery" because, he says, "all the filters and graphics of frames I found had the wrong number of sprocket holes for 35mm." .
That happened recently to Gil Lopez-Espina. He is 30+ years into a career as a wildlife and nature photographer. His images have been published in the major wildlife magazines. He's won numerous awards for his work. He operates a nature photography tour company, for which he leads several tours, and he conducts lectures and gives presentations around the country. But before he was a photographer he was a painter, and while he never disconnected that part of his life from his photography, he recently started to create a series of graphic images that incorporate ideas and concepts he used in his paintings. "I started out doing large-size abstracts," Gil says, "and then moved into what I call photo-surrealism, painting large canvases in a very exacting, realistic style but including an element or two that you wouldn't expect to see in those surroundings."

Then he picked up a camera to aid in the work. "As I became more involved in doing my paintings, I had to take pictures of the subjects I wanted in the paintings. Because the paintings would take anywhere from three months to a year to complete, I'd bring models into my studio and photograph them for reference later on." To handle the different perspectives and views he needed, he bought more lenses. "That's how I got hooked up with photography."
Taken in Etosha National Park, Namibia. A study in contrast and surprise, with the lilac-breasted roller watching it happen. "He's there for my sense of space," Gil says, " and the desire to put something in that spot that would be attractive but not take away from the idea of the photograph."
Photography took over when a friend invited him to go to Captree State Park on Long Island to photograph nesting gulls--"not the most exciting things to photograph," he admits, but it was "the beginning of an appreciation and enjoyment of nature photography." After that came a few excursions to Mexico and the Galapagos Islands and photography of subjects that were decidedly more exciting than the Captree gulls. "At that point I pretty much gave up painting and started dedicating my life to photography."

And now come images like the ones you see here. "Well," Gil says, "it comes from a desire to put things into a context that's a bit skewed, a bit off-center. Some of the elements look like they belong there, but they're obviously deliberately placed in that context."



LATEST VIDEO

SPONSORED VIDEO