Monochrome…Never Out Of Style; Black & White And Read All Over
"The ink is black… The world is black, the world is white…"—David Arkin for Three Dog Night
Because it pays homage to a long tradition in photography, this black-and-white-themed issue has always been one of my favorites. That's why I decided to devote this month's column to photographers who capture monochrome images and, like photography itself, work in diverse genres. This month also sees the return of the Shutterbug Reader-of-the-Month's website that also features infrared monochrome imagery. And for those readers who asked why I haven't recently added images to my Flickr pages, it's because I am having serious problems with the site that their automated (no humans allowed) help system cannot seem to fix. If you work for Yahoo! or Flickr and can help, please contact me via e-mail at: joefarace@gmail.com.
www.romanloranc.com
Roman Loranc shoots most of his pictures within an hour's drive of his home in California, but he's also interested in exploring his ancestral roots in Europe. That's why the six collections in the "Photographs" section of his website contain images made here in the good ole U.S.A. as well as in Poland and Lithuania and it's these latter collections that I dived into first. Most of the photographs here are delicate landscapes, such as "Wooden Pier," that are often deftly toned, adding to the overall lightness of his images. There is one portrait—a chimney sweep—that uses a direct August Sander's approach and makes me want to see more. Loranc has a flair for the abstract in found objects and his "Shadow, Lightning Rod" image in the architectural subcollection of his Poland collection has a definite Picasso feeling that made me smile. The Lithuania collection has more architectural than landscape images, the most striking being "Radiance," which appears to have been made in a monastery.

What is striking is that even when Loranc shoots in America he is drawn to similar scenes, as can be seen in the Northern California collection that includes photographs made in Sea Ranch, Mount Shasta, and the Eastern Sierras. He moves easily from airy seascapes to "hit you over the head" traditional landscape drama with his images of Mount Shasta, including "Little Shasta Church." This latter image only makes you want to see it bigger than the tiny thumbnail or small image that appears when clicked. To see it bigger, I'll need to visit one of the brick-and-mortar galleries listed under his (surprise) "Galleries" tab. Roman Loranc's photography is the kind of imagery that made me want to become a photographer oh so long ago. He is truly a modern master.
© 2011, Roman Loranc, All Rights Reserved
www.garythephotographer.com
Although Gary Buehler doesn't live all that far from me, I don't know him but am familiar with his black-and-white portraits from having seen them exhibited in local malls. While his tasteful website lists six galleries, including Couples, Seniors, and Fine Art, the bulk of his images are found in the Children, Babies, and Pregnant collections. Buehler is one of those gifted photographers who brings out the best in his subjects even when photographing children, a challenging discipline to be sure. Portraiture is always about lighting and Buehler clearly has that aspect of his craft buttoned down, but it's expression that sells photographs and the look on these kids' faces will delight you—as I'm sure they did their parents—and this only occurs when a subject implicitly trusts the photographer.

If children are a challenge, then babies are even more so, and while Buehler hedges his bets by occasionally involving one of the parents, the results transcend the genre and become downright artful, if not art. Otherwise, the babies are photographed in their birthday suits and that "naked baby" theme is carried over into his pregnancy portraits when the mothers-to-be are photographed (for the most part) nude. Those readers who find such images offensive should avoid this section, but they would be missing some of Gary Buehler's finest work.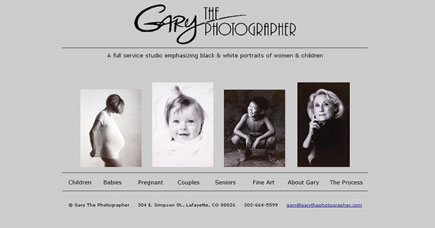 © 2011, Gary Buehler, All Rights Reserved

LATEST VIDEO