Minolta Maxxum QTsi: A Beginners SLR
The last fruits were stark against the tree's bare branches. Notice how the excellent automatic fill flash balanced with the existing daylight to provide just the right illumination to bring out the color. (Minolta Maxxum QTsi with 35-80mm AF zoom lens at 80mm macro, Kodak Ektachrome Elite 200.)
Photos © Robert E. Mayer, 2000
Anybody seeking to graduate from simple compact cameras with their notoriously inaccurate viewfinders and limited close focusing capability and expand their photographic horizons usually accomplish this by moving up to a more precise 35mm SLR camera. If you want to do this easily and relatively inexpensively, the new Minolta Maxxum QTsi camera has a lot to offer. It is lightweight and extremely simple to use without being cluttered with a lot of extra bells and whistles features that might confuse inexperienced people. And it will accept all of the broad line of lenses and flash units available for the Maxxum camera system, a decided plus.
This high-performance SLR is housed in Minolta's most compact body to date making it one of the smallest 35mm SLRs in the world with dimensions of 5.3x3.5x2.3" and a weight of only 12 oz. A pronounced protrusion on the right provides a secure gripping area and the small prism bulge houses a low profile built-in electronic flash. It has the feel and fully automated simplicity of a point-and-shoot camera but offers predictive AF, programmed AE with dual-segment metering, and the convenience of interchangeable lenses. The instant the camera is turned on, it's immediately ready to go.
To broaden the scope of programmed automation there are five selectable subject program modes for simplified extended creative control without having to operate or adjust shutter speed or aperture settings. The five scenarios are portrait, landscape, close-up, sports action, and night portrait. When set for any of these special modes, the camera automatically selects the settings most appropriate for the subject being photographed. For instance, sports action selects a faster action-stopping shutter speed while landscape mode selects a smaller lens opening for greater depth of field. This type of customization of camera adjustments is second nature for knowledgeable photographers, but beginners seldom have the insight to know what's needed to record these diverse subjects. But, even beginners can easily select a silhouette diagram for one of the five subject modes and the camera will automatically make the settings for them. Of course, they can also simply leave the camera in regular Program automatic mode and it will take excellent images, although possibly not as critically specialized for the type of subject in front of the lens.
Strong fall sunlight makes interesting light patterns when filtered through brilliant Japanese maple leaves. This sometimes difficult type of lighting did not fool the camera's dual-segment metering which produced excellent exposures on a variety of similar challenging situations. (Minolta Maxxum QTsi with 35-80mm AF zoom lens at 80mm macro, on Kodak Ektachrome E100 SW.)
The autofocusing system incorporates a high sensitivity CCD line sensor coupled with an AF illuminator pre-flash system for accurate focusing in low-light, low-contrast situations that can confuse some systems. It includes a continuous, predictive focus control to facilitate quick accurate focusing of subjects moving toward, away, or parallel to the camera.
A built-in flash instantly pops up from the prism whenever extra light is required for proper exposure. Additionally, there are several other flash modes to choose from, including autoflash with redeye reduction, fill flash, fill flash with redeye reduction, and flash cancel. Surprisingly for an entry-level camera, this tiny built-in flash even includes the capability to serve as the trigger to operate wireless remote extension flash units for advanced creative multiple flash lighting. The unique Minolta split-rail hot shoe is on top of the prism for use when a separate, more powerful output, auxiliary flash is needed.
As with any built-in flash that pops up mere inches above the camera lens, there is the distinct possibility of lens shadowing which can occur when the lens hood blocks part of the light output. The shadowing appears as a semicircular shaded area at the bottom (horizontal) or side (vertical) of the picture. Therefore it is recommended that the lens hood be removed when using shorter focal lengths with zoom lenses.
This small tree growing in our yard was strongly backlit, so forced automatic fill flash was used to lighten the shaded portion of the colorful leaves. The resulting balance was excellent. (Minolta Maxxum QTsi with 35-80mm AF zoom lens at 80mm, on Fujichrome Professional Provia 100.)
Legible and readily accessible operating controls are primarily clustered along the top of the body. A main on/off switch is on the back just behind the LCD. In front of the LCD is a large Mode button, which sequentially advances a pointer through the five subject program modes then back to "P" Program automatic. At the far left are two small buttons, one for choosing self-timer or continuous exposure, the other for sequencing through the various flash modes. On the front, to the left of the lens, is the lens release button and another for switching between AF and manual focus. The control layout is as simple and accessible as I have seen on any camera today.
Practical Test Results. For our testing we had the Minolta Max-xum QTsi body with a Minolta AF Zoom 35-80mm f/4-5.6 II Silver lens with continuous macro capability down to 1.3' (15") at any focal length. Introduced with this new camera were stylish new variations of existing telephoto zoom lenses that combine high quality optics, a broad zoom ratio, and continuous macro capabilities. Each lens is clad in a silver finish to match the exterior of existing silver-finished Maxxum SLR bodies. They are the Minolta AF Zoom 70-210mm f/4.5-5.6 II Silver with a 3x zoom that focuses from infinity to 3.6' and AF Zoom 75-300mm f/4.5-5.6 II Silver with a 4x zoom that focuses down to 4.9'. The latter two lenses were not tested.
This basic SLR has a far less sophisticated metering system than the honeycomb pattern meters found in the Maxxum 9 Professional, or even the XTsi or 800si cameras that I have tested recently. Therefore I tried as many extreme backlighted and similar situations to put it to the test. As always, for this type of meter and exposure evaluation testing, I loaded the camera with extra-sensitive slow ISO speed color slide film which always has the least exposure latitude so it's superior for critical testing. Accu-Color Lab, Inc., Fort Wayne, Indiana, did all of my E-6 processing as they have done for many years now.
Shots of a plain brick wall with the camera on a steady tripod and the program selection in action mode for the widest lens opening possible, showed the lens produces sharply detailed images across the entire flat field. There was minimal distortion at the edges of the bricks at the 35mm or the 80mm telephoto focal lengths, showing the lens was well corrected.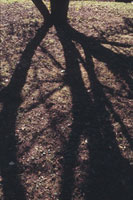 Interesting pictures are everywhere, if you merely look for them. Late on a fall afternoon this crab apple tree in our front yard casts interesting shadows worthy of recording. (Minolta Maxxum QTsi with 35-80mm AF zoom lens at 35mm, Kodak Ektachrome Elite 200.)
The slide images were consistently sharp in detail at the prime focus point, proving the autofocusing was working properly and exposures were correct even under extreme strong side and backlit situations. The tiny flash evenly covered the entire field at all focal lengths without producing uneven lighting and it gave good exposure when used as the prime light source indoors or outside at night. Flash exposures, when the flash was the main light source, made of a plain flat wall (an untypical subject, but telling evaluation) exhibited no center hot spot at 35mm or 80mm focal lengths and very minimal corner falloff in illumination. Additionally, when the flash was used outdoors in daylight to fill shadowed areas of strongly backlit subjects, the camera's metering system automatically balanced the existing light and flash exposures quite well.
All of the six rolls of chrome film exposed in this camera during a quick test contained exceptionally well exposed and critically sharp images. Those made in bright sunlight were properly exposed no matter where the sun came from. You would expect the subject with light coming from behind the camera or from either side would be well exposed, but so were the more difficult to meter strongly backlit subjects. The latter lighting tends to confuse more basic TTL internal metering, but it did not on this nice little SLR. All of the chromes were "keepers" as far as the focusing and exposure were concerned. I particularly liked the quality of some fall nature close-up subjects which were exceptionally nice and comparable to those produced by far more sophisticated and costly SLR cameras.
The camera balanced and handled nicely with the supplied 35-80mm AF zoom lens, although it did seem a bit light and insignificant when attached behind a bulkier tele-zoom lens such as the Tamron AF 28-300mm f/3.5-6.3 LD Aspherical (IF) macro lens. The autofocusing performed rapidly and accurately locked in on most all types of subjects. The viewfinder is bright and extremely simple. There are two central brackets indicating the autofocusing frame area, and outside the left side of the image area are two LEDs, a green dot that confirms focus and a jagged red line only lights to indicate the flash is charged and ready when the flash is popped up. That's it. Even the body-top LCD panel is simplified with just pertinent data visible and no indication of lens aperture or shutter speed anywhere.
Overall, I was exceptionally pleased with the beautiful images produced by this basic SLR. It should serve well as a first SLR for most anybody just stepping up to SLR precision and interchangeable lens adaptability and could function as a back-up extra body for people already having Minolta Maxxum equipment.
The Minolta Maxxum QTsi camera has a suggested list price of $572 for a kit containing a body and 35-80mm f/4-5.6 II Silver lens. Further information about this new model can be obtained from your local Minolta camera dealer or by contacting Minolta Corporation, 101 Williams Dr., Ramsey, NJ 07446; (201) 825-4000; fax: (201) 327-1475; Photofax: (800) 528-4767; www.minoltausa.com.
Technical Specifications
Camera Type: 35mm SLR with built-in flash, AE (Autoexposure) and AF (Auto Flash)
Lens Mount: Minolta A-type bayonet
Autofocus Type: Minolta's Through The Lens (TTL) phase-detection system with one CCD line sensor
Focus Modes: Autofocus/manual focus selectable
Predictive AF: Yes
AF Sensitivity: EV -1 to 18
Built-In AF Illuminator: When raised, built-in flash automatically activates the aid focusing in low-light and low-contrast situations
Illuminator Range: Approximately 3.3-16.4'
Exposure Modes: Programmed AE (P mode)
Subject Program Selection: Portrait, Landscape, Close-up, Sports Action, Night Portrait/Night View
Metering: With flash: direct TTL metering. Without flash: dual-segment metering
Metering Cell: Dual-segment Silicon PhotoCell (SPC), second SPC cell used for flash metering
Metering Range: EV 4-20
Shutter: Electronically controlled, vertical traverse, focal plane type
Shutter Range: 1/2000 to 30 sec
Flash Synch: 1/90 sec or slower
Flash Coverage: 28mm lens, Guide Number 39' (ISO 100)
Film Speed: Automatic setting for DX-coded films, ISO 25-5000
Film Loading: Auto threading, auto advance to first frame
Drive Modes: Single-frame advance, continuous advance up to approximately 1 fps
Film Rewind: Auto winding, auto rewind, manual start of rewind selectable
Viewfinder Type: Roof mirror type
Focusing Screen: Acute-matte view
Field Of View: 90 percent of film frame
Power: Two 3v CR-2 lithium batteries
Dimensions: 5.3x3.5x2.3"
Weight: 12 oz (without battery)

FEATURED VIDEO