Minolta Maxxum 5
Small, Light, And Packed With Features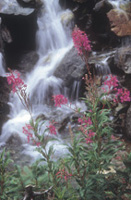 The Maxxum 5 is easy to use for creative controls. Here, with the 5 mounted on a Gitzo carbon-fiber monopod, fill flash and a slow shutter speed were used to open up the details on the flowers and create a slow flow effect on the waterfall. The exposure mode was Shutter priority set at 1/8 sec.

Photos © 2001, George Schaub, All Rights Reserved
Weighing in at just under 12 oz with a size of 5x3.4x2.4", the compact Minolta Maxxum 5 could be considered a downsized 35mm SLR, at least when compared to some of the bulkier pro models. But this size and weight belies the features and functions Minolta has packed into the latest of their recent SLR introductions. In some ways the camera evokes memories of the Olympus OM bodies of yore, or in more recent memory the Advanced Photo System SLRs that seem to be fading from view. Those needing the reassurance of a heavy body and use a camera in part to build up their neck and shoulder muscles will find the Maxxum 5 too light for their purposes. But any photographer who likes to travel with their camera and who enjoys the latest in focus and exposure control will welcome the 5 into their camera bag. While this may seem like excessive discussion about the camera's size and weight, Minolta makes the claim that this is the smallest and lightest SLR camera body, so we didn't want it to pass unnoticed.
The Maxxum 5 is both for the photographer who might want to leave the tasks of metering and focus to the camera and for those who like to gain control and exercise their photographic skills. The control dial might intimidate a beginner, as it eschews icons in favor of terms such as AF-ACS and P-ASM. These are readily understandable to SLR users as Autofocus--Automatic, Continuous, and Single and Program--Aperture priority, Shutter priority, and Manual exposure modes. The icons for familiar program exposure modes sit atop the LCD panel, however, leaving little doubt that this camera offers both approaches to making pictures. The control dial also serves notice that the 5 has custom functions (14 in all) and the ability to set drive speed and make multiple exposures.
Minolta's honeycomb metering pattern was right on in even difficult lighting situations. This photo was made with late-afternoon window light using Program mode.
Minolta has incorporated and even improved upon many of the features that have distinguished their cameras in the past. The 5 does have Eye-Start automation, which gets all systems going when you bring the camera up to your eye. This means that you don't have to bother tapping the shutter release button to get focus and exposure moving. It also has an optional Panorama mode, selected by toggling a switch on the back plate. This just crops the frame in the viewfinder and masks the film accordingly. As you know by now, this adds substantially to your photofinishing bill so you might prefer to shoot it full frame and crop later. Making panoramic slides is a kick, however.
Spot metering is a great way to control highlights when using slide film. Here, I placed the spot on the top of the barber pole and added plus one exposure compensation to place the white highlight right where it would record texture on Fujichrome Provia 100 slide film.
The lithe Maxxum 5 sports a very speedy autofocus system. The company claims that it is three times as fast as the Maxxum XTsi, which was no laggard in that regard. The camera has a new seven-point AF system arrayed around a central rectangle in the finder. You can let the AF system do its thing or you can match a specific point with a specific target, a function Minolta dubs local focus area control. You press the tiny AF button on the back of the camera and turn the command dial; the target area lights in red. This operation proved to be cramped for our hands, but it works well. You can lock focus to recompose with the same button. This sits next to the spot-metering button that also acts as an exposure lock. Happily there's a small rib between the two so that you don't mix up the functions, but both buttons are a bit small for our taste.
The three AF modes include Single or Continuous and Automatic; the last in the group decides for you whether the system should use one or the other. The company claims that its Predictive Focus Control can track even the most random motion, a fact proven in the field where the camera fairly raced every time we worked with subjects in motion.
The camera relies on the company's 14-segment honeycomb metering pattern for excellent exposures, although you can switch to spot when desired or required. There's also a method for determining brightness range by comparing the spot readings and the EV range for select area measurement. This can come in handy when trying to figure out how shadow and highlights will record on whatever film you have in the camera. Naturally the results will depend on the exposure latitude of the film and on what exposure you finally use. If in doubt activate the three-shot exposure bracketing (available in 0.3, 0.5, 0.7 and 1 EV increments). You can even bracket off a compensated exposure, the range being +/- 3 EV in 0.5 EV increments.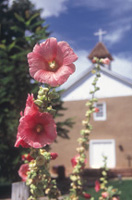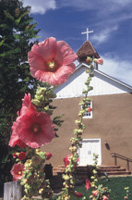 An SLR should make it easy to create selective focus techniques quickly and easily. Here, in Aperture priority mode, I switched between a shallow and deep depth of field. The depth of field preview on the 5, an essential for any SLR, allowed me to see just what I'd get sharp and unsharp in these frames. Photo A (above) was shot at f/5.6 while Photo B (right) was shot at f/16 with the 28mm setting on the AF zoom lens using Program mode.
The camera has both a built-in flash and a hot shoe slot. You can also get wireless remote off-camera flash control with dedicated Minolta flash units and use the built-in as the kicker. If you work with Minolta's 5600 HS (D) and 3600 HS (D) flash units you can get high-speed sync at up to the camera's max shutter speed of 1/4000 sec, albeit with diminished throw. Normally the sync speed is 1/125 sec. Another item worthy of further note is a depth of field preview, conveniently located on the lower right-hand side of the body and 3 frames per sec advance.
In the field we got to work with the Minolta AF Zoom 28-80mm f/3.5-5.6 (D) lens that, incidentally, is also claimed to be the smallest and lightest in its class and focal length range. The camera was responsive to all of our photographic needs and whims, and made picture taking a breeze. Switching through modes, using fill flash and choosing appropriate focusing targets with the 5 proved to be a pleasure. In all, the Maxxum 5 is a great traveling companion, one that won't break your back or your budget.
For more information, contact Minolta Corporation at (201) 825-4000; fax: (201) 423-0590; www.minoltausa.com.

Technical Specifications

Camera Type: 35mm SLR with built-in flash
Focusing: AF with wide focus area. Automatic, Single, and Continuous modes. Seven-point sensor. Any sensor can be selected as the focusing target. Predictive AF.
Metering: 14-segment honeycomb pattern or spot metering. Flash metering, TTL-OTF.
Exposure Modes: Programmed AE with Creative Program Control. Aperture and Shutter priority and Manual. Subject program, selection includes Portrait, Landscape, Close-up, Sports Action, and Night Portrait.
Exposure Overrides: +/- 3 EV in 0.5 EV increments. Autobracketing in 0.3, 0.5, 0.7 or 1 EV increments.
ISO Setting: Automatic ISO 25-5000. Manual setting ISO 6-6400 in 1/3 EV increments.
Shutter: 1/4000 to 30 sec and bulb. Flash sync: 1/125 sec, can be used in high-speed sync up to fastest shutter speed with dedicated Minolta flash units.
Built-In Flash: GN, 39.4 at ISO 100 (f/4 at 10 ft). Coverage: 28mm. Autoflash in programmed AE and program selection modes. Fill flash and flash cancel options. Wireless remote capable.
Other Features: Framing rate: 3 frames per sec. Depth of field preview. Film chamber lock automatically locks the back cover when film is loaded. Eye-Start automation available.
Power: Two 3v CR2 lithium batteries
Size: 5x3.4x2.4"
Weight: 11.8 oz
Price: MSRP: $403

LATEST VIDEO