Minolta DiMAGE A1; An Integral Lens Digital SLR
The integral lens SLR camera does have some precedent in the film world--it's what Olympus called the Z-SLR a number of years back, and the camera models in that line-up enjoyed limited success and spawned a group of digital Z-SLRs called the E-10 and E-20. Now that Olympus has cast their dice in the interchangeable lens SLR game with their E-1, and even Pentax has come into the fold with their oddly named but highly functional *ist D, the world perhaps awaits the Minolta interchangeable lens digital SLR as well. The A1 isn't it, and perhaps we'll have to wait for photokina in the fall of 2004 to see if Minolta lens owners can use their Maxxum lenses on a digital SLR body.
You can get quite close with the DiMAGE A1, as seen in this image of dolls at a flea market in Warrensburg, New York. The EVF works as well as the LCD for such images, unlike other digicams that have parallax error due to their non-SLR viewing.
Photos © 2003, George Schaub, All Rights Reserved
Despite this, the A1 shows off many of the functional and technical matters that Minolta has mastered of late and is a highly useable 5-megapixel digicam. The lens is a beaut, being a zoom with 16 elements in 13 groups and sporting an equivalent 28-200mm optical zoom range. And there's no power (motorized) zoom to wrestle with when going through the range, as you actually manually zoom as the camera breezes through autofocusing for you. Some will find this refreshing, while others might still be searching for the power zoom button.

The minimum focusing distance, for those who like to shoot close, is 1.6 ft throughout the range, although you can get close by using macro mode at the wide setting at 9.8" and virtually closest by using macro in tele at 9.8". As you zoom to tele you do lose a stop, going from the maximum aperture of f/2.8 to f/3.5. This is no great loss since you can vary ISO up to 800, although cooler heads will want to keep it in the ISO 100 and 200 range and rely on the camera's shake controls to help them out and keep things steady.

The camera takes CompactFlash cards (Type I and II) but will not take the new 4GB cards that require FAT 32 protocol. You can record in JPEG, TIFF and Minolta raw as well as get motion images and record with sound.
When you first open DiMAGE Viewer you are met with a typical browser. Every image shows up in a nice, sharp and readable slide sheet format. Clicking on a Minolta raw file opens the DiMAGE raw filer viewer.
Camera Controls And Functions
At first glance the camera body seems complicated, but it's actually pretty straightforward and thankfully gives you most controls on the body rather than forcing you to fish through the screen menu. There's an exposure mode dial with manual, shutter and aperture-priority along with Program and Scene modes, including an unusual "sunset subject" program. The back has various controllers, with a jog-like dial for making choices, menu button, playback and record and a choice for viewing through the LCD monitor or EVF.

Now, I must admit to a prejudice against electronic viewfinders. I find them difficult at best to view through, especially when there's any kind of contrast in the scene. While the Minolta EVF is an improvement over many I've seen I still find myself working mainly through the LCD. What the EVF does give you, though, is direct contact with your image information, if desired, without taking your eye from the finder. Once you gain familiarity with the myriad of control buttons and dials you can get involved with you take without having to leave the view.

On the left side of the camera are more controls where you can set metering modes, drive modes, various custom function controls, ISO and a memory set. It's also where you'll find the flash sync terminal (though the built-in does a pretty good job), the Custom white balance switch (which I use as a filter control, although I am partial to shooting raw most of the time) and the "digital effects" controller, which allows you to do some magic during in-camera image processing that some might find better left to the more nuanced controls afforded in programs like Photoshop.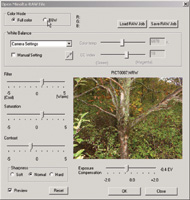 The controls on the raw viewer and editor are not as comprehensive as you would find in a dedicated image editor but they allow you to easily and quickly make adjustments to the image you might have made in the camera. You can make manual adjustments to color balance, add a cool or warm "filter," decrease or increase saturation and more.
Playback Views
On playback you can use the display to view all the settings you have made along with a helpful Histogram for checking exposure. The great thing is that you do get a readout of settings, so if you under or overexposed you can reference these and then change them without having to guess where you went astray. You also get the ability to zoom into the image and even move around it using the jog dial on the back. It can also show you a helpful battery power level display. I mention that because previous Minoltas were somewhat notorious for sucking the life out of batteries quickly. Not so with the A1, where battery efficiency, and especially the use of a lithium ion battery, seems to have this problem solved. You can also get an External Battery Pack Kit for significant power extension.
Handling And Focus
Handling the camera is a pleasure, due to its lightweight and very manageable size. The focal length range is very good, offering as it does the 28mm equivalent angle of view at the wide side. Adding to this is the fact that you can tilt both the EVF finder and LCD screen--up to 90º (right angle) on the EVF and between --20º and +90º on the LCD. This is one of the most flexible viewing systems around.

The Minolta A1 has one focusing target dead center, which you can use if you like working with Focus Lock (halfway pressure on the shutter release). You can also use their (FFP) Flex Focus Point to move the target pretty much where you want throughout the frame. The FFP turns red to confirm focus when you partially depress the shutter release.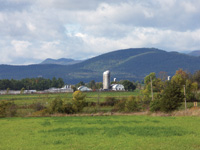 This image was first made in Minolta raw; using the DiMAGE Viewer software a touch of warmth was added with a slight increase in color saturation. You must use the DiMAGE Viewer to open the Minolta raw files.
Help For Shake
At slow shutter speeds, or when the unit senses a "shaky" image might be made, it automatically sets up the Minolta Anti-Shake system, indicated by a "nervous" hand signal on the back of the camera. The symbol turns blue when Anti-Shake has been activated. You then press part way down and when the image on the screen has "stabilized" you complete the exposure with full pressure on the release. It's fairly ingenious, but if it gives you a yellow glow then the shutter speed is just too low for it to work.
Viewing Options
As you work you can activate a "real time" histogram by hitting the information ("i") button on the camera. This button can cycle through various viewing options, from standard to a "live only" image. You can also get a grid on the screen if you are compositionally challenged. If you want manual focus you move the autofocus control switch, and what Minolta calls a "Flex Digital Magnifier" can be used for critical focusing control with the rear focusing collar on the lens.
Skin tones and nuance of color are very good right out of the camera without any post-processing required. A slight touch of fill flash sometimes helps, especially on an overcast day.
Exposure Controls
Exposure controls are rampant on the camera and you can choose just about any mode you're used to working with or desire. I am becoming a great fan of Program Shift (with whatever overrides are necessary), as I don't have to shift between AV and TV to change my mind or adjust to lighting conditions as I work. With this you can change the aperture/shutter speed combo just by spinning any of the control dials. (By the way, aperture goes from f/28 at the wide setting to f/11, which is smaller than 35mm format chips and has a very deep depth of field. Shutter speeds can range from 30 to 16,000 sec, another very impressive range. You can also use Bulb if for some reason 30 sec is not long enough, but it's hard to imagine when it wouldn't be. And by the way, part II; sunset mode is used to "produce rich, warm sunsets." We guess that means warm color saturation and slight underexposure.) Flash also has all the usual modes, with compensation as well.

If you want to try out just about every metering mode under the sun the A1 can deliver it for you, including multi-segment (up to 300), center-weighted and spot. White balance sets include a number of auto modes as well as custom and presets. There is a noise reduction setup that can be turned on or off--if on it can take up to 30 sec to process an image of longer than 1 sec exposure, during which no other images can be made, so be forewarned.

Just as exposure modes are plentiful so are drive modes, including bracketing (exposure, contrast, saturation etc.) and interval, for both still and movie modes. The camera can handle up to 2 fps normally, and 2.8 fps if you're willing to shoot in a slightly smaller file size than maximum.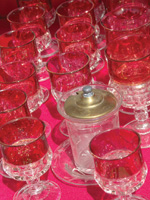 The color processor in the A1 handled difficult color scenes very well and delivered all the subtleties of tone in the bargain. This red-dominant scene might have caused other color processors fits, but the image is open and color rich.
Color Space Options
You can also choose from among a number of color spaces, including "natural" (sRGB), vivid (zapped saturation in sRGB), Adobe RGB (extended gamut, for repro), Embedded Adobe RGB (Adobe RGB embedded in image file), black and white (desaturated, still an RGB file) and Solarization, a trick better left to image manipulation software, as is, frankly, the black and white conversion.

To keep track of all this you might need a scorecard, but luckily the A1 provides a memory bank for up to 5 setups, so you can keep and recall your settings for portraits where you want a bit less contrast, in aperture-priority mode and warmer color saturation or a specific type of drive mode for sports. I only wish that memory banks could be named (this is not available on most and not just lacking on the A1) so you could get to a setup without having to decipher all the symbols in the bank.

The built-in flash is not as anemic as most, but it isn't a powerhouse either (tele at ISO 100, for example, max range is about 7 feet). Happily there's a hot shoe to mount a variety of Maxxum Program flash units as well as the company's Ring Light and Controller, or you can add a flash through a sync cord terminal. If you use the sync cord check the specs on the unit you might be using and be sure the flash unit has less than 400v. You can do wireless remote with the A1, for those prone to this behavior.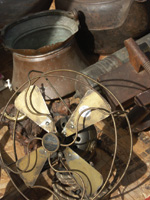 Exposure control allows you to nuance every subject and scene. By using exposure lock, I could get just the exposure I wanted plus saw the exposure previewed in the EVF.
File Formats
You have many record options with the A1, including raw, TIFF and three compression levels with JPEG, of which you have three resolution level choices. The raw file is about 1/2 the size of TIFF, so why shoot TIFF? Well, because you can only open the raw file in Minolta software (DiMAGE Viewer), which adds an extra step to your post exposure work. Raw will not read in direct printers or in most kiosks, or, for that matter, in iPhoto or my latest version of ACDSee. The extra-fine JPEG is about a 3:1 compression, which is not bad, so some might keep it set at JPEG extra-fine, which at the highest res level stores at almost 5MB. The raw vs. high-res JPEG controversy will not be settled here, although we can say with some assurance that this photographer will not expose many TIFFs in the future.

Just to nudge the argument along a bit the raw files here are exposed as 12-bit files, which can be converted to 48-bit in the DiMAGE software. This makes for information rich images that are superior to most digicam output. And just about every image parameter that can be set in the camera during exposure can be set for the raw image later in the DiMAGE software, which makes shooting easier and less decision-laden. To get raw into some reasonable image-editing software or to have someone see it without having DiMAGE Viewer it must be converted to TIFF or JPEG (TIFF in that case is a better bet).
15MB Buffer
We do know that the A1 has at least a 15MB buffer. This is revealed through a very handy feature called "copy," which allows you to copy up to 15MB to the camera, change cards, and then copy the images to the new card. Those of you who shoot on the road and don't want to haul around a laptop, or at least keep it in the trunk during shooting, will appreciate this handy feature. You can actually select particular images to copy, which is a great way to separate the sleepers from the keepers and keep the keepers safe on a separate card.

Though we're getting on the long side of this review take my word that this camera has many more features to cover, all of which deal with playback, voice recording, movie modes, user preferences, etc. This camera is a programmable device par excellence. We'll pass on all that and trust that you'll discover that those who enjoy such things will not be bored or left with nothing to do with this camera.

How about results? We shot in many different situations in the two weeks we had to play with the A1 and found it to be capable of producing high quality images with ease. Once we figured out all the options we played through them with ease, and the weight of the camera and especially the very good battery life convinced us that this was a camera that we could recommend. It's a digicam any photographer can grow to love. The zoom range of the integral lens is fine for most situations but, of course, we're as curious as the rest of you about a Maxxum lens-compatible Minolta digital SLR. We'll all have to just stay tuned.
Facts
· Effective Pixels: 5 million
· ISO: 100-800
· Lens: Integral 7.2-50.8mm (28-200mm equivalent) manual zoom control
· Maximum Aperture: f/2.8-3.5
· Viewing: EVF (electronic viewfinder) and LCD, both of which can be articulated
· Shutter Speed: 30-1/16,000 sec
· Autofocus: Wide area, spot, flexible
· Metering: Multi-segment, center-weighted, spot
· Exposure Modes: Program (with shift), aperture- and shutter-priority, manual
· Flash: built-in, Maxxum dedicated hot shoe mount flashes, flash sync terminal
· Frames Per Second: standard, 2 fps, 2.8 fps at lower resolution modes
· Bracketing: Exposure, contrast, saturation, filter
· Voice Memo: Yes
· White Balance: Auto, preset, custom
· Formats: JPEG, TIFF<raw
· Power: NP-400 lithium ion
· Weight: 19.8 oz
· Size: 4.6x3.3x4.4"
· Connectivity: USB
· Street Price: $1000
Contact
Minolta Corp.
(201) 825-4000
www.minoltausa.com