Minolta Dimâge Elite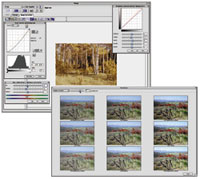 Minolta provides driver software that can be used as a stand-alone utility or as a Windows TWAIN or Macintosh Photoshop plug-in with an application. This driver offers automated image adjustment as well as the ability to adjust each dimension of image quality manually, including an easy visual thumbnail Variations comparison to select an ideal adjustment for a final scan.
Photos © David B. Brooks, 2000
Minolta's newest 35mm (and APS) film scanner, the Dimâge Elite, combines well established basic scanner design with the addition of Applied Science Fiction Digital ICE and new software features. At a street price of under $1000 this new Minolta package offers photographers strong functionality in every dimension, including clean, high quality scans achieved with great efficiency. These strengths include 2820dpi scan resolution, a high 3.6 dynamic range, 12 bit per channel scanning with 24 and 36-bit output options, a multi-sampling option, color matching to the colorspace of your image-editing environment, and automatic and manual scan adjustment options. Then combine a fast preview and final scan speed, plus image cleaning with Digital ICE, with an equally fast functioning software processing package, and you have quality output and efficiency.
The Minolta Dimâge Elite's physical package is quite compact and upright using little desk space. The interface is SCSI 2 and the scanner supports use with Windows PCs (95 through 2000) and G3 and later Macintosh platforms. The software package includes a stand-alone scanning utility, as well as a TWAIN driv-er for Windows and a Photoshop plug-in for Macintosh. The Elite is bundled with Photoshop 5 LE.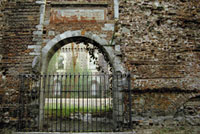 The Minolta software for the Elite scanner interprets color negative film images as effectively as any scanner I have used, requiring little if any more color adjustment than slide films. Even unusual brands of film made years ago reproduce a full range of subject colors with close fidelity to the subject.
Testing The Minolta Dimâge Elite. Since this latest Minolta scanner now comes with ASF Digital ICE, a large part of the extensive selection of images from my library including relatively old slides and color negatives--with many of the slides roughly handled--became ideal images for test scans. I also scanned 40 new Ektachrome slides which were provided to a friend by a colleague, as well as some of the Supra 100, 400, and 800 film I was testing concurrently with this report. I connected the scanner to my Macintosh G3 and installed the software easily and quickly, and had a preview scan on screen in just minutes. I began my scanning with the stand-alone software utility, but was discouraged by the results I obtained relative to what I expected from the preview, even though I carefully checked my setup of the scanner preferences and my Colorsync settings. So I moved to using the Photoshop plug-in. Working within Photoshop provided a tighter relationship between what I adjusted to in the scan preview window, and what resulted in a final scan opened in Photoshop's workspace.
Every and all kinds of dirt and scratches, large and small, are efficiently cleaned without affecting the film image underneath when Applied Science Fiction Digital ICE is activated. It works automatically without adding unduly to the final scan processing time, producing an image with the same qualities it would have if it were clean to begin with and Digital ICE was turned off.
The Minolta Dimâge Elite software offers an unusual mix of automated adjustment and manual tools. You can set the autoexposure adjustment (AE-Lock/Area) "window" to just part of the image area for instance. This is a distinct advantage with some image types like portraits where you want the adjustment to be concentrated on a central subject and background differences ignored. The driver interface is also adjustable in size to any monitor resolution and desired area of screen real estate. There are four pop-up dialogs for image adjustment, the first being Tone Curve & Histogram that provides for setting the gamut manually or automatically, selecting the highlight, mid-tone, and shadow points with an eyedropper (which supports color caste removal), and adjustment of the image characteristic curve. Next is a Brightness Contrast Color Balance dialog.
This is less effective because once the gamut and curve are set they are not locked and any change to brightness and contrast shifts the position of the gamut high and low point settings. Use of the RGB slider is for most users difficult to adjust color balance because it is not visually intuitive. However this is made up for by a Variation Dialog box. But again if image values are adjusted by this easy, comparative thumbnail method, you need to go back to the Histogram and check if your adjustments have altered the selected gamut before making a final scan.
Also, for those who choose to do so, you can simply set the output to 12 bits per RGB channel (36-bit RGB), and color correct in Photo-shop in 48-bit Mode. As I suggested earlier a good portion of my test film selected for scanning was old slides and color negatives that would provide an opportunity to evaluate Digital ICE. I even tried using ICE with a couple of Kodachrome images even though it is not supported, and found that ICE did some cleaning making the hand retouching easier. For black and white (gray scale scan setting) Digital ICE is disabled. However, chromogenic black and white films processed in C-41 chemicals can be cleaned when scanned, if you scan them as a color negative and then either desaturate afterward or convert the file to 8 or 12-bit gray scale. Digital ICE worked quite effectively on C-41 black and white, as did the cleaning with all of the dirty old film I scanned including some E-4 and C-22 process films.
Although Kodachrome is not supported for Digital ICE image cleaning, the process does a partial removal of dirt and scratches making manual cleanup easier. Kodachrome also scans effectively due to the Elite's large 3.6 dynamic range reproducing noise-free shadows with good detail.
With the color negative films I was also positively impressed with how well the Minolta Dimâge Elite software did interpreting even some odd films like 3M Color Negative and Konica 200 Portrait, providing a good interpretation of the color without requiring excessive color adjustment manually to obtain good fidelity with the subjects photographed. Finally, I never found a need to use the multi-pass scanning option even with Koda-chrome slides as the 3.6 dynamic range of this scanner reproduced dark tones cleanly, free of any noise in the shadows.
Evaluation And Recommendation. With the addition of ASF Digital ICE and evolutionary improvements to their hardware and software, Minolta has produced an exceptional device for outputting clean, high quality scanned images in a very affordable package. The only faults I could find are minor inconveniences. For instance, I would gladly give up a little desk space if the scanner were long enough to accommodate a four slide or six negative carrier that didn't have to be flipped and re-inserted for half of the scans. Putting a "lock" on the Histogram high and low points once the gamut was set, would also be advantageous. As I said minor faults probably not everyone would find significant.
The Minolta Dimâge Elite does a very good job scanning silver-based black and white negatives capturing detail across the entire density range with no highlight blocking even in a contrasty snow scene.
What was very significant from my perspective was the fact the entire process is quite speedy and efficient, not just the scan speed. Even with Digital ICE turned on all of the time, the Minolta Elite is one of the most productive scanners I've used. This makes the Minolta Dimâge Elite the best overall 35mm film scanning choice from every perspective, especially at the under $1000 street price. Now, how about an "Elite" Elite with FireWire and 4000dpi, and blow everyone away?
For more information on the Minolta Dimâge Elite 35mm and APS film scanner, contact Minolta Corporation, 101 Williams Dr., Ramsey, NJ 07446; (201) 825-4000; fax: (201) 423-0590; www.minoltausa.com.
Minolta's newest 35mm and APS film scanner, the Dimâge Elite is a compact package packed with performance and Applied Science Fiction Digital ICE image cleaning.
Technical Specifications

Light Source: Three-wavelength fluorescent lamp
Scan System: Fixed sensor, moving film type single-pass scanning
Image Sensor: RGB Trilinear CCD (2700 pixels)
Usable Film Type: 35mm: Color/black and white*, negative/positive
* Black and white films are not recommended with Digital ICE function.
Maximum Input Resolution (Optical) 35mm: 2820dpi
Scan Size And Maximum Pixels:
Format: 35mm
Scan Size: 24.2x36.3mm
Maximum Pixels: 4032x2688

Format: APS
Scan Size: 17.28x29.95mm
Scan Size: 3328x1920
Scan Time:
Format: 35mm
Macintosh: 30 sec
PC/Windows: 35 sec

Format: APS
Macintosh: 30 sec
PC/Windows: 35 sec
Color Depth: RGB 12-bit each
Dynamic Range: 3.6
Interface: SCSI-2 (C50/DB25)
Software: Dimâge Scan Multi driver software Version 1.0 for Windows: TWAIN 32 driver, Utility, ASPI Layer 4.57; for Macintosh: Adobe Photoshop plug-in, Utility, Colorsync 2.0
Accessories: Standard: CD-ROM Dimâge Scan Elite 35mm film holder, slide mount holder, SCSI cable power cord bundle; Software: Adobe Photoshop LE; Optional: Advanced Photo System Adapter
Dimensions: 90.5x162x27mm
Weight: Approx. 2 kg
Estimated Street Price: $950

FEATURED VIDEO