Microsoft's Pro Photo Tools 2; A Post-Exposure GPS Program
In photography, tracking the location of a shoot is almost as important as the shoot itself. One batch of mountain shots from New Zealand can get easily intermixed with those from Switzerland. Worse yet, for the outdoor photographer trying to manage a large number of photos, it's almost impossible to figure out at a later date that you were in a state forest, not a state park, when you took an amazing photo of a rushing river and a deer poised to drink from a silent pool.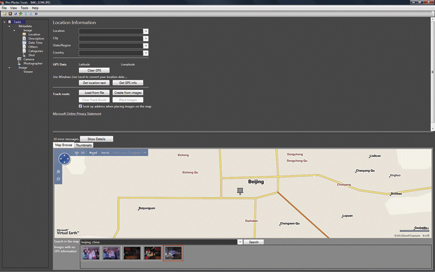 Pro Photo Tools 2 supports international locations. Here, I am adding GPS data for some shots from Beijing, China.
What seems like a minor problem can lead to major frustration as you try to remember exactly where you were. Metatag data can help, since some cameras offer a GPS add-on feature or at least an XMP sidecar tag for the metadata that holds the location name and description (as long as you remember to enter the information on the camera). For photographers with D-SLRs without those add-ons or features, or for those with a vast archive of photos, tracking location data is a constant challenge.
One answer might be Microsoft's Pro Photo Tools 2, a powerful application for Windows that has one express purpose: helping you determine the exact location of a photo shoot and applying location data to those photos. It's one of those applications—like Lightroom 2 for managing photos, or Photoshop CS4 for editing images—that's indispensable once you start using it and understanding how it works. Best of all, it's entirely free and available for download at www.microsoft.com/prophoto with no strings attached.
Pro Photo Tools 2 Basics
The program was developed in part by Josh Weisberg, a director at Microsoft who is himself an avid photographer and world traveler. His goal with Pro Photo Tools 2 was to make it simple and easy for pros to add location data to an entire shoot (not just a handful of photos) because he found it was too easy to forget shoot locations, especially when you amass thousands of images from just one trip.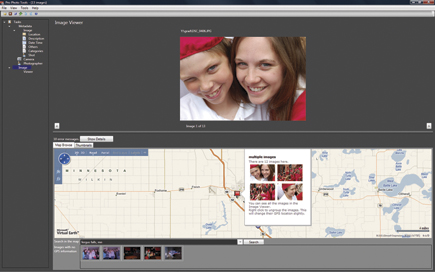 The program shows you a pin on a map that you can click on to see all photos from that location. You can click on any thumbnail to see that batch of photos.
At its core, Pro Photo Tools 2 is a batch-processing program. You can open an entire folder of photos, which are placed automatically in a thumbnail view. Those with no location data are then placed in a filmstrip view at the bottom of the screen. You can search for a location on a built-in map and simply drag all selected photos onto the map to apply the GPS data. The program adds a pin on the map to help you see visually where you took the photos, and adds GPS coordinates in the metadata of the photo. You can click on the pin to see which photos are linked to that coordinate. Pro Photo Tools 2 allows you to switch between aerial, road, and hybrid (aerial/road) views to get your bearings on where the shoot took place.

Here's an example: I was a primary photographer for a graduation ceremony in the spring of 2008, and I used a Nikon D60 for the photo shoot. Pro Photo Tools 2 supports raw images (more on that in a moment) so I shot everything in raw. After the shoot, I copied the photos to a network drive and opened them all in Pro Photo Tools 2. Then, in a Search box on the main screen, I typed the name of the town where I took the photos. The program lets you zoom in to a location within 300 ft, so I found the exact school and the exact front lawn where they held the ceremony. Then, I selected all the images (you just click on one, hold the Shift key, and select the last one) and dropped them onto the map at the school location. The last step is to use the File menu and select "Save All" to save all images with the new GPS data.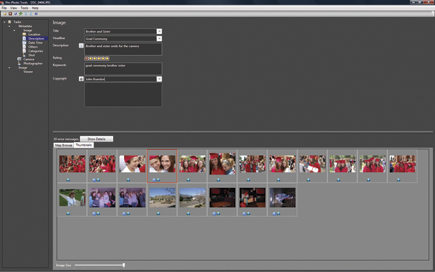 Of course, you can add more metadata to images, such as copyright info and the people in the photos. When you save images, this data is then available in photo-browsing apps and online sites.
At that point, the metadata is permanently part of each image file. So, I could open them in Lightroom 2 or some other photo-browsing application and search the metatag location. Pro Photo Tools 2 also allows you to manually enter other location data, such as the city name. That way, you can use a photo organizer such as ACDSee to search for photos you took in, say, Brazil. Or, if you upload images to an online hosting service such as Flickr, the metadata stays with every image and becomes searchable by location.


LATEST VIDEO