In Memoriam; Don Gale
We are sad to report the passing of photographer Don Gale. We had the pleasure of working with Don on a number of Shutterbug workshops, and his skill at teaching, his masterful work, and the pleasure of his company were always well regarded by his many students and us. We would also catch up with Don at numerous teaching venues and trade shows, where he would be leading seminars or inspiring photographers with his talks and images.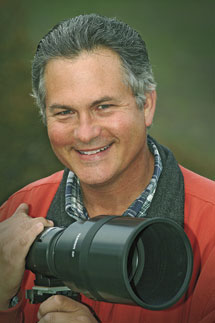 Don's passion for photography and nature was surpassed only by his love for family and friends and his indefatigable zest for life. A master collaborator, Don was an integral part of the Tamron Learning Center, leading numerous workshops, lectures, and seminars. Don also shared his photographic gifts through his beautiful images.

With his expertise in the areas of commercial, industrial, and portraiture photography already firmly established, Don returned to the field that first inspired him to become a photographer, nature and landscape. Don shared with students his experience and the techniques used to capture some of the most beautiful settings and wildlife in the country.

Don was able to expand the audience for his work and teaching by electronic means. His blog allowed anyone to view tips and techniques at their convenience. Through the collaborative efforts of companies with a similar dedication to photography, Don was able to extend the range of photographic instruction, including Fuji's "Talent Team," Nik Software's "Team Nik," ExpoDisc's "Tips From the Pros," Lexar's "Elite Photographers," Bogen's "Local Heroes," and F.J. Westcott's "ProTips."

Don released two instructional videos. The second video, "Photographing San Francisco and California's Central Coast" was released by Don Gale Productions in conjunction with Tamron, and was a Telly Award Winner for best "How To" instructional video as well as an Axiem Award Winner for "Best Editing."

For those who knew Don, his family has asked that, in lieu of flowers, donations be made to the "Don Gale Memorial Fund." Proceeds will be donated to the charities that had impacted his life and were dear to his heart, including the El Monte Boys & Girls Club and similar organizations that help others to see the beauty around us. Checks can be made to the "Don Gale Memorial Fund" and sent to the address below.
Photography by Don
4511 Santa Anita
El Monte, CA 91731
(626) 448-3691
e-mail: photobydon@earthlink.net

LATEST VIDEO