Megazoom, The Sigma 50 to 500mm f4 to 6.3 APO Tele Zoom Lens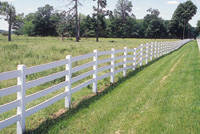 This long, white backlit farmyard fence made an interesting subject. At 50mm with the camera on aperture priority at f/22 there is excellent detail along the entire fence. (Shot on Kodak Elite II 50 chrome film with tripod mounted lens and Canon EOS A2.)
Photos © 2000, Robert E. Mayer, All Rights Reserved
A long 10x zoom range is typically found on better movie cameras and camcorders--but rarely is offered for still photography. Available now from Sigma, the new Sigma 50-500mm f/4-6.3 APO produces the kind of crisply detailed images you would expect from a topnotch, well-corrected APO zoom lens. It is rather large and heavy, and can't be considered a general purpose lens for handheld use at its shorter focal lengths. Even the most robust photographer will undoubtedly require some assistance in steadying this lens. My suggestion is to always use it with a monopod, gun stock support, or a sturdy tripod. This does restrict your mobility somewhat but does allow you to use this amazing lens.
I was impressed that the lens only loses 11/2 f/stops throughout the full 10x range, dropping from a moderately fast f/4 aperture at 50mm down to only f/6.3 at the full telephoto end of the zoom range. In contrast, many of today's small compact cameras with a modest 3x or so zoom range typically lose about two full f/stops. Most interchangeable zoom lenses of 70-210mm or longer zoom range have a similar 11/2 stop speed loss. The only other interchangeable 10x zoom I know of for 35mm cameras is the Canon EF 35-350mm f/3.5-5.6, which of course covers a slightly different focal length range.
The Sigma AF 50-500mm f/4-6.3 APO EX RF HSM lens sports a handsome new speckled black EX finish that is found on all of the better new lens models from Sigma. It is of Apochromatic design containing four elements composed of SLD (Special Low Dispersion) glass and multi-coated optics. There is a rear focus system for quick, convenient manual focus and it has a non-rotating front barrel. Utilizing Sigma's HSM (Hyper Sonic Motor) it has a fast, quiet responsive autofocus mechanism plus full-time manual focus which can be "tweaked" anytime, even while in AF mode. This is a very handy feature. The HSM models of this lens are only available for AF Canon, Nikon, and Sigma mounts.
Zoomed out to 200mm the same fence begins to take on a different appearance when there is less of the surroundings visible to distract the eye. Again, exposed at f/22 on Kodak Elite II 50 chrome film.
The lens comes with a sturdy revolving tripod mount support made of lightweight magnesium, a good thing as this lens needs tripod mounting. The camera remains suspended behind the lens when mounted on a tripod. The tripod mount bracket is extra-long with indentations on the top for positive gripping when using the lens handheld. A deeply notched "Perfect Hood" lens hood is also supplied. At the rear of the lens is an easy to see distance scale.
A quick sliding AF/M (Manual) switch at the rear of the lens instantly disconnects the autofocus function. Another larger sliding switch toward the front is used to lock/unlock the zooming mechanism to eliminate "zoom creep." You can lock the lens in the short 50mm focal length with this switch or use it to limit the zoom range from 100-500mm for more distant subjects. You can also use the optional 1.4x or 2x APO EX tele-converters. When used with the 1.4x the lens becomes a 140-700mm f/7.3-8.8 or with the 2x it's a 200-1000mm f/10.4-12.6. Both tele-converters require manual focusing. Unfortunately, they were not available for review as we went to press.
A broad ribbed rubber ring toward the front manually zooms the lens. The zoom action is a bit stiff, but I would not want it much looser and freer. Since the lens does not seem to move when pointed up or down at drastic angles, I did not have to use the zoom lock function.
In The Field
I found this extra long zoom range lens a delight to use. The zooming action was smooth and positive. The autofocusing was fast and accurate with no need to make any focus adjustment. At all focal lengths the autofocusing was rapid and positive with little back and forth motion before locking in on the focus. Even so, I particularly liked the full-time manual focus capability, which allowed me to quickly make a slight focus adjustment to the precise point where I wanted to place the critical sharp focus.
A rudimentary check of any lens can be made by photographing a brick wall. My tests showed the film plane sharpness was excellent across the image area at all focal lengths when used wide-open and stopped down to f/16. There was little distortion of the parallel lines.
I took the lens to the Fort Wayne Zoo for a spring afternoon shooting trip and captured some really nice chromes of a wide variety of animals in outdoor cages. The lens was a bit cumbersome to lug about fastened to a sturdy tripod, but the resulting crisply detailed images were well worth the extra effort.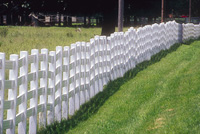 When the long tele-zoom lens is zoomed way out to full 500mm, all we see is the irregularity of the fence as it rises and falls to conform to the way of the land. The camera position remained the same for all three views to show the difference obtained by simply zooming the lens.
On another session I drove to a nearby farm field where they raise llamas. Never having been particularly close to a herd of these animals before, I was quite surprised when they wandered over to see me with my tripod and lens just outside the fence. The farmer/rancher who stopped by to see what I was doing told me they are always very friendly and tend to stay together in a group. With the broad zoom range of this lens I was able to zoom back and forth from overall views of a group to a tight, very detailed close-up of the face of just one animal. It was a very warm spring day with a slight breeze which constantly caused ripples in the long hair on their backs. Sure enough, the detail in the blowing hair reproduced very well in the chromes, just as I hoped it would do.
A third rather typical subject for a long tele-zoom lens is sports, so I visited the local recreation park where I photographed some young soccer players kicking the ball around. Once again, the broad zoom range allowed me to zoom in and out along with the action to try to keep the coverage I envisioned. The autofocusing was fast and accurate with these moving subjects.
To check out a more conventional, non-moving subject where the autofocus did not come into use, I located an interesting white fence that surrounds a large farm just north of town. I was able to include a long length of fence at the normal 50mm focal length, then zoom out to several of the telephoto settings, which provided a detailed view of just a few yards of fence instead of hundreds. When this was done at the long 500mm focal length, the up and down pattern of the fence as it conformed to irregularities in the ground made a most interesting view only obtainable with the perspective compression obtained by a long telephoto. I did this with the autofocus, then repeated the same views using manual focus so I could focus about 1/3 into the fence to achieve the maximum depth of field. This was done both with a wide open f/6.3 opening for shallow depth and again at f/22 for maximum depth. The depth of field at 50mm was exceptionally good at f/6.7 and of course was considerably better when stopped down to f/22. Even at the full telephoto 500mm setting, the depth at f/22 was very impressive when the images were viewed with a strong loupe. Chromes made of static trees rimmed with snow had extraordinarily sharp detail even though the lens was relatively wide open at f/5.6.
These trees rimmed with snow had extraordinarly sharp detail with the lens wide open. (Tripod mounted lens, 200mm, f/5.6 1/125 sec on Kodak Ektachrome 100S film.)
In Conclusion
If you are into any type of sports or nature photography, this unusually long zoom range lens would be a decided asset since you can easily compose the precise framing you want by zooming the lens in or out and then snap the picture. This type of long telephoto literally permits you to bring the subject closer to you eliminating the need for moving closer to the subject A long-range zoom lens easily enables you to capture excellent detailed close-ups without actually getting too near to an elusive or skittish subject. This also would be a decided asset when photographing subjects you could not easily approach because of the terrain or obstacles between the camera and the subject.
The rapid release AF/M switch plus the ability to lock/unlock the zooming action of the long zoom range are decidedly advantageous features of this remarkable long zoom lens. It would be a welcome addition to the lens array of any avid photographer who frequently has need to use a long focal length telephoto lens. As is the case with any long telephoto lens, the sheer size and weight of the lens makes it cumbersome to carry about, setup and use. The actual sharpness and quality of detail in an image produced by any long lens is only as good as the steadiness of the camera and the shutter speed used to record the image. Even using 1/500 or faster shutter speed would not result in crisp images if the lens/camera combination is not braced very steadily to minimize any accidental movement. But the quality of the exceptionally crisp and sharp images that this lens produces surely makes up for the minor portability and support disadvantages.
The Sigma AF 50-500mm f/4-6.3 APO EX RF HSM has a suggested list price of $1900. For more information, contact Sigma Corporation, 15 Fleetwood Ct., Ronkonkoma, NY 11779; (516) 585-1144; fax: (516) 585-1895; www.sigmaphoto.com.
During my few weeks testing this lens, I primarily exposed more sensitive color slide film. Although I did use a couple of rolls of slow ISO 50 and 100 film I mainly used ISO 200 and 400 chromes so I could use faster shutter speeds along with the lens stopped down to about f/11 on a Canon EOS A2 camera body. Since sturdy support was essential, I used either a sturdy Slik Professional or a JTL TH-3 tripod to keep the heavy lens steady and firm. All of my E-6 chrome films were ably and accurately processed by Accu-Color Lab., Inc., Fort Wayne, Indiana.
Proper Use Of Any Long Telephoto Lens
Any long tele-zoom lens is inherently bulky and should be used only with a sturdy support such as a tripod, monopod, or shoulder pod to minimize camera shake and thereby obtain sharper pictures. Since the depth of field of any long telephoto lens is minimal, use of a smaller lens opening (f/16 or smaller) is preferable but this also means the shutter speed will be slower. All of this combined dictates the need for using a good tripod for most of the images. You don't have to lock the tilt-top down tight, just keep it adjusted firmly so the lens can be easily panned side to side or tilted up and down if you are following moving action subjects. Of course, with cooperative stationary subjects, you can lock the tilt-top tight to minimize any possible movement. The rotating collar that holds the lens to the tripod permits you to easily change from vertical to horizontal, or in between compositions.
Technical Specifications
Focal Length: 50-500mm
Maximum Aperture: f/4-6.3
Lens Construction: 20 elements in 16 groups, four SLD elements
Angle Of View: 46.8°-5°
No. Of Diaphragm Blades: Nine
Minimum Aperture: f/22-36
Maximum Magnification: 1.5.2 at 200mm
Filter Size: 86mm
External Finish: EX
Lens Hood: Flower shaped "Perfect Hood"
Dimensions: 3.7x13.7"
Weight: 65.3 oz
Mounts: Sigma SA, Minolta (AF), Pentax, Nikon (D), Canon (AF)


FEATURED VIDEO