Medium Format Update
Breaking News And Highlights
Medium format cameras are becoming more automatic, have more lens choices, and are becoming sexier, too. All this is an attempt by medium format system manufacturers to lure advanced 35mm users into their fold and to convince pros that upgrading is in their best interest. There has always been talk of bringing advanced 35mm users into the medium format realm; now, there's a "downward" migration as well, with more large format users making medium format their choice.
There's little question that a medium format negative or slide has advantages over the smaller 35mm and even digital SLRs, a fact well understood by pros. Portrait and wedding, fashion and commercial, and even sports photographers choose medium format as their medium for many of their jobs. Those who earn their living in other ways but who demand the advantages of a larger format also work with these cameras. That's because many medium format cameras now offer perspective control as well, without the bulk of the larger format systems.
Pentax 645NII
We start off with a new 6x4.5 format camera from Pentax, the 645NII. This second generation manifestation of the popular 645N adds mirror up functionality on the drive mode dial, a choice of EV increments in exposure compensation and autobracketing, a wider range of film imprinting, a choice of camera customization options and compatibility with a new host of electronic accessories, including cable switches and a release timer switch.
The 6x4.5 format gives you the best of both worlds. Generally, cameras of this genre are a good compromise between 35mm weight and portability and larger film advantages. And their rectangular frame allows for vertical or horizontal framing in the finder and less cropping when you go for standard print aspect ratios.
Although this report does not allow for a full field inspection of this new camera (we eagerly await a test sample), here's a quick rundown of some of the features. We start with a rugged design and body construction. The 645NII's body is made of rigid aluminum die cast and protected with a glass-fiber reinforced polycarbonate coating. Pentax says that special mechanisms have been incorporated to ensure low-noise, low-shock operation.
The autofocus system is the proven Pentax SAFOX IV phase-matching type that is said to operate down to EV -1; in other words, it operates in quite dim light. There's a choice of a wide three-point AF or Spot AF frame with three focus modes--Manual, Continuous, or Single. In Continuous, there's even Predictive AF, which is great for moving subjects. The exposure modes are the usual suspects, being Programmed AE, Shutter- and Aperture-Priority, and Manual. The metering system is the Dual Six Segment multi-pattern type found in the 645N, with options for Spot and Center-Weighted Averaging. There's also autobracketing, AE compensation, and AE lock as well. If you want to check on your exposures the 645NII can imprint data onto the bottom of the film outside the image area. This is not a new feature, but there are additional functions, such as the number of film rolls, focusing mode, ISO, AE lock or bracket indication and flash sync.
The good news for those wanting to upgrade from their 645N or add this as a second body is that all current 645N lenses (SMC-Pentax FA 645) can be used. The camera powers up with six AA batteries, alkaline or lithium, or can be kept going with the optional Battery Pack 645.
New Pentax Lenses
Pentax has added two new lenses to the Pentax 67 line-up. The SMCP 67 75mm f/2.8 AL is a compact, fast lens with a minimum focusing distance of 1.35 ft. Constructed of seven elements in five groups, the lens has an angle of view of 61, equivalent to 35mm in 35mm format. The compactness comes in part from the incorporation of a hybrid aspherical lens element. Also new for the Pentax 67 line-up is the SMCP 67 Zoom 90-180mm f/5.6, a constant aperture zoom that offers an angle of view equivalent to 45-90mm in 35mm format. Constructed of 10 elements in 10 groups, the lens offers a minimum aperture of f/45 and close-focusing capability of 3.9 ft. The filter diameter is a whopping 95mm. The package includes a lens hood that allows the user to rotate a polarizer without removing the hood. The 75mm comes with a flower-shaped hood with the same feature.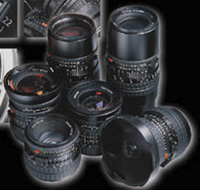 Hasselblad Lens Additions
New CFE lenses from Hasselblad include the Macro-Planar T* f/4 120mm, the Sonnar T* f/4 180mm, and the Sonar Superachromat f/5.6 250mm. The CFE lenses utilize an integral leaf shutter and provide both sync and shutter speeds up to 1/500 sec, as well as databus connections that make them fully compatible with the metering system of the 200 series cameras. With the 203FE and 205FCC cameras, either lens leaf shutter or the camera's focal plane shutter (which provides shutter speeds up to 1/2000 sec) can be used. The Macro-Planar T* 120mm lens is optimized for macro work and is said to be the choice for close-up work when using digital backs. The 180mm lens is ideal for portrait and outdoor photography, while the Sonnar Superachromat 250mm lens is said to have the highest overall resolution of all medium format lenses within its focal length range. The original lens, released in 1972 and designed for NASA, is said to completely eliminate all color fringing. These lenses will replace the FE lenses in the 150mm and 250mm categories.
Bronica RF645
We asked Bronica about their main impetus this year and they proudly pointed to their award-winning RF645 cameras. This is their first fully electronic shutter system camera with a light-shielding curtain that rolls back when a lens is replaced and with automatic parallax compensation in the finder. It has a five-segment metering sensor with an AE lock that stays on for five minutes so you can shoot away without having to always reset exposure. There's autoexposure compensation and a bright frame finder that guarantees that you get the full image from viewfinder to film.
The RF645 has a maximum shutter speed of 1/750 sec (using Program AE with f/8 maximum aperture), a dedicated flash (the RF20), and Aperture-Priority as well as Manual exposure modes. You can work with slow sync in Aperture-Priority mode or use Program AE to ensure that the flash speed doesn't go below 1/60 sec. This manual advance camera has a vertical orientation in the viewfinder and one of the best information and framing finders we've seen. The price is around $2132 with the 65mm f/4 lens.
Linhof M679cc
If you're looking for an extremely versatile camera that can work with swings and tilts and can accept just about any film or digital back, the Linhof M679cc might be the ticket. The basic camera consists of a bellows, front and rear standards, and an integrated "optical bench" base. To this you add lens and backs. The backs can be medium format size digital, roll film, Polaroid, and scan backs, and lenses can range from 28-240mm, although you should use a wide angle bellows with lenses in the 28-90mm focal length range. This all-metal camera has precise scales, zero click stops and micro drives, making it a precision instrument indeed. The base of the camera is as described, a virtual optical bench setup. The camera isn't inexpensive, but that's the price you pay for one of the most intense and well-constructed all-around cameras on the market today.
Horseman SW612/SW6x9
For those into superwide and panoramic effects, the Horseman line-up is an intriguing one that offers a full system approach with an impressive line-up of lenses. The SW612 Pro can get you 6x7, 6x9, and 6x12 formats with 35mm, 45mm, 65mm, 75mm, and 90mm lenses. This camera offers rise, fall, and shift features with shift to 34mm and rise/fall to 30mm. You can work with a ground-glass back or with finders that fit atop the camera body. The SW6x9 Pro offers up to a 40mm shift and 34mm rise/fall, and 6x9 or 6x7 backs.
Rollei's 6008 AF
On the horizon is Rollei's entry into the medium format autofocus game, the Rollei 6008 AF. The camera offers just about every feature of the 6008, with AF and AF focus assist and switching from the use of LED to an LCD display. Plus, we're told, the camera will have a Trap AF feature as well. Trap means that the camera can be made to make the image when the subject enters a preset focusing range. It will have TTL flash using the 3000 series system. Three lenses will start the AF ball rolling--an 80mm f/2, a 180mm f/2.8, and a 60-140mm f/4.5 zoom, all of Schneider make.
Kodak DCS Pro Back Update
The Kodak DCS Pro Back will now be available with Custom Imaging Profile software. This allows you to match color and monochrome profiles with the image at hand, and is like having just about any type and make of film available with every frame you make. You set the option during capture with 10 distinct tonal and saturation options. There's DCS Hi Color Hold for Product and Portrait work and two sepia options, among others.
For example, Product Hi Color makes bright colors even more highly saturated and does not affect lightly saturated colors. With Portrait Hi Color bright colors become more saturated and skin tones are more intensified. To hold skin tones you would choose Hi Color Hold, which also intensifies saturated colors. In essence, you can mix and match as desired.
Fuji Luma Digital Back Promo
Hey, how'd you like to get into digital by getting a free camera and computer when you buy a back? Well, that's exactly what you can do when you buy the Fuji Luma Digital Back. You get a Fujifilm GX680II Professional Camera and a Mac G4. If you already have those you can alternately get a Fuji Pictrography 3500 Digital Printer. If you get this now you can upgrade for a reasonable price to the new Luma II back with an 11 megapixel CCD next year. The present Luma back has a 2048x3072 CCD with an ISO range of 25-200 and FireWire connectivity.
Mamiya And Leaf C-Most
Mamiya, distributor of Leaf, is touting the Leaf C-Most back with six million pixels and 16-bit file size. The back has a very impressive burst rate of 3 frames per sec in a four-frame burst, with FireWire connectivity. It's plug and shoot, says Leaf, with amazing results using the Leaf Capture software. There's also batch processing for improved productivity and a rated speed of ISO 100. On the Ma-miya camera front, check out Bob Shell's story on the new Mamiya 645 AFD elsewhere in this issue.
Contax 645
We know a number of photographers who finally made the switch from 35mm and 4x5 to medium format with the Contax 645 camera. The range of quality Carl Zeiss T* lenses and accessories, such as the close-up and Polaroid back, plus the vacuum film insert for 220 format and the high shutter speed of 1/40000 sec and sync at 1/125 sec adds to the appeal.
Phase One
The One H 20 back from Phase One offers a 48MB file rather than the 18MB file generated by the original LightPhase back from the company. The back is available for Hasselblad mechanical and electronic cameras as well as the Mamiya RZ67 Pro II, and select 4x5 cameras with an adapter. Thanks to what the company calls "Active Shutter Control," the back integrates with mechanical Hassies. The One H 20 has FireWire connectivity or can be used with a laptop with what they call their Portable Solution. Adapters are also available for Horseman's DigiFlex II, Bronica cameras, and the Fuji GX680 camera.
Affordable Options
Made for the student or anyone who wants to get involved with medium format photography without a major investment, both Phoenix, with their Seagull brand, and Kiev have a number of interesting alternatives. The Kiev 60 is a single-reflex that shares a common lens mount with Pentacon and Exacta 66 cameras. It produces a square negative. The Kiev 645 delivers the 6x4.5 format negative, as implied in its name. The cameras have a cloth, roller blind focal plane shutter with shutter speeds from 1/2 to 1/1000 second, plus B. They sync at 1/30 sec and come with a metering range of ISO 6 to 3200. The camera operation is very straightforward. On the front of the camera sits the depth of field preview button and the shutter release. Atop the camera are the film advance lever and the meter setting dial. These cameras are very much like basic SLRs, with the larger negative of course.
Phoenix offers a range of twin lens reflex cameras that are similar in design to the vintage Rollei TLR models. The 4A-107G has a between the lens shutter in a range of 1 sec to 1/300 sec, plus B, and has sync at all shutter speeds. The integral lens is a 75mm f/2.8 (with three elements in three groups). The folding waist-level finder has a focusing magnifier built in. Check the Phoenix web site for information on their full line-up of these very practical cameras.
Manufacturers/Distributors

Contax Division of Kyocera Optics Inc.
(800) 526-0266
(732) 560-9221
www.contaxcameras.com

Eastman Kodak Company
(716) 724-4373
fax: (716) 781-1730
www.kodak.com

Fuji Photo Film USA Inc.
(914) 789-8100
fax: (914) 789-8656
www.fujifilm.com

Hasselblad U.S.A., Inc.
(973) 227-7320
fax: (973) 227-3249
www.hasselbladusa.com

Horseman USA
www.horsemanusa.com

HP Marketing Corp. (Linhof)
(973) 808-9010
fax: (973) 808-9004
www.hpmarketingcorp.com

Kiev USA
(203) 531-0900
fax: (203) 531-6229
www.kievusa.com

Mamiya America Corp. (Leaf)
(914) 347-3300
fax: (914) 347-3309
www.mamiya.com

Pentax Corporation
(303) 728-0212
fax: (303) 790-1131
www.pentax.com

Phase One
(631) 757-0400
fax: (631) 757-2217
www.phaseone.com

Phoenix Corp. of America
(516) 764-5890
fax: (516) 764-5970
www.phoenixcorp.com

Rollei
(888) 876-5534
(973) 244-9660
www.rollei.de

Tamron USA, Inc. (Bronica)
(800) 827-8880
fax: (800) 767-5550
www.tamron.com

LATEST VIDEO

SPONSORED VIDEO
Testing Tamron's SP 150-60mm G2 lens while capturing birds and alligators in Apalachicola, Florida.