The Maxtor OneTouch III; Bigger, Faster Image And App Backup & Retrieval
No one doubts the need for backing up digital images. But with digital cameras commonly in the 10-megapixel range, the need for more and more memory is apparent. Many of us have ever-increasing stacks of CDs and DVDs gathering on shelves, some properly cataloged and others awaiting the necessary housekeeping. As the image files grow photographers are seeking larger back-up systems that are both secure and fast, and do not require shuffling through CD and DVD discs to gain access to images. Increasingly that solution is a separate hard drive.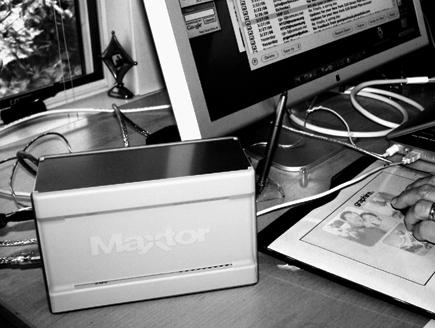 With this in mind we recently had an opportunity to work with the Maxtor OneTouch III, Turbo Edition. Having reviewed the Maxtor OneTouch II, a 300GB hard drive (available at www.shutterbug.com; simply type Maxtor into the search box), we were curious how this new generation of drives differed. The Maxtor OneTouch III, Turbo Edition differs in that it is a RAID device. RAID stands for Redundant Array of Independent Disks, several hard drives connected together in one box to both store and allow access to data. The Maxtor OneTouch III contains two hard drives which you can configure as either a RAID 0 or RAID 1 setup. The 0 configuration offers an amazing 1TB (1000GB) while the 1 setup offers 500GB. RAID 0 is best for those who need very rapid access to data, such as video editors, as the data is spread in blocks among the two disks. If one of the disks fails, however, all the data is lost because of the way the data is configured. RAID 1 uses what is called "disk mirroring," and is the choice when having a very secure backup is the main need. The data is, in essence, copied to both disks, and if one fails the other is there as a backup.

The OneTouch III, Turbo Edition works with both Mac and PC platforms, and in fact comes pre-formatted for use with Macs (OS X 10.2.8 or higher and Apple G4 processor or greater). If required, you can boot your Mac OS X directly from the drive. PC owners will have to format the drive for use with their computers, but there's a wizard to guide you through the steps. The Maxtor OneTouch III allows you to back up your entire Mac drive, making it a "bootable" drive as well. You can back up applications, or selected files and folders at once or on the go. The OneTouch name comes from the button on the front of the unit, which when pressed performs the backup, so there's no need to drag and drop as you go.

You can patch it to your computer with either FireWire 800 or 400 cables, or with USB 2.0 or 1.1. The transfer rate on USB 2.0 is said to be 33MB per second, while the FireWire 800 gets an amazing 91MB per second. In our tests we worked with a Mac PowerBook G4 with Tiger and went with the RAID 1 option, and followed instructions to create a partitioned drive, one for the bootable backup and apps and the other for data. It is important that you read and follow directions to do this, and understand why you might want the 0 or the 1 option and to create the partition as suggested. A fairly handy wizard guides you on the way, as does a well written set of instructions that can be printed out from the software provided.
Once we did the partitioning and back-up procedure two icons appeared on the G4 desktop--the Boot1 and the Data disks in the Turbo III. Anytime we loaded images or worked on files we simply did a Save As to the "Data" drive as well as the laptop, knowing that we had the items safe and secure on both disks. We could also have dragged and dropped the files right into the desktop icon as well. You can also schedule backups using the supplied Dantz Retrospect software, which allows you to set a particular time for performing the operation. You can choose to back up files and folders, or the entire drive when you do. In general, all you need to do is press the big button on the III's front at any time, and the backup proceeds.

The III is entirely "customizable," in that you can program the OneTouch button to open different applications, create a password to allow limited access to your drive, run diagnostic tests to troubleshoot any potential hardware problems, and schedule the aforementioned backups. At $900 list, the 500GB RAID 1 configuration, with the disk mirroring setup, is well worth the price and peace of mind it affords. And for videophiles, the speed and amazing 1000GB storage capability is hard to beat. The RAID 1 setup is my choice as it should be for digital still photographers, and it's no slowpoke when it comes to saving and retrieving files.
Maxtor's OneTouch III, Mini Edition
As we went to press Maxtor announced the OneTouch III, Mini Edition drive. Weighing in at about 7 oz and smaller than a thin paperback book, it comes complete with software to protect and manage digital content, including automated backup, data encryption, data synchronization, and System Rollback to restore applications and operating system while keeping digital files current.
Like its bigger brother, the Maxtor OneTouch III, Mini Edition includes Sync, a software feature that automatically synchronizes files between two or more computer systems on the same operating platform. The System Rollback feature reverts a PC's applications and operating system to a "healthier" point in time, while preserving current data. The feature helps combat spyware or adware that can slow a system to a crawl, or even bring it to a halt. The unit also includes automated back-up software that can be activated on a set schedule or with the touch of a button.

The Maxtor OneTouch III, Mini Edition comes in a 60GB or 100GB capacity and easily connects to a Microsoft Windows 2000 or XP computer via a USB 2.0 port. It should be noted that this unit will not function on Mac laptops without an auxiliary power supply, something common with most portable drives of this sort. Maxtor (and other manufacturers we've talked with) consider this a Mac "bug."
List price for the 60GB is $149.95 and $199.95 for the 100GB.

For more information, contact Maxtor Corporation, 500 McCarthy Blvd., Milpitas, CA 95035; (408) 894-5000; www.maxtor.com.