Mastering The Art Of Simplicity: Creativity When You Need It
"I think the idea of art kills creativity. I think media are at their most interesting before anybody's thought of calling them art, when people still think they're just a load of junk."—Douglas Adams
For the past 10 years, my personal photography has enjoyed a burst of creativity that Mary alternately credits to a change in camera brands and a change in my home office environment. Certainly living and working on Daisy Hill has renewed my interest in personal assignments, but I think improvements in imaging technology are another catalyst. How can hardware and software increase or help a person's pursuit of creativity?
Immediacy: When I open an image on my computer, I don't have to wait for film to be processed, which translates into the ability to experiment without wasted paper, chemicals, or time. Trying anything new stimulates a person's creative reflex.
Flexible Materials: In my new workroom, I set up a large format inkjet printer—purchased used, I'm still thrifty—that gives me access to a variety of papers that were not possible in the traditional darkroom.
The Internet: The web lets me share images in ways I could never have imagined. This motivates me to create more and better photographs, which is why I think the Internet has changed the face of photography more than any other technical development.
Any burst in creativity also comes from inside, but whether it's a new camera system, new home, new technology, or a combination of all these factors, I'm glad to have the chance to share my thoughts with you here each month.
Gear For The Distaff Side
While not a new trend, the growing numbers of female photographers in attendance at the WPPI trade show are indicative of the many new products created for them by other female photographers. One interesting product that Mary and I saw at WPPI was Photopantz (http://photopantz.com). Julie Watts, a full-time wedding photographer, designed a sleek pair of slacks that female photographers would want to slip into before shooting a wedding. Each pair of Photopantz are custom-fit and hemmed to the buyer's leg length.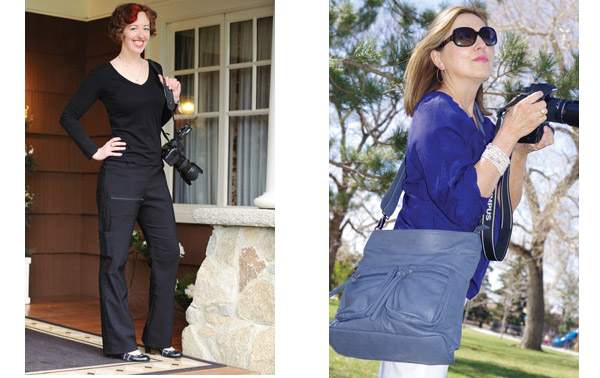 The pantz have deep pockets, including one for memory cards that has a zipper for security, a low-profile business card pocket for smooth access, and a smartphone pocket where your phone will be safe while easy to remove. The secret ninja cuff pockets feature hidden zipper construction at the cuff/floor level so spare batteries, energy bars, lens caps, or lipstick can be stored and reached while crouched in the aisle. Because of the high-rise, "no apologies" design, Julie tells me that you can stretch up to shoot above the crowd and never worry about what that chic couple you just spoke with are seeing. Photopantz are available in winter and summer versions for $149.99.
Nowhere are a female photographer's needs different than in their choice of camera bags. Mary and I have different ways to store our camera gear, which is why she's currently using an Epiphanie (http://epiphaniebags.com) bag that was designed especially for women by Maile, who's been a professional photographer for 15 years. Mary's choice—your choice may be different—is the Lyric in Slate Blue, but it's also available in three other colors. The water-resistant bag measures 13x4x15" and is made from high-quality synthetic leather. (When I looked at the bags at WPPI, I thought they were leather!)
The interior is crafted with extra padding for maximum equipment protection with touch-fastener panels that can be moved to any position for maximum customization. The bag has two removable straps with padding for extra support, including a cross-body strap that Mary really likes. The Lyric has three exterior pockets, including one to accommodate an iPad, and an interior pocket with zipper. The interior is light colored so any items stored inside can be easily found. The Lyric is $154.99, with other bags available at similarly affordable prices.
SD Memory Card Storage
More and more cameras are using SD memory cards and I've finally got something I can store them in, rather than use hand-me-down CF card storage devices that don't quite fit the smaller size of the SD cards. Think Tank Photo's (www.thinktankphoto.com) SD Pixel Pocket Rocket is a compact carrier that holds nine cards and folds flat when not in use. Clear pockets make identifying the different cards easy and the SD Pixel Pocket Rocket has a lanyard that lets you tether it to clothing or any Think Tank Photo camera bag. It has a hook-and-loop closure, a business card slot, and costs less than $16. SD memory cards are small and easy to lose (for me, anyway) so take a few steps to keep them safe and organized.
Build A Digital iPad
It's been a while since I've heard from Panos Efstathiadis (www.panosfx.com) but he's been busy building a new series of actions called Tablets for Photoshop and Photoshop Elements. It's a set of actions that make your photos appear on the screen of a tablet, like an iPad, and has a bunch of amazing details. You can even add your own image description on the tablet notification bar. The actions create either Front View or Perspective views of the tablet and have three different styles, including Black, White, and, as of this writing, the fictional Glassy.
Tablets supports aspect ratios of Landscape (4:3, 3:2) and Portrait (3:4, 2:3) and there are no limitations on your image size! The final output depends on the size of the original photograph. The final image is created fully layered, allowing you to manipulate each of the various elements that make up the tablet. The Photoshop Actions work in Photoshop CS5, CS4, CS3, and CS2 (32-bit and 64-bit), while the Elements Actions work in PSE10, PSE9, PSE8, and PSE7. The actions cost $17.10 based on current exchange rates.
App Of The Month: CameraSim For The iPad 2
If you've recently moved up from using a point-and-shoot or maybe the camera that's built into your smartphone, CameraSim (http://camerasim.com) visually explains the controls of an SLR by using an example image to let you see the effects of various camera settings, including aperture, shutter speed, ISO, lighting, focal length, camera shake or subject motion blur, over- and underexposure, and exposure priority modes. CameraSim lets you experiment with different settings and see how each affects the final photo and gives you instant feedback to see what you did right; you can also get advice on how your settings can be improved. If you're a newbie struggling with some of these concepts CameraSim might be considered a personal photographic trainer for your iPad. Right now, CameraSim is only available in English but the developer says he has "other translations on the way" really soon now.
Plug-In Problems?
A reader wrote saying how easy "it is to pay for software like Photoshop plug-ins online but often tough to download and install them on your computer." It bothers Jimmy that many of these same companies don't have phone numbers, so "they sell it to you, then you're on your own for download and installation." In recent months I've received a few similar e-mails so I've decided to do something about it. Starting now, no "Plug-in of the Month" will be awarded to products that don't offer a phone number for customer support or another clear and easy way to get customer support.
To encourage software companies to raise the bar, I'd like you to nominate your heroes—those software companies that provide superior customer service. They will go to the top of the "Plug-in of the Month" list and I'll include your stories about why the product and support is great. Click the Contact button on my website, www.joefarace.com, and tell me your story.

LATEST VIDEO

SPONSORED VIDEO
Testing Tamron's SP 150-60mm G2 lens while capturing birds and alligators in Apalachicola, Florida.