Mamiya's DL28 Medium Format D-SLR; Digital Or Film, Take Your Pick Page 2
The Lenses
This highly flexible system accepts a wide array of lenses, including V-series Hasselblad lenses with an optional adapter (not tested), and many additional accessories. We spent most of our time working with the 150mm f/2.8. Aside from their surprisingly brilliant performance, we learned that these Mamiya digital lenses all employ a 16-bit CPU and are firmware upgradable—reaffirming that this system is a surefire way to circumvent obsolescence, at least for the foreseeable future.

Pro photographers, especially in studio work, tend to shy away from a "normal" lens, which is true for the 80mm in this format. So it's no surprise that the 80mm kit lens was our least favorite and was used sparingly. More to the point, we all agreed that the 150mm was the perfect portrait lens, although the 120mm macro also came into play here. (Keep in mind that a sensor factor of 1.3x applies.) The crisp images that the 150mm and macro lenses delivered clearly impressed us, especially when the lenses were used stopped down. However, I should point out that there is observable vignetting with all the lenses we worked with when shot wide-open.
The 80mm lens has a ring-style MF/AF switch, whereas the 150mm employs a push/pull focus clutch mechanism. Reaching life-size magnification, the 120mm f/4 macro lens is a bit different, notably in that it offers only manual focusing—which is fine when shooting up close, but not always practical at greater shooting distances.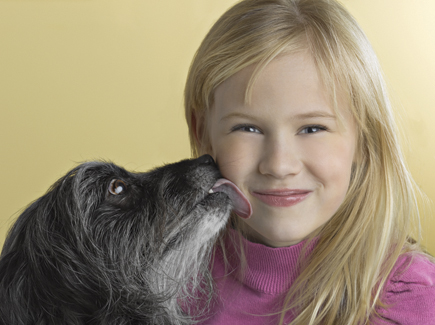 Gerard Marrazzo had no trouble capturing this moment featuring Linda Bohm's dog Whoopee licking the face of the lovely aspiring actress, Daneka Yarosh. In experienced hands, shutter lag is not a serious problem, and capturing moments such as these are easy with the DL28 and 150mm lens, by studio strobe.
© 2009, Bohm-Marrazzo, All Rights Reserved
Using A Memory Card
Even though the Mamiya DL28 does not boast the largest sensor available in a back of this type, file sizes are unquestionably large (over 50MB uncompressed raw). And you have true 16-bit color capture (the typical high-end D-SLR only delivers 14- or 12-bit capture). Greater color depth means a more lifelike image.

Translation: for the Leaf back to capture images without hindering your workflow, especially in Burst mode, it mandates a SanDisk Extreme IV-equivalent UDMA CompactFlash card. And I'd recommend nothing less than 8GB for starters, unless shooting entirely in the studio. In which case, tether the camera to your computer with the supplied cable and shoot away, without any practical limitations. Interestingly, you can see the captured image both on the computer monitor and camera monitor when shooting tethered (it's often an either/or situation with other cameras). There is a noticeable lag before the image appears on a monitor or the camera's LCD, but you can continue shooting in the interim.
Gerard Marrazzo grabbed this candid moment of the baby sleeping by available light, with the camera set to ISO 800, shooting wide-open at 1⁄55 sec, handheld. If you looked really closely at the original image, you could see a fair amount of digital noise (notably color noise). The noise is easily corrected, but we chose not to correct it here.
© 2009, Bohm-Marrazzo, All Rights Reserved
The Mamiya DL28 Experience
We found that manual focusing was silky smooth on the 150mm and 120mm lenses. The 80mm lens' manual focusing performance did not compare.

One of our chief complaints was that the AF lenses lacked full-time manual focusing override. And we also noted a dearth of focusing points. Further testing revealed that focus tracking in continuous AF was poor when confronted by any lateral movement, even with runners at nominal jogging speeds a short distance away (16-bit CPU notwithstanding). And while on the subject of movement, we experienced considerable shutter lag, which made timing of the shutter release critical. This is not a camera I would use for sports photography. But then again, it was never really designed for that purpose. The problem was readily overcome under controlled studio shooting conditions, in experienced hands. This was evident whether we were photographing a highly animated baby or a dog licking a young starlet's face.
Outdoors I finally had the opportunity to use the 80mm kit lens with the DL28 for this portrait of Randy Harris (a collapsible silver reflector was used for fill). I felt the lens was a little too light and compact for this body. The combo did not feel as well-balanced to me as when the 150mm optic was fitted to the camera.
© 2009, Jack Neubart, All Rights Reserved
The only area of disappointment was with color noise at high ISO levels (400 and especially 800), more than comparable ISO settings on 35-style D-SLRs. However, keep in mind that the back was specifically optimized for studio work under bright lights, where ISO 50 and 100 prevail—and there we had absolutely no complaints with respect to digital noise. At these ISO settings, images practically sparkled—we could definitely say that about the jewel-studded necklace.

Outdoors was where we got to test other aspects of the camera and lenses. The DL28 managed to deal exceptionally well with high contrast and bright snow (in the camera's equivalent to Evaluative Metering mode). While we expected some loss of tonal detail, we were actually surprised at how remarkably little we did lose in both the highlights and shadows under those conditions. That said, it doesn't mean that you won't have to use exposure compensation—the camera's metering system is not foolproof.
This is the interface for the Leaf Capture software, featuring some of the shots taken of actress Daneka Yarosh. Gerard Marrazzo finds that this software ably tackles the raw workflow. I prefer to use Adobe's ACR and Lightroom.
Photos © 2009, Bohm-Marrazzo, All Rights Reserved
The Mamiya DL28 has the look and feel of a pro camera that inspires confidence, with matching performance. This is a camera with potential. By the end of the day, we all came away very favorably impressed by the DL28 experience.
Gear Used
• Mamiya DL28 (www.mamiya.com)
• Broncolor studio strobe lighting (www.sinarbron.com)
• PocketWizard wireless remotes (www.pocketwizard.com)
• Foba camera stand (www.sinarbron.com)
• Photoflex softboxes (www.photoflex.com)

Note: For a full list of specifications, see the Instant Links on the Shutterbug website for this issue, or visit www.mamiya.com.

FEATURED VIDEO