Lumodi Speedlight Beauty Dish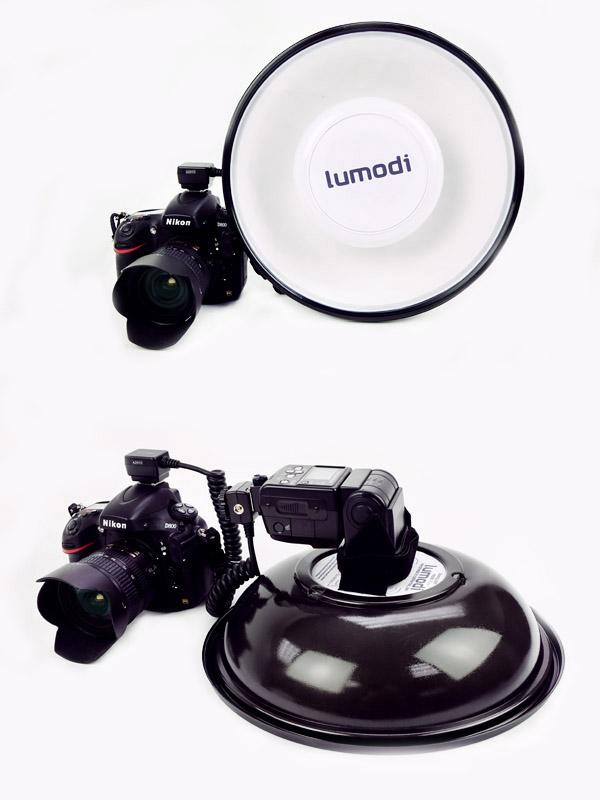 The idea behind a beauty dish is simple and straightforward. A concave reflector is positioned an inch or two in front of a flashtube. The open surface faces the inside of a larger reflector so that the strobe light reflects off both on its way to illuminating the subject. Put a small bowl bottom-up inside a large bowl and you have the general design.
Lumodi beauty dishes can be used in the studio but are equally at home in the field when strapped to a regular shoe mount flash. The model shown here is 11-inches in diameter and comes in a kit with a shoulder bag, sock diffuser and attachment rig for about $50. They are available from www.lumodi.com . Handmade in California, Lumodi beauty dishes are also available in larger sizes and with your choice of interior finishes: soft white, bright silver or warm titanium. They are made of lightweight (but quite durable) HDPE, or High Density Polyethylene plastic.
Attaching the flash is simple and takes less than a minute. If you're all thumbs, Lumodi offers a YouTube video that guides you through the process. Any flash with a head smaller than 3.5 by 2.5 inches can be used, and that covers just about every popular flash available. Unless your camera features TTL Wireless Flash you'll need a remote flash cable.
The Lumodi rig is perfect for portraits (check out their website for some examples), tabletop product photography and many other applications. It doesn't require any special changes to the camera settings but it does eat up about 2.5 stops of light.
Experiment! Hold the beauty dish above, below, 45-degress left, etc., and try various angles and positions until you discover the combination that suits your needs. It's a fun and functional accessory and well worth the price.
—Jon Sienkiewicz

FEATURED VIDEO