Lowepro's DryZone Rover; The Outdoor Photographer's Dream Daypack—With Hydration System Page 2
What I did ascertain is that the DryZone Rover fit easily in the overhead bin of a Boeing 737 or 757 on each leg of the journey to and from Curacao. It will likely be a tight squeeze in planes designed for regional flights--such as the one I took to Asheville (the Nature Trekker barely made it).
Not only was the DryZone Rover comfortable to wear in desert-like conditions on Curacao, but it did a great job of carrying what I needed in an organized fashion.
Staying Hydrated
As anyone who hikes, runs, or bikes knows, it's important to stay hydrated. By splitting the pack into an upper and lower tier, this also allowed Lowepro to conveniently tuck a Hydrapak hydration system with a 50 oz reservoir into the bag's upper compartment. The tubing snakes out of the top through a partially concealed aperture. The upper tier is unpadded, but quite roomy--and entirely sealed off, so if anything should spring a leak, it won't get to your valuable gear below.

This was my first experience with a hydration pack. I brought along the instructions, but when push came to shove, I was glad I'd also brought along my trusty canteen. There were a few things I had to consider. Containers filled with cold water sweat when in a warm environment. Next to the hydration pack I had a point-and-shoot camera, my portable storage device, and other sensitive items--plus papers, all of which don't like moisture. And I didn't have time to wait for the bag to dry before heading out to take pictures. Also, I had plenty to schlep as is and 50 oz of water would only add to the burden (and make working out of the lower tier even more difficult)--my canteen could clip on to my belt. And then there was the matter of something sharp accidentally puncturing the reservoir. After all, I wasn't just carrying trail mix up there.

There was one more thing. To be safe and prevent bacterial buildup, the water reservoir should be removed, emptied, turned inside out, and allowed to dry each and every day. I didn't have anywhere I felt comfortable setting it down. At home, I'd use paper towels. Here I had none and wasn't about to spend precious time shopping for them.

Does this mean I would leave the Hydrapak home the next time? No. I would just plan better. At the end of my trip, I'd discovered that my canteen was missing. Since the Hydrapak resides inside the bag, there's no worry about losing it. So the next time I take this bag on a trip, I'll pack along some paper towels as well, and fill the reservoir up the night before to allow it to acclimate. Hey, you can't think of everything before a big trip. (For more information on the proper use and maintenance of the hydration pack, go to www.hydrapak.com.)

After a week under Curacao's sun, carrying around just under 20 lbs of gear and accessories in this fashionable yellow-and-black Lowepro DryZone Rover, my shoulders and back did not complain; I could easily have gone another week. The bag proved as comfortable as the Nature Trekker, if not more so--and I had thought the Nature Trekker would be a tough act to follow. Also, the closed bag's low center of gravity means Rover stands up on its own (but it doesn't fetch), so I didn't have to worry about it toppling over when it was set on the ground. And to think, I almost opted for another bag on this trip. The DryZone Rover proved its mettle. It will be accompanying me on many more adventures.
What The DryZone Rover Carried In Curacao
The padded insert housed a Canon EOS 5D with EF 24-105mm f/4L IS lens attached, fisheye lens, 100mm macro, EF 70-200mm f/4L, 1.4x matched converter, short extension tube, a 77mm Heliopan circular polarizing filter, Canon 430EX flash with off-camera shoe extension, compact binoculars, and lens/body caps. The upper compartment held a point-and-shoot camera, Sekonic meter, Wolverine MVP portable storage device, and remote controller for the digital SLR--in individual pouches, plus various papers and instruction manuals. Extra batteries and lens shades were tucked wherever they fit. Extra memory cards went inside a Digital Foci Memory Card Travel Case, and this was tucked into one of two outside mesh pockets. A hideaway tripod holder was available as well. Bag dimensions/top: 11.8x7.3x12"; camera compartment: 11.8x6.9x8.7". The upper level may bulk out when filled, so measure the bag at home, well before boarding the plane (ascertain carryon dimensions/ regulations in advance from the carrier).
The Lowepro CompuDaypack
The CompuDaypack benefits from an excellent design strategy, which allows you to access your camera gear in the lower level without having to open the "mouth" all the way back, hence maintaining the bag's stability and balance. The computer pack's more modest size is better suited to smaller, less assuming optics. The much smaller 28-105mm fit well attached to a Canon EOS 5D. While the computer bag had lots more pockets than the Rover, it was not designed for hiking, especially over rough terrain. Granted, the shoulder harness is very comfortable, but the bag lacks a chest (sternum) strap and waist belt--two important features in a hiking pack. For short hops here and there, it's fine. By the way, while the bag is said to hold even a 17" notebook, all I had was a tiny iBook. No complaints there.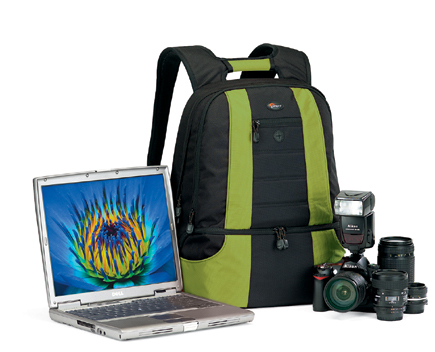 Designed to hold both a laptop and a compact digital SLR system, the CompuDaypack is great for the short haul.
Why A Photo Backpack?
When hiking or traveling, I prefer a backpack over a shoulder bag or sling bag. Backpacks do a better job of distributing the weight during long hauls. But more importantly, a properly cinched photo backpack will wear comfortably, without causing undue fatigue. Moreover, it will stay put, without shifting, and help you maintain your balance as you negotiate difficult terrain. And it helps that photo packs are less recognizable as camera bags.
For more information, contact Lowepro, 1003 Gravenstein Highway North, Ste. 200, Sebastopol, CA 95472; (707) 827-4000; www.lowepro.com.

LATEST VIDEO

SPONSORED VIDEO
Testing Tamron's SP 150-60mm G2 lens while capturing birds and alligators in Apalachicola, Florida.