Look at These Amazing Winners of the Wonders of Wildlife Photography Competition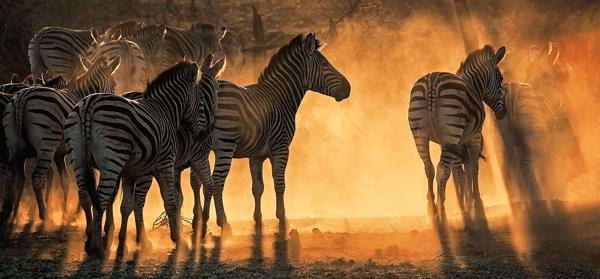 The Society of International Nature and Wildlife Photographers (SINWP) is a British organization for professional and amateur shooters devoted to capturing images of the natural world. SINWP holds monthly competitions for their members, and the striking shots you see here are the winners of the group's August Wonders of Wildlife contest.
Malcolm Blackburn of Derbyshire, England took First Place for the dramatic early-morning photograph above, captured just after 6am at the Zimanga Game Reserve in South Africa. Blackburn made the image on July 1 after a prolonged dry spell that he says produced the dust in the shot.
As you'll see by visiting the SINWP website, interests of members vary widely from macro, panorama, and astrophotography, to birds, fish, invertebrates, flora, reptiles, and other nature subjects. Membership includes eligibility in the organization's ongoing competitions, as well the opportunity to enhance skills with expert advice from others members—many of whom are top pros.
The image above of nursing polar bears earned Second Place honors in the August Wonder of Wildlife Competition for Ian Stone of Kent, England.
Lawrence Eagling of Belfast, Ireland took Third Place in the competition for the cute image below. Eagling says, "I've been searching for red squirrels in Ireland for years, and I finally found this elusive little creature near the village of Muff on a trip I took to the North Coast."
First Place winner Blackburn won a 12-month membership in SINWP, while Stone and Eagling won a six-month membership for their second and third place entries. You can find complete details about the SINWP on their website, and view 19 "Highly Commended" images in the August Wonders of Wildlife competition here.
And be sure to look at our earlier story with humorous photographs from the 2016 Comedy Wildlife Photography Competition.

FEATURED VIDEO