Locations: Springtime In Shenandoah National Park: A Photo JourneyAalong The Skyline Drive
Straddling a beautiful stretch of the Blue Ridge Mountains of northern Virginia, Shenandoah National Park is a hiker's and photographer's delight. Located only 70 miles from the nation's capital, Shenandoah provides an oasis of nature surrounded by ever-encroaching civilization. Long and narrow, the park runs north/south along a ridge crest characterized by rolling hills and mountains, quiet hollows, rushing streams and waterfalls, and verdant forests. Running through the park is Skyline Drive, a 105-mile scenic roadway that meanders along the crest of the Blue Ridge. Along this roadway are 75 overlooks offering unparalleled views of the piedmont to the east and the valley and mountains to the west. The park is also host to a 101-mile segment of the venerable Appalachian Trail as it winds its way from Georgia to Maine.
While beautiful in all seasons, Shenandoah is particularly stunning in springtime. In April the trees spring to life in hues of emerald green and yellow. Wildflowers bloom in April and May, beginning with the large flowered trilliums that carpet the forest floor. Pink azaleas bloom in May closely followed by mountain laurel in June. The swollen streams and waterfalls rush forth with a majesty and power unparalleled the rest of the year. Spring in Shenandoah National Park also provides great opportunities to see wildlife, most notably deer and black bears. Best of all, the park is far more quiet and peaceful than during the widely publicized fall foliage season when traffic jams along Skyline Drive are common.
The Overlooks
There are 75 scenic overlooks located along the entire length of Skyline Drive, offering countless photographic opportunities within steps of the car. While that may not sound ideal to the inner naturalist, it does make it easy to be on location for the golden hours of sunrise and sunset. Simply put, the overlooks offer excellent photographic reward with minimal effort. They are split roughly in half between those facing east toward the piedmont and those facing west toward the Shenandoah Valley, thereby providing equal and ample opportunities for morning and evening shooting. Shooting at these hours requires either a graduated neutral-density filter or exposure bracketing to control the high dynamic range between the bright sky and shadowed foreground.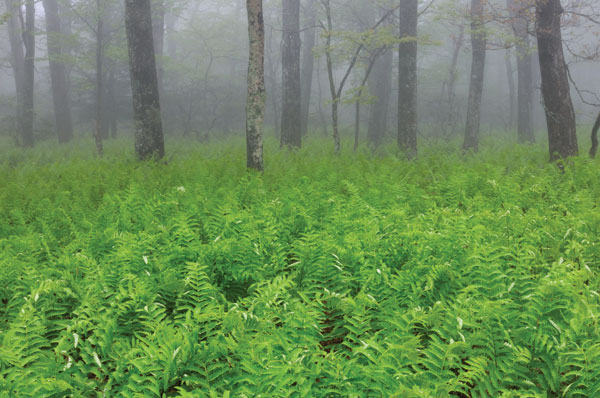 Author Bio
Chris Murray has been practicing landscape photography for 15 years. His work has appeared in several magazines, including Nature Photographer, Photo Techniques, and New York State Conservationist. Murray's interest in photographing landscapes is derived mainly from his love of the natural world, the same love that led him to choose geology as his first profession. The skills he has learned as a scientist, the attention to detail and careful observation, have also helped him immensely as an artist. Murray resides in Syracuse, New York. You can find him online at Chris Murray Photography, www.chrismurrayphotography.com.

LATEST VIDEO